The Walsh History Center is delighted to present the first "living histories" in its Oral History Program, through which dedicated volunteers are in the process of gathering a lifetime of memories of long-time residents of the Camden, Rockport, and Lincolnville areas. As active participants in the midcoast community, those interviewed are, as folklorist Barbara Kirshenblatt-Gimblett writes, "living links in the historical chain, eye witnesses to history, shapers of a vital way of life. They are unparalleled in the vividness and authenticity they can bring to the study of local history and culture."
For many of us, our fondest memories are of sitting with our elders, listening to their stories of "the old days." The reminiscences that we have begun to gather here at the History Center are many, and all are equally fascinating. The towns were less populated then, yet did not lack for excitement. Tales abound of great ships and rumrunners, local businessmen and "town characters."
These stories of community life anchor us in a larger whole. They connect us to the past while grounding us firmly in the present, and give a sense of identity and roots, belonging and purpose in a sometimes harried world. We hope that you enjoy reading these stories as much as our volunteers have enjoyed gathering them. Perhaps some of you will be inspired to interview your own family members, thereby preserving a vital part of your family history for future generations.
The following oral histories are available online, as well as in text and audio format in the Walsh History Center archives. Please click on a name to read the history online.
Available Online
Available in the Walsh History Center Archives
The following oral histories are available in text and audio format in the Walsh History Center archives
James Lynch
Fred Crockett
Marguerite (Buzzell) Regnier
Vernette (Cross) Robarts
Alice Alley
Ellen Doucette
Ruth Johnson
Clifton Richards
Joan Tibbetts
STORYCORPS VISITED CAMDEN PUBLIC LIBRARY IN THE SUMMER OF 2014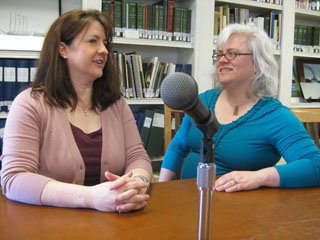 Interviews with six local community members were recorded in June of 2014. The recording samples are now available for streaming, below.
"Libraries are, and always have been, the keeper of the world's stories.  Facilitating the telling of those stories, and making sure they are recorded and preserved, is really just another part of our mission," says Nikki Maounis, Director.
Since 2003, StoryCorps has collected and archived more than 45,000 interviews with nearly 90,000 participants. Each conversation is recorded on a free CD to share, and is preserved at the American Folklife Center at the Library of Congress. StoryCorps is one of the largest oral history projects of its kind, and millions listen to their weekly broadcasts on NPR's Morning Edition.
Jim (61) talks to his local librarian, Heather, about his career in the seafood business. He talks about starting a sea urchin harvesting business with friend Mark, the "wharf wars,"  sea urchins and what makes one "high end," and handling dangerous diving conditions.
Seth Silverton (48) tells Heather Moran about his community building organization, "Wood Chop School," he created around the issue of food sustainability. and about the youth that might leave and come back to help Maine overcome their ecological issues.
Silverton talks about the current state of ecology as a result of people's handling of the environment and how his organization provides accessible sustainable organic foods to people.  He remembers living in Brooklyn during Sept. 11. He and his wife decided to move to Maine to improve their quality of life. Since living in Maine he has learned about the ecology in Maine and the cross-generational interest in ecological sustainability and his workshops. Silverton remembers when his children saw "Super Size Me;" it changed their perspective on fast food.   He talks about his great grandfather who was from Poland. During the Industrial Revolution he and 15 other people set out on foot from Poland to Liverpool where he met his wife. They had a son named Stanley who made it possible for Seth's mother to move to Brooklyn. His father worked as an office boy at a law firm; he eventually became a lawyer in NY. Seth is motivated by his family history to create human ties around sustainability and speaks about the importance of storytelling for people as a means to connect with one another.
Gordon Harris (93) tells his grandson Jason (40) about how he met and fell in love with his wife, Marsha. They were pen pals when he was in the military. He talks about his love for Marsha and finding love again after she passed away from Alzheimer's.

Paul Marshall (89) tells Meghan Vigeant (32) about his childhood growing up in the Maine woods. Paul remembers the lessons his father taught him and his service during World War II.  Paul was in the infantry during WWII in Europe and was a medic on the beaches during D-Day.   He served in France, Belgium and Germany and describes the destruction of European towns during the war.
Audio coming soon. Estelle (98) tells her great-granddaughter Elizabeth (23) about her early life. She remembers falling in love with her husband, going to prom, and art school.  Stell grew up in Cambridge and she remembers not having electricity, dishwasher, etc.  She reminisces about her mother and siblings and the fun things they did, like roller skating on the floor in their house.  She talks about meeting and marrying her husband, artist William Shevis.
Abby Norman (23) has a conversation with Jill Glaser (27) about her struggle with chronic appendicitis that went undiagnosed for 3 years.  Abby talks about the importance of advocating for patient rights. She talks about the depression she went through during the three years and the frustration she felt when talking with doctors.  Abby hopes to one day become the CEO of a hospital to reform the healthcare system.