Camden on Canvas is returning in 2024 to host talented plein air artists in Maine's picturesque midcoast the weekend of July 19-21, 2024! In the Library' fourth annual event, artists will paint en plein-air at local sites from Friday morning to noon on Sunday.
The weekend culminates with a reception and live auction of one painting from each artist on Sunday, July 21. Artists receive 50% of the sale price and the library receives the remaining 50% as a donation.
Learn about our successful 2023 Camden on Canvas!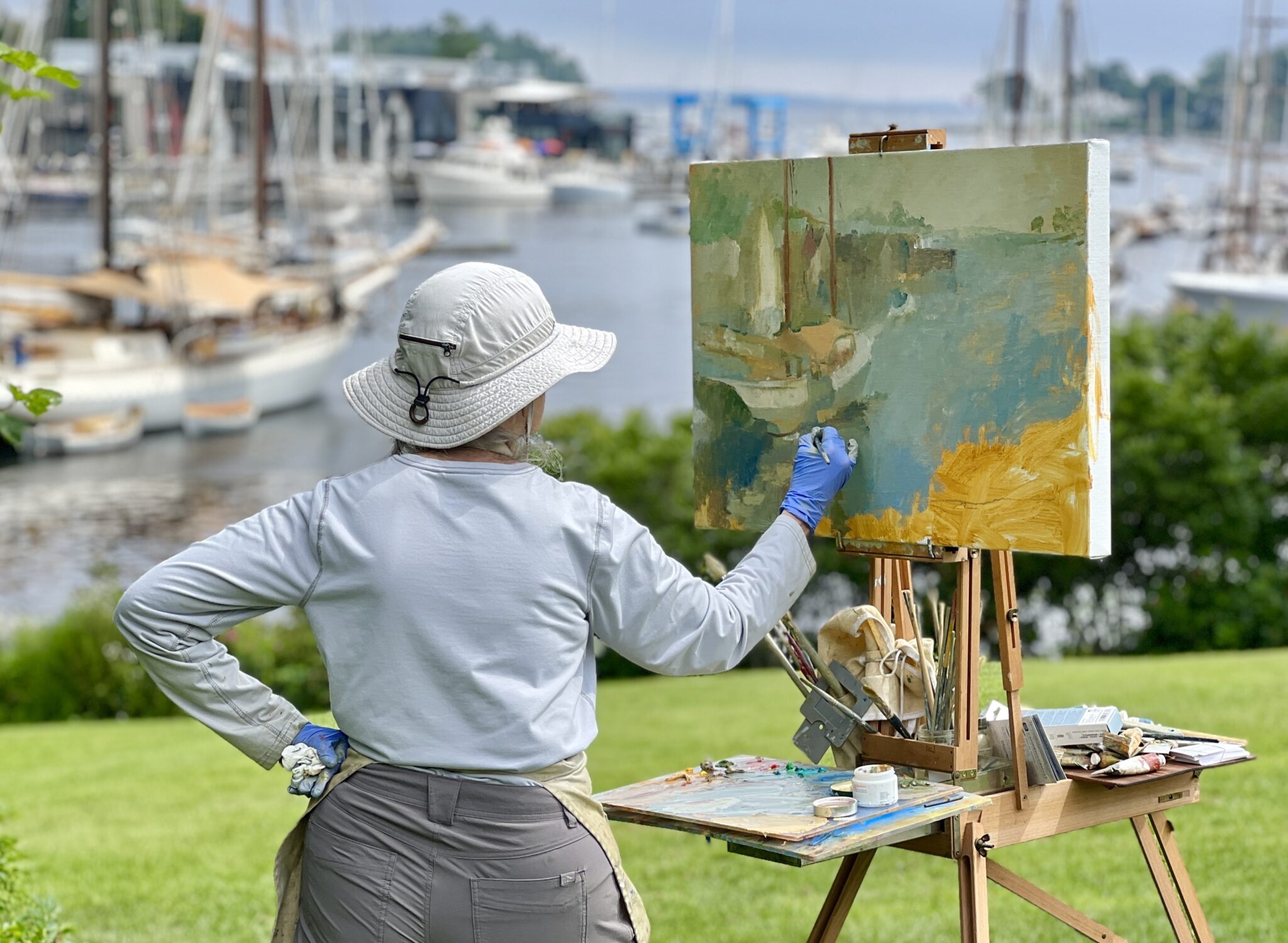 ---
More than 200 people gathered in the sunny Camden Amphitheatre on Sunday, July 23, for a live auction of paintings that had been freshly created that weekend during the third annual "Camden on Canvas." The proceeds of the auction were split between the artists and the Camden Public Library. The library is pleased to announce that Camden on Canvas raised more than $60,000 for the library's Campaign for the Future, which will go toward strengthening the library's long-term ability to create young readers, foster lifelong learning, and sustain the historic building and parks.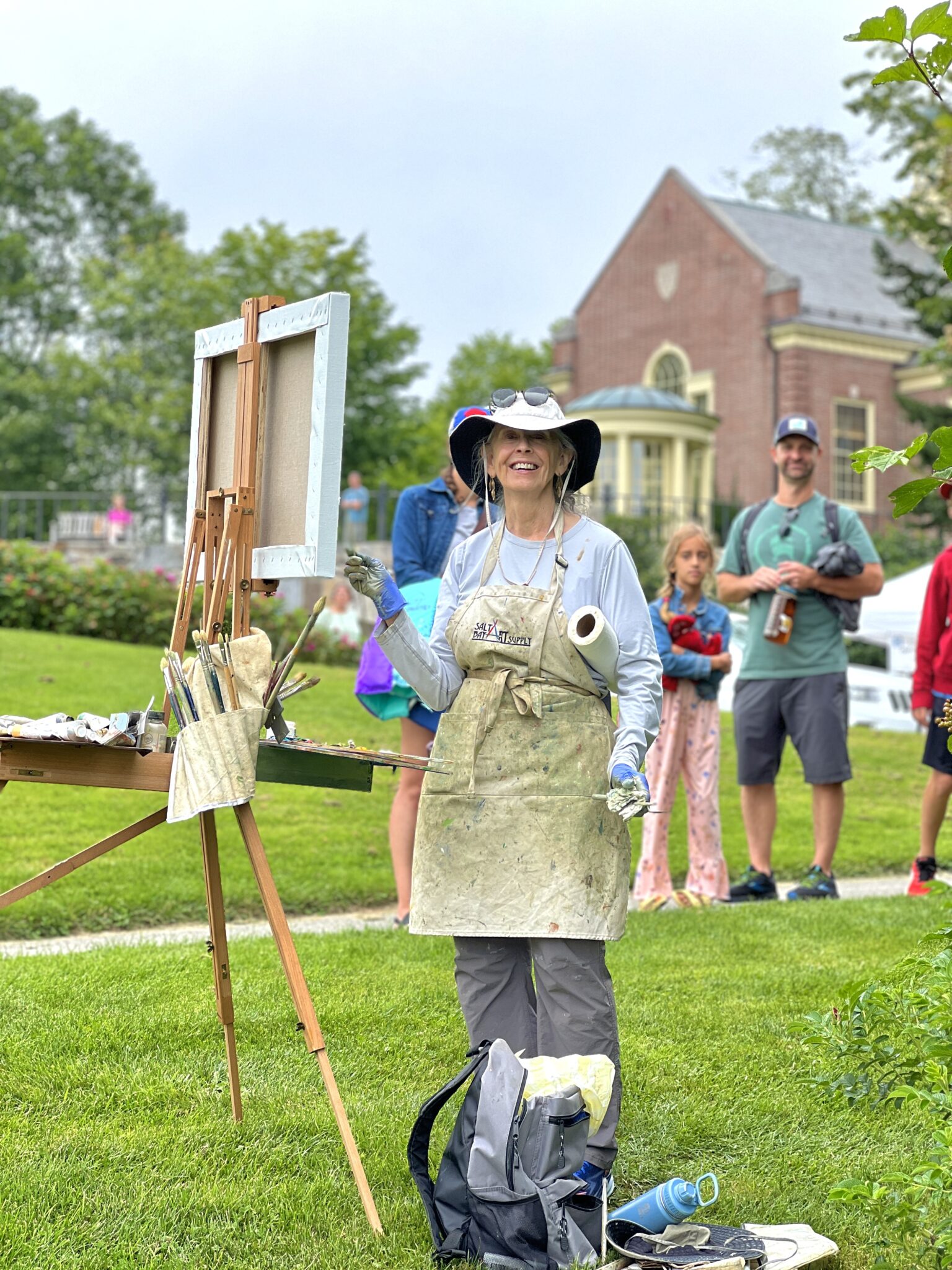 The auction capped a full plein-air weekend, featuring 22 of New England's most talented landscape artists. For two days, locals and visitors had a chance to meet the artists and watch them paint on location outdoors. Each painter, with their own unique style and perspective, brought beloved and familiar views of Camden and Rockport to life in new ways. On Sunday, the public browsed the freshly created paintings in the historic Amphitheatre during an outdoor exhibit.
Participating painters included Charles Fenner Ball, Daniel J. Corey, Ken DeWaard, Carol L. Douglas, Cooper Dragonette, Diane Dubreuil, Stephan Giannini, Roberta Goschke, Alison Hill, Tina Ingraham, Jill Hoy, Eric Jacobsen, Leo Mancini-Hresko, Jonathan McPhillips, Nathaniel Meyer, Alicia Mordenti, Bjorn Runquist, Matthew Russ, Janet Sutherland, Michael E. Vermette, Peter Yesis, and Camden on Canvas collaborator Colin Page of Page Gallery.
The Camden Public Library extends major thanks to the artists, community members, volunteers, staff, and sponsors who made this event a success. In particular, the library would like to thank "Magnum Opus Sponsor" Ken Gardiner of Edward Jones Investments in Camden; "Masterpiece Sponsors" RE/MAX Jaret & Cohn and Lyman-Morse; "Premiere Sponsors" Viking Lumber, Once A Tree, and Margo Moore Interiors; "Visionary Sponsors" Small Wonder Gallery, PG Willey, Michael Good Gallery, Page Gallery, Rockport Blueprint, Carver Hill Gallery, Jessie Tobias Design, Dwelling in Maine, and Harbor Square Gallery. The library would also like to thank the following In-Kind Supporters: Penny and Donald Abbott, Abigail's Inn, Bay View Collection, Captain Swift Inn, Cedar Crest Inn, Susan and Pete Fitzgerald, French & Brawn Marketplace, Dorothea Guthrie Graham, Hartstone Inn and Hideaway, Megunticook Market and Catering, Betsy Perry, Primrose Gallery and Framing, Neale Sweet, Timbercliffe Cottage, Judy Wolf, and Kaja Veilleux of Thomaston Place Auction Galleries.
Those who wish to contribute to the library's Campaign for the Future may donate on the library's website at librarycamden.org/future or in person at 55 Main Street in Camden.
"The Campaign for the Future will help us ensure that our library remains the vibrant center of our town's public life, in times of need and times of abundance," said Nikki Maounis, Library Director. "We are a community that creates young readers, inspires lifelong learning, and is graced by a building and parks that have earned the distinction of being a National Historic Landmark. We look forward to hosting this vibrant and artistic event at the Library."
Special thanks to 2023 Lead Sponsor Ken Gardiner, Edward Jones Investments – Camden and Colin Page of Page Gallery for the exceptional support.

2023 Support also provided by
Lyman-Morse: Camden Classics Cup and RE/MAX Jaret & Cohn
Margo Moore Interiors, Once A Tree, Viking Inc.
Carver Hill Gallery, Dwelling in Maine, Harbor Square Gallery,
Jessie Tobias Design, Michael Good Gallery, Page Gallery,
P.G. Willey & Co., Rockport Blueprint, and Small Wonder Gallery and Frameshop.
CLICK HERE FOR A COMPLETE LIST OF OUR SPONSORS AND SUPPORTERS
---