---
Camden on Canvas is returning in 2023 to host 22 plein air artists in Maine's picturesque midcoast the weekend of July 21-23, 2023! In the Library's third annual event, artists will paint en plein-air at local sites from Friday morning, July 21, to noon on Sunday, July 23.
The weekend culminates with a reception and live auction of one painting from each artist on Sunday, July 23. Artists receive 50% of the sale price and the library receives the remaining 50% as a donation.
Congratulations to the artists selected for Camden on Canvas 2023!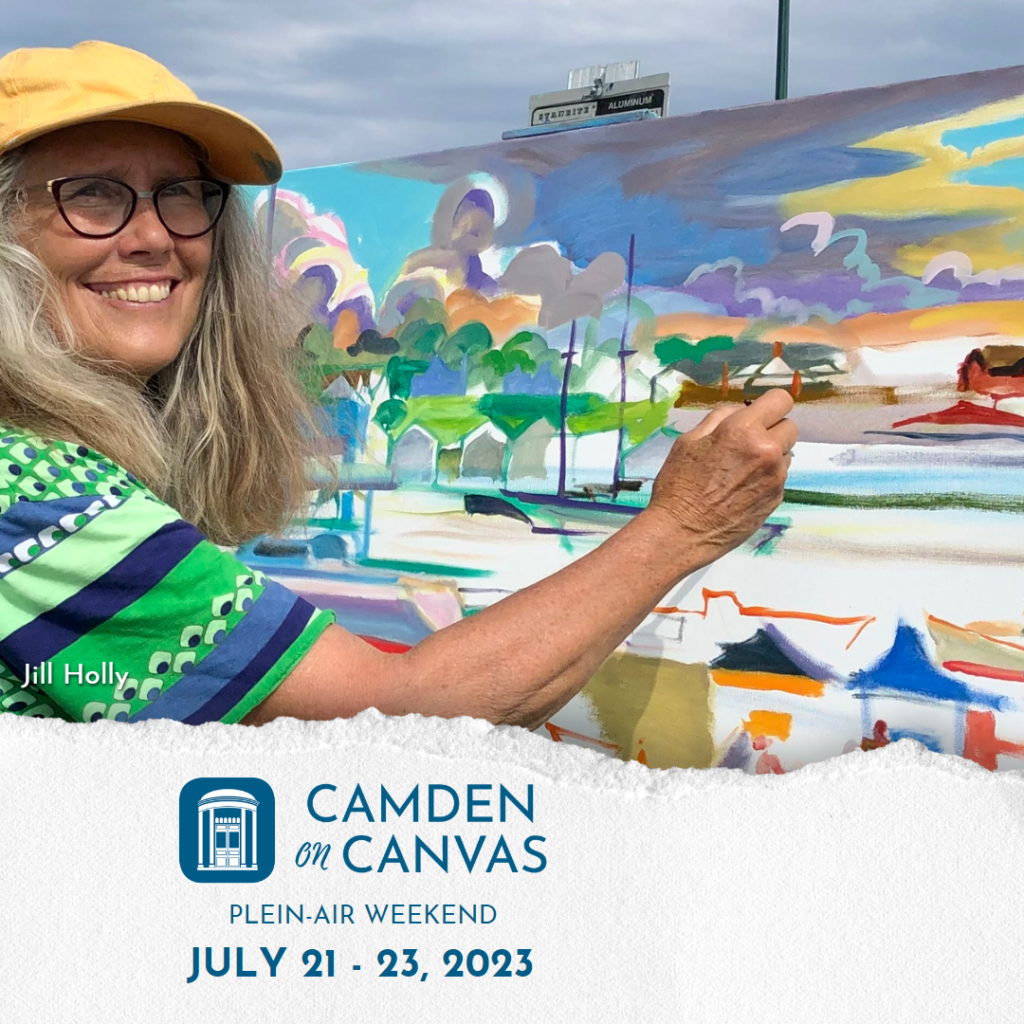 Charles Fenner Ball
Dan Corey
Ken DeWaard
Carol Douglas
Cooper Dragonette
Diane Dubreuil
Roberta Goschke
Alison Hill
Jill Hoy
Tina Ingraham
Eric Jacobsen
Leo Mancini-Hresko
Jonathan McPhillips
Nathaniel Meyer
Alicia Mordenti
Colin Page
Bjorn Runquist
Matthew Russ
Janet Sutherland
George Van Hook
Michael Vermette
Peter Yesis
---
Learn more about our successful 2022 Camden on Canvas
---
---
Thanks to our generous community, the Camden on Canvas auction raised more than $55,000 for the Campaign for the Future.
The funds raised will go directly toward securing a resilient future for the library. It will enable the library to strengthen its long-term ability to create young readers, foster lifelong learning, and sustain our historic building and parks – including the beautiful Amphitheatre in which we came together Sunday.
Thanks to Colin Page and the Page Gallery team; the tremendous cadre of artists; Ken Gardiner, Edward Jones Investments – Camden, and the event sponsors at every level; and all those who bid and donated. Your contributions will have a lasting impact.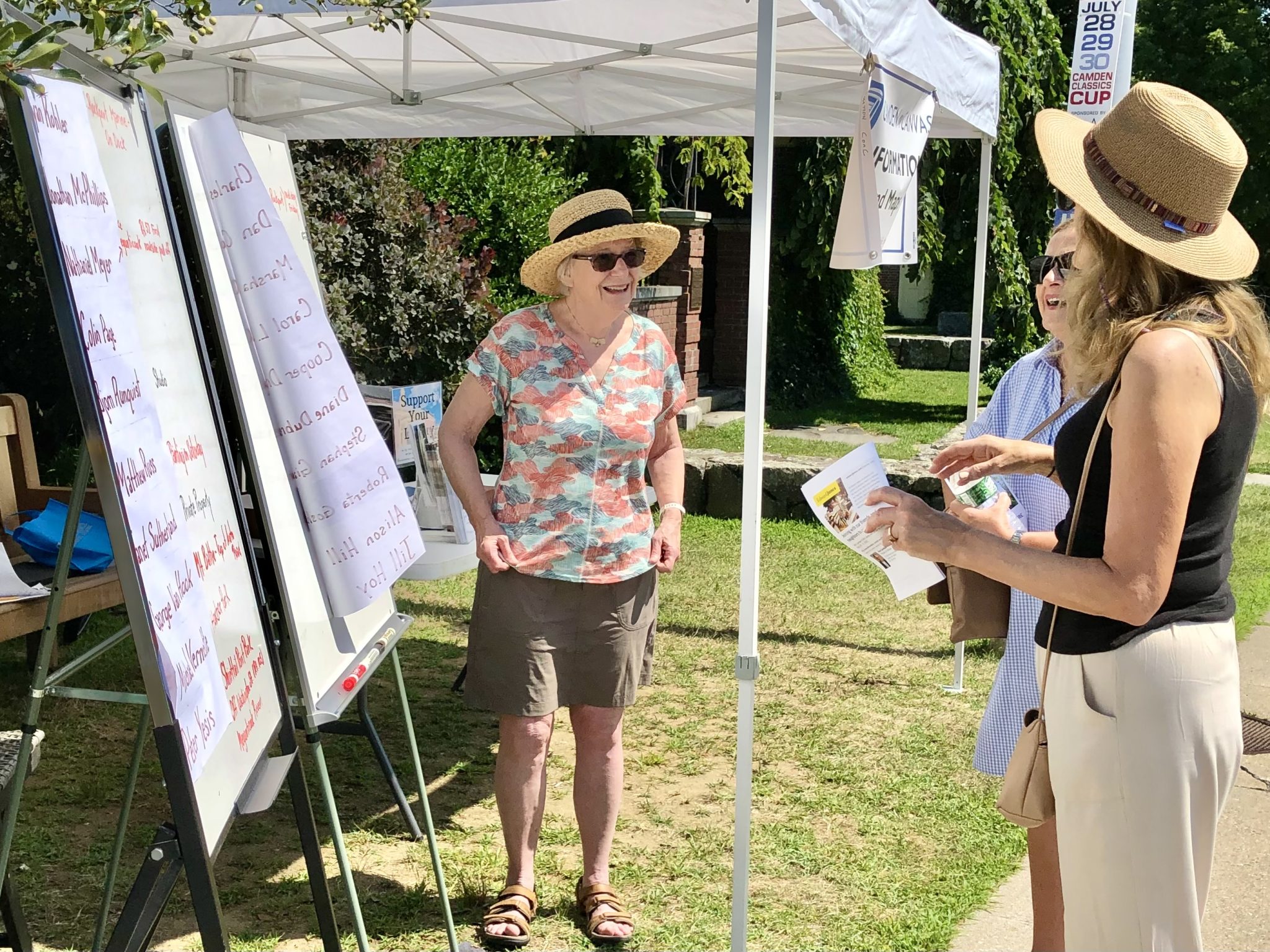 ---
---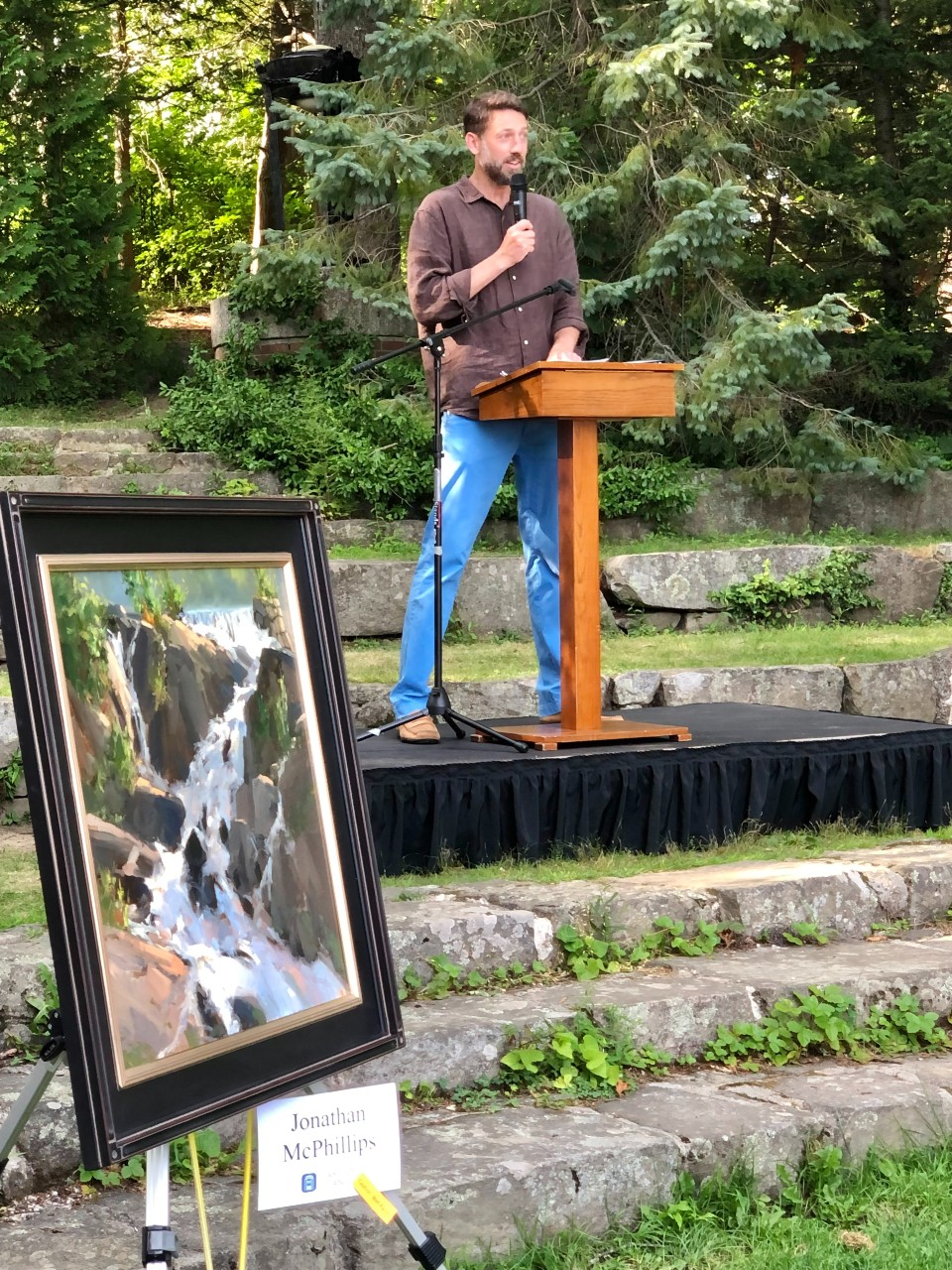 ---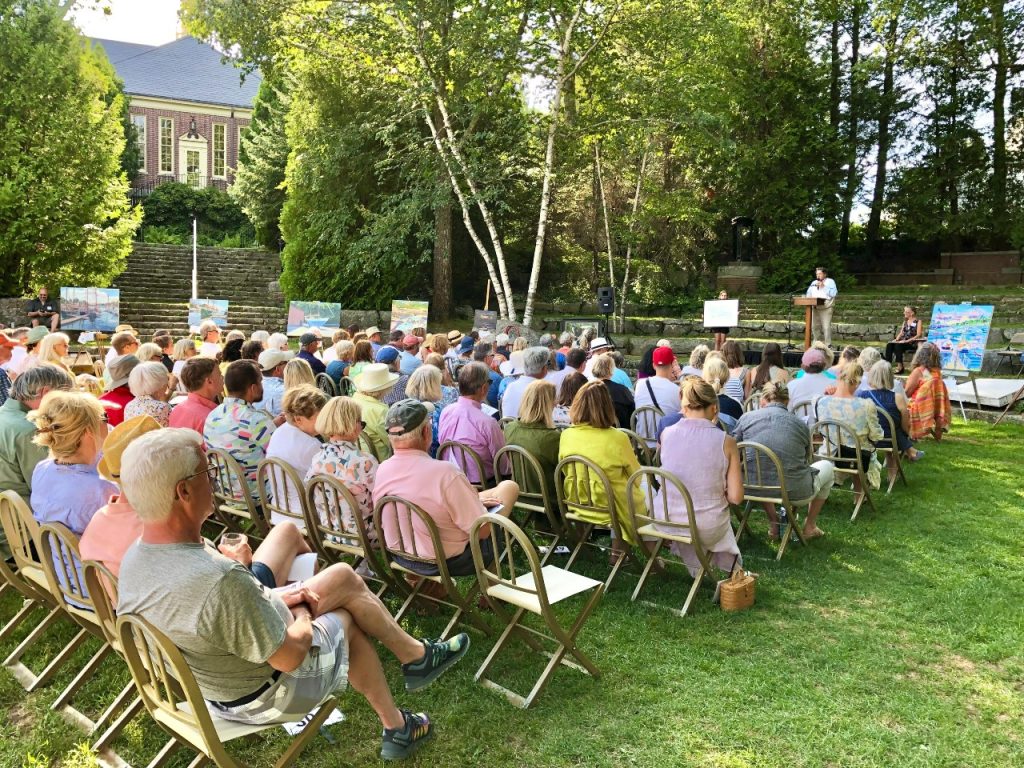 ---
---
---
The Camden Public Library and artist Colin Page, owner of Page Gallery, are collaborating to present "Camden on Canvas," a plein-air fundraiser being held in Camden and surrounding communities, July 29 to July 31.
For the second time, twenty notable New England landscape artists will paint, en plein-air, at multiple local sites from Friday morning, July 29, to noon on Sunday, July 31. The public is invited to visit the Camden on Canvas Information Tent at the Camden Public Library entrance on Atlantic Avenue. There, visitors will find information about the participating artists and a map to the locations where they may be painting. The Information Tent will be open on Friday from 10:00 am to 5:00 pm, Saturday from 9:00 am to 5:00 pm, and Sunday from 9:00 am to noon.
The wet paintings will then be displayed during a free exhibit in the historic Camden Amphitheatre, Sunday, July 31, 1:00 to 3:00 pm.
The weekend will culminate with a ticketed Reception and Live Auction in the Amphitheatre, Sunday, July 31, from 4:00 to 6:00 pm, when the weekend's new works will be auctioned. Light hors d'oeuvres served by Stone Cove Catering. Auctioneer Kaja Veilleux of Thomaston Place Auction Galleries will kick-off the bidding at 5:00 pm. Tickets for the Reception and Live Auction can be purchased online for $75 each (CLICK HERE) or by calling 207-236-3440. Proceeds from the auction will be shared equally between the Library's Campaign for the Future and the artists.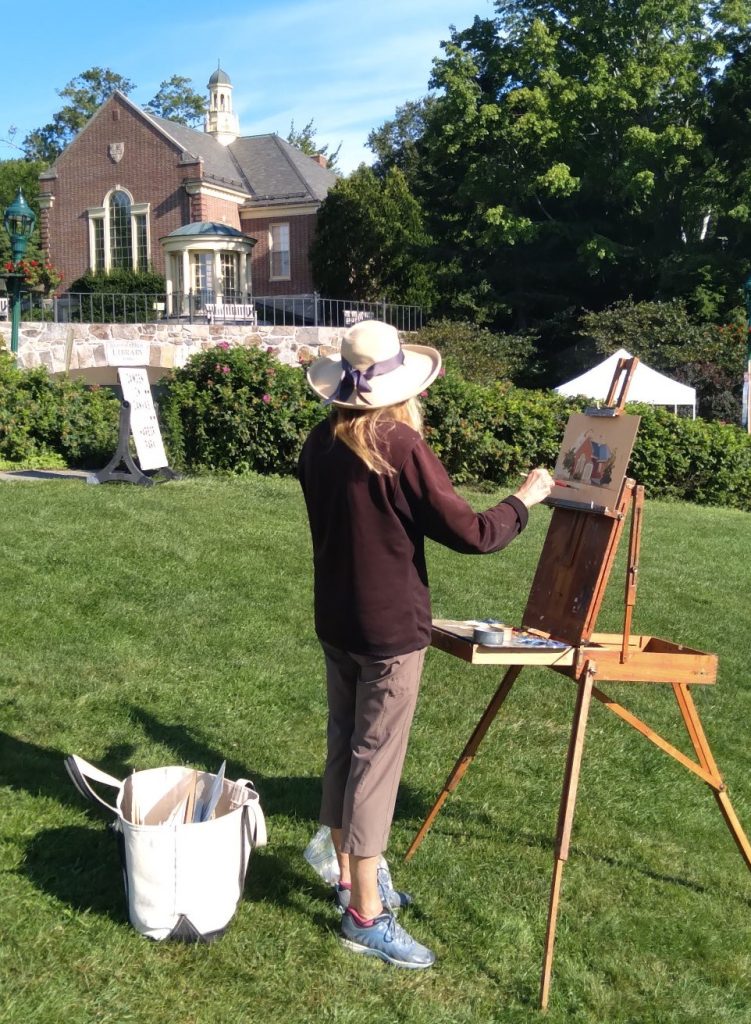 "After the time that we've come through as a community, it is truly a delight to join together outdoors this summer in the spirit of art," said Nikki Maounis, Library Director. "Those who take part in this fundraiser will not only be supporting local artists, they will be helping the library continue to create young readers; inspire lifelong learning; and care for our historic building and parks for years to come. We are thrilled to be hosting this vibrant and artistic event."
Special thanks to Lead Sponsor Ken Gardiner, Edward Jones Investments – Camden and Colin Page of Page Gallery for the exceptional support.

Support also provided by
Lyman-Morse: Camden Classics Cup, and RE/MAX Jaret & Cohn.
Once Upon a Tree; Small Wonder Gallery; Viking, Inc.;
Jessie Tobias Design; On the Water in Maine, Inc.; Rockport Blueprint; Page Gallery;
P.G. Wiley & Co.; and Carver Hill Gallery.
CLICK HERE FOR A COMPLETE LIST OF OUR SPONSORS AND SUPPORTERS
---