Did you know that we have 3 telescopes that can be checked out for a week at a time?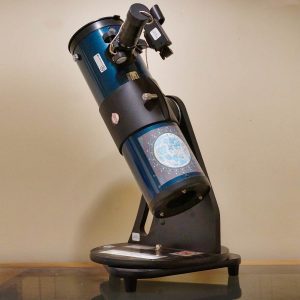 With our Orion StarBlast telescopes not only can you get a close-up view of the moon, or spot distant constellations and universes as they spin above our heads, but on the right night you can also find Saturn (and count her rings), or take a look at Jupiter, Mars or Venus. If you are interested, ask any of the librarians to show you one of these cool gizmos or see: https://www.librarycamden.org/kids/kids-news/

---
Did you know that we have over 25 Discovery Kits – AKA the grandparent's secret weapon!?!
We say Discovery Kits are great "secret weapons" for Grandparents (and Parents, too) because they are full of surprisingly engaging and accessible books and activities for children of all ages. Do you have a youngster in your house who is dreaming about becoming an astronaut, loves watching bugs in the backyard or folks working on construction site, reads Curious George at bedtime or is fascinated by Fairies and their tiny world? We have bags and backpacks stuffed full of books and activities about these things and so much more, and they can all be checked out for 2 weeks at a time. Dinosaurs, Cars, Pirates, The Wizard of OZ, Airplanes, Sea Life – for a list of some of what is available, see https://www.librarycamden.org/kids/kids-news/ or ask Miss Amy, Miss Loraine, or any of our librarians.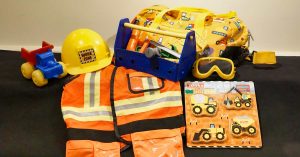 ---
Did you know that we run a free Homebound Delivery Service for those who can't get to the library?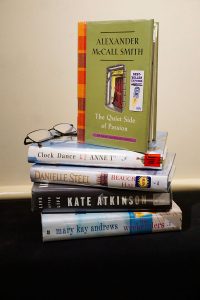 Our Homebound Delivery Service is designed to assist those who can no longer get to the library to either choose or pick-up their books.
Sarah, a member of our library staff, works with each patron to select and gather up the books, DVDs or music that suits, and then a library volunteer delivers and picks up the material every two weeks. For more information, see https://www.librarycamden.org/using-the-library/services/homebound-delivery/or call the library and ask for Sarah.
---
Did you know that the library's Walsh History Center has a collection of early poems & letters by Edna St Vincent Millay?
The letters and poems are gathered in a scrapbook of material put together by Edna St Vincent Millay's High School friend Corrine Sawyer, and it is a fascinating glimpse into life in Camden in the earliest part of the 20th Century. In addition to the scrapbook, the Walsh History Center has a collection of first editions of Millay's poetry and prose, including the work that won her a Pulitzer Prize for literature in 1923, "The Ballad of the Harp Weaver." The library has made a copy of the items in the scrapbook, so that anyone can go through it just for fun! Contact Ken in the Walsh History Center for more information or see https://www.librarycamden.org/learn-research/walsh-history-center/edna-st-vincent-millay-biography/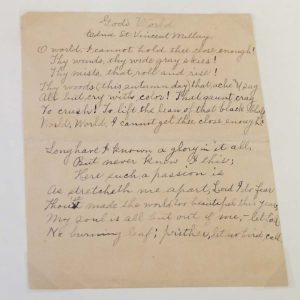 ---
Did you ever wonder what your house looked like in 1937?
The Walsh History Center of the Camden Public Library has a collection of photographs taken by the Camden Tax Assessor's office in the spring of 1937 to document the tax paying properties in town. Although the original photographs are small, they have been digitized, so that you can bring them up on the computer in the History Center and make them as large as you like. You can even take home a copy of the photo. How much has your house changed in 80 years or what did your office building look like in the 1930's? Contact Ken in the History Center to find out! https://www.librarycamden.org/learn-research/walsh-history-center/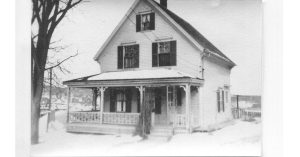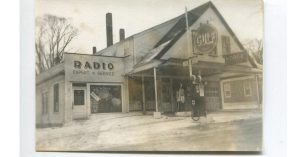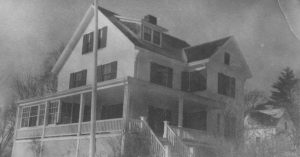 ---
Did you know that you have access to thousands of books in libraries across Maine, just by asking?
With Maine's state-wide interlibrary loan system, all you have to do is request a book and, hey presto, when it becomes available, it will be delivered to us and you'll get a message saying that it's waiting for you at the Library's front desk. Every month over 1,000 items are requested and delivered to our library from libraries from across the state. In addition to the state-wide service, the library can also try to locate books for you from further afield; there's sometimes a cost involved with that, but you can ask a librarian for more information or see https://www.librarycamden.org/using-the-library/services/interlibrary-loan/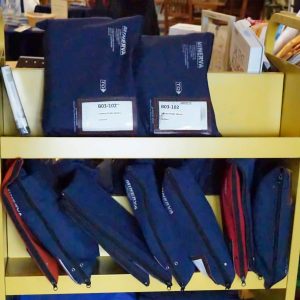 ---
Did you know that we have a 3-D printer you can use to create whatever your imagination can dream up?
The Library's 3-D printer can print out personalized bookmarks, game pieces (customize your checkers set!), or whatever fun or useful project that your imagination can dream up — how about a very small jet plane or a full-size magic wand? If you are intrigued, there is more information on the library's website, https://www.librarycamden.org/3d-printing-overview/ or you can come in and brainstorm with a member of the Library's staff!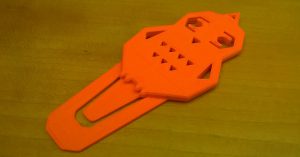 ---
Did you know that 9 of our maritime paintings were stolen in 1970 and returned in 1976?
Yes, we do mean the paintings that are hanging high on the walls of the Reading Room! Although the library has received gifts of additional paintings over the years, in 1950 the original collection of 11 maritime paintings were officially given to the library by Parker Morse Hooper, who was a summer resident of Camden, an architect, and an early benefactor of the library, after many of them had been on loan to the library for more than 2 decades. In December 1970, 10 of those paintings were stolen; officials at the time thought that the 11th painting was found stashed in a nearby bush because it might have been too big to fit in the getaway vehicle! Thanks to a sharp-eyed employee of a New York art gallery, 9 of the 10 paintings were identified and returned to the library in 1976. There's still a mystery surrounding the whereabouts of the 10th painting, but the next time you walk through the Reading Room, take a closer look at the collection to see what all the fuss was about; and if you want to hear more about paintings' adventures, talk to Ken in the Walsh History Center!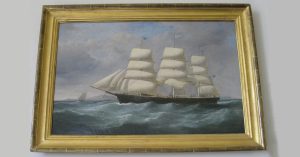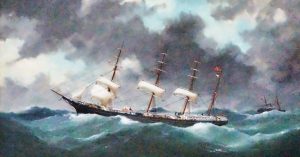 ---
Did you know that we offer free interactive language instruction through Mango Languages?
These online language learning lessons are not your old-fashioned language lab! With 71 languages on offer you can brush up on an old favorite (French or German, anyone?) or learn something completely new (Chinese – Mandarin or Cantonese; 4 different Arabic languages, or 3 different Greek languages, ancient and modern). You can learn a few words of Javanese before heading off to Indonesia or learn when to say 'ciao' before you land in Italy. You can even download the app and take the lessons with you on your phone or tablet. See https://www.librarycamden.org/learn-research/mango-language-learning/ and give it a try; we think you'll be amazed at how easy it is to get started. As always, if you have questions about the program, feel free to ask one of the members of the library staff for more information.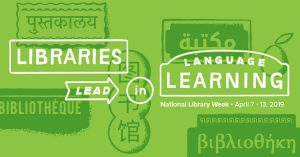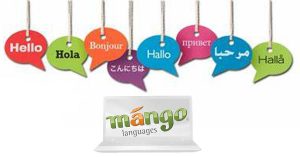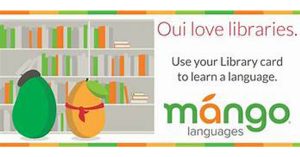 ---
Did you know that you might be able to spot your house on an 1875 map of Camden in the Walsh History Center?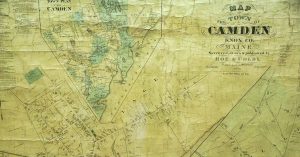 The Walsh History Center has a collection of early maps of Camden, including a giant one from 1875 that not only shows the town's streets, but also shows buildings and names of the families who owned them. Another map, this time from 1922, shows the location of many of the "summer people's" homes, along with a key that identifies the owner of each lot and where that owner lived when he wasn't in Camden. And finally, we have several "insurance maps" that show the streets and buildings in and around Camden's business district that date from 1884 to 1953. And this is just the beginning; come in and take a look at our collection of Camden maps, they are a clear window to our past. The Walsh History Center is open Noon to 3 pm, Monday thru Saturday.
---
Did you know that the fabulous compass at the top of the stairs between the Amphitheatre and the library was lost for a half century?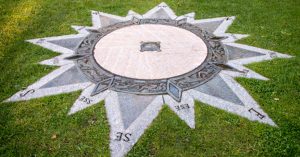 The ring for the Compass of the Winds (to use its formal name) was designed and cast in brass in the 1930's but wasn't installed on the Library's grounds due to cost constraints. Nearly 50 years later it was found by Camden resident Ken Carlson in a shed near the American Boathouse. Carlson arranged to have the ring restored and in 1989 it was installed around the base of a new flagpole on the library's grounds. When the flagpole was moved some years later to accommodate the building of the Library's Centennial Wing, the compass ring went back into storage, but for a much shorter span of years this time. After looking at the plans for the compass, the library staff realized that Fletcher Steele had intended the interior to be anchored by a mill stone to echo other mill stones used in the Amphitheatre. Fortuitously, there was a discarded mill stone at the edge of the falls next to the head of the harbor that precisely fit the measurements needed, and if it wasn't the stone that was originally intended for this use, it certainly was a great substitute. And so in 2006 the Compass of the Winds was reinstalled at the edge of the Fauns Garden with the help of funding from The National Trust for Historic Preservation.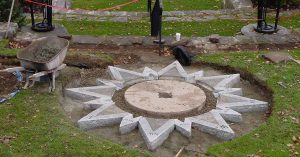 ---
Did you know that the big boulders that anchor the Amphitheatre so beautifully weren't placed there by nature?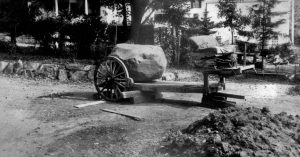 Master Landscape Architect Fletcher Steele's design was ground breaking in more ways than one! The prevailing rules of design during the early part of the 20th century dictated that the Amphitheatre should be built strictly parallel to the library, but controversially, Steele oriented it so that it looked out the mouth of the harbor, celebrating views that we still enjoy today. Although there was a dip in the land behind the library (it was called a "sunken meadow"), a good bit of earth still needed to be carved out and shifted to create the Amphitheatre's tiers, and then the rocks and trees were brought in.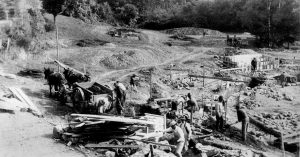 The heaviest boulders traveled to the site by horse drawn sleds over the ice and snow during the winter of 1930-31, while the smaller boulders arrived by regular horse cart before being levered into place by teams of local men. The stones were wrapped in burlap to protect their ancient patina and ensure that they would look like they had always been where we see them today.
It is also worth noting that the Amphitheatre was built during the early years of the Great Depression, and Mary Louise Curtis Bok, who hired Steele and funded the design and building works, insisted that Camden residents be both consulted on the design of the space and hired for the jobs at hand. And so, while the design of this National Historic Landmark is most assuredly Fletcher Steele's, it is also a reflection of Camden's citizenry and was built by Camden's hands during an era that jobs were hard to come by. If you want to know more about the history of the Amphitheatre, there's much to discover in the archives of the Walsh History Center or by taking a tour of led by our resident expert Dave Jackson. Better yet, spend some time relaxing in the Library's serene outdoor spaces and experience firsthand the marvelous result of all that hard work. See https://www.librarycamden.org/camden-harbor-park-amphitheatre/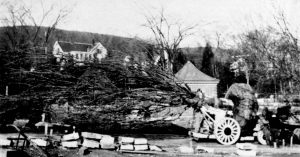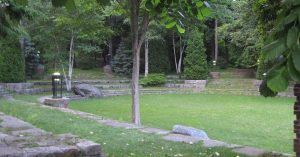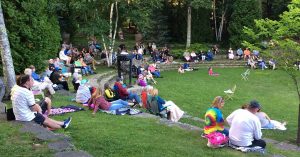 ---
Did you know that the granite books that hold up the benches in the Children's Garden are all real book titles with Maine connections?
You'll find beautiful flowers blooming in the Children's Garden at least 7 months out of the year, but even in winter, it can be a wonderful place to sit and catch your breath before heading into the rest of your day. It's a space filled with whimsey and joy; under the benches, along with books by the likes of E.B. White and Robert McCloskey, you can find a resident cat, star fish and sand dollars. And, if you need help to get home, there's even a granite compass pointing north. Though it is called the Children's Garden, and it is used regularly for summer story times and other gatherings of our younger set, the space is so tranquil and photogenic that it is also appreciated by prom attendees, graduating seniors, and newlyweds as one of the best spots in town for memorializing a big day! And finally, if you want to spend some time among hummingbirds, bees, and butterflies, there are few better places in high summer. You can leave the cares of the world behind, and shed a few years as well, with just a few minutes in the Children's Garden.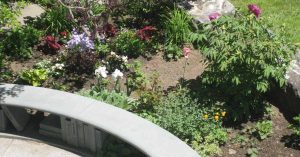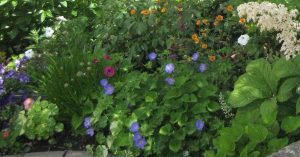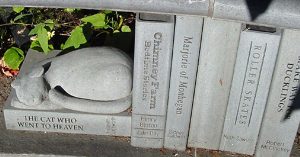 ---
Did you know that the Walsh History Center has a cool collection of WWII era posters?
The Iconic "Uncle Sam" is there, of course, but there is also a reminder to make sure that you file your Income Taxes on time (and, during the war years, returns were due on March 15!) and Conserve Energy (sound familiar?). Visit the Walsh History Center Monday thru Saturday from 12 to 3 to see how the government got the word out before the age of televisions, computers and cell phones.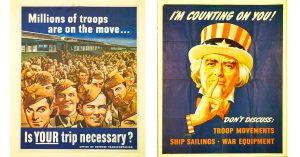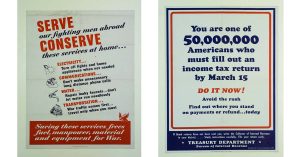 ---
Did you know that we held nearly 400 programs for adults last year?
That averages out to more than one program a day for grown-ups – and hey, while the library *is* open 7 days a week, we do close on a few of those important holidays, like Christmas and Labor Day! From summer outdoor movies and music in the Amphitheatre, to winter lectures on subjects both light and heavy, we are always looking for new ways to keep the Camden community engaged with each other and with the world at large. For the list of upcoming events, pick up the printed calendar the next time you visit, or find our Events Calendar on our web site: https://www.librarycamden.org/events/category/adults/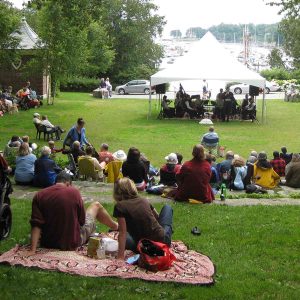 ---
Did you know that we held more than 475 programs for children and young adults last year?
That means that pretty much every day there is something going on specifically designed to engage young minds, and sometimes even exercise their bodies and voices, too! Programs run the gamut from Babbling Books for the very young to Girls Who Code, which teaches computer coding to Middle and High School students, and from puppet shows in the Amphitheatre to Tinker Tuesdays, where youngsters from 5 to 12 can get hands on with science, tech, and math projects that are fun for everyone. Past projects have included rockets, volcanos, soap and slime; come get messy with us! For a list of upcoming programs, pick up the printed calendar the next time you visit, or find our Events Calendar on our web site: https://www.librarycamden.org/events/category/kids/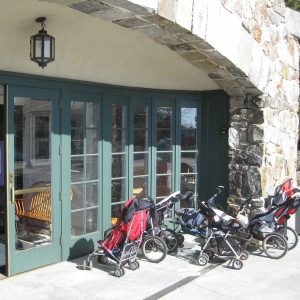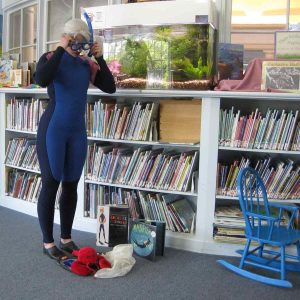 ---
Did you know that our Adopt-A-Monarch program has raised and released Monarch Butterflies for the last 5 years?
While the program was developed to engage young minds in the wonder of nature, there's no age limit when it comes to the joy brought by watching these beautiful creatures being released. Keep an eye out for notices late in the summer both in the library and on our Facebook page for the start of this year's program or talk to a member of the library's staff to find out when the Monarchs will be returning.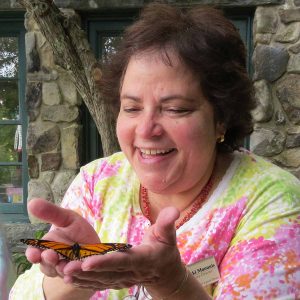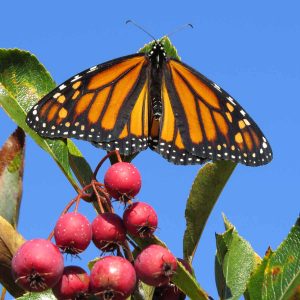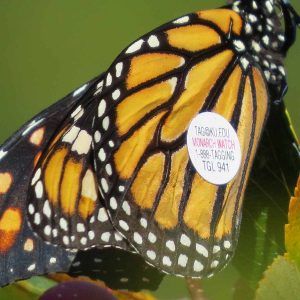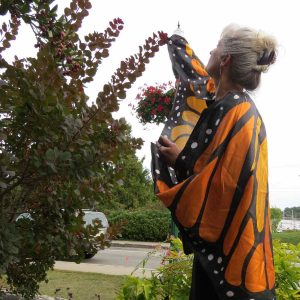 ---
Did you know that we offer access to a free on demand video streaming service called Kanopy?
Think Netflix or Amazon Prime, except that your subscription comes free with your library card! You can stream over 30,000 films from hundreds of popular producers such as The Criterion Collection, The Great Courses, and PBS, as well as thousands of independent filmmakers – on every topic imaginable. You can watch Kanopy films on your television, computer, tablet or phone. For more information see https://www.librarycamden.org/learn-research/40040-2/ or ask a member of the library staff.
---
Did you know that Harbor Park, which is part of the Library's grounds, was designed by the famous Olmstead Brothers?
The Olmstead Brothers, landscape architects for hundreds of parks, gardens, and scenic byways around the country including Acadia National Park's Loop Road, designed and supervised the construction of Harbor Park between 1928 and 1935. While there was some coordination between Frederick Law Olmsted, Jr, his brother John Charles Olmstead, and Fletcher Steele, the landscape architect who designed the gardens on the north side of Atlantic Avenue, the actual design of each area was developed independently. Harbor Park was created to be a very informal and relaxed space, rather than the more formal garden rooms designed by Steele. The Olmstead Brothers emphasized the views both from the gardens out to sea and up to the library as well as the view of the park from the harbor and from the library's grand Palladian window in the Reading Room. The bronze statue of Edna St Vincent Millay, sculpted by artist Robert Willis and unveiled in 1989, is a relatively recent addition to Harbor Park. The statue is sited in the north-eastern most corner of the park, where Millay stands holding a book behind her back, gazing out at the view framed by the Olmstead Brothers more than 80 years ago. For more information about Harbor Park, see https://www.librarycamden.org/camden-harbor-park-amphitheatre/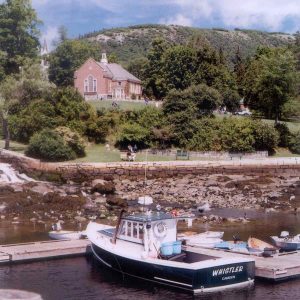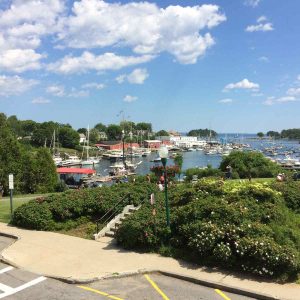 ---
Did you know that the Fauns Garden was designed as an "outdoor room" and its residents include a young boy, a young deer, and a marvelously fat frog?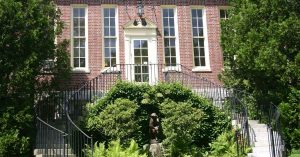 The bronze sculpture "Two Little Fauns" is tucked into an area bordered by hedges and trees, encircled by matching staircases that descend from the library's Reading Room. Surrounded by greenery with a lovely water fountain at its base, the boy and deer stand in a peaceful area of the library grounds, with a frog sitting underneath their feet. Mary Louise Curtis Bok acquired the piece from sculptor Benjamin Kurtz and gave it to the Library as the plans for the grounds were being developed by Landscape Architect Fletcher Steele, and he made it central feature of the back side of the Library. There's no quieter place than the Fauns Garden, however busy the rest of the town may be.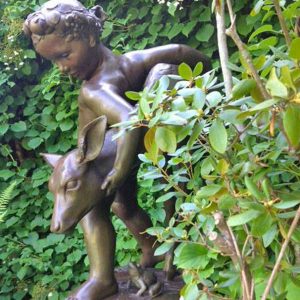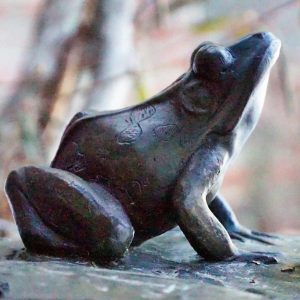 ---
Did you know that the Walsh History Center houses a fabulous Diorama of Camden's Harbor, circa 1920?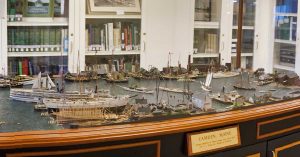 Steamships, schooners, pleasure yachts, working boats, ferries and skiffs all are represented in this huge, wonderful, depiction of Camden's waterfront life nearly 100 years ago. The attention to detail is such that you can see how the last of the big schooners were built by hand and marvel at the size of the anchors being forged near the head of the harbor. Come in and see for yourself this masterpiece of model making by William E Hitchcock. https://www.librarycamden.org/learn-research/walsh-history-center/harbor-diorama/ The Walsh History Center is open Monday thru Saturday from 12 to 3.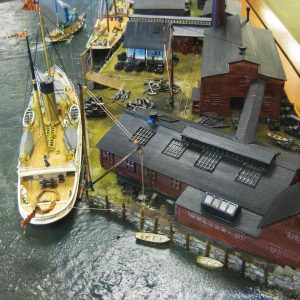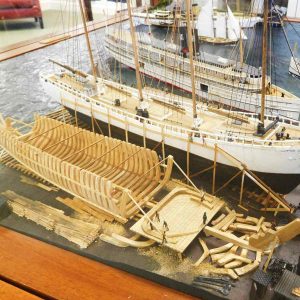 ---
Did you know that the Walsh History Center has microfilm copies of the Camden Herald all the way back to 1880?

Are you curious about what life was like in Camden when they were still building big Schooners down on the waterfront and there was a lime kiln where there Camden Yacht Club now stands? How about sneaking a peek at the front page of the newspaper printed the week you were born? Ever wonder what people were talking about 30, 40, or 50 years ago? Come visit the Walsh History Center anytime Monday through Saturday 12 to 3, and we'll prove to you that you really *can* go back in time! https://www.librarycamden.org/learn-research/walsh-history-center/
---
Did you know that we have a huge collection of DVDs, Audio Books, and Music CDs available for checkout?
The DVDs can be checked out for a week, and the Audio Books and CDs can be checked out for 2 weeks. If you haven't looked the collections over, we think that you'll be amazed. We have current and classic movies for audiences of all ages, as well as popular TV shows from the US and abroad. Do you need to catch up on an HBO series that everyone is talking about, introduce your grandchild to Shrek, or need a good story to get you through a long, boring drive? We can help! And remember, if you don't see it on the shelf, you might be able to borrow it from another library in the state-wide system, so make sure you ask a member of the library staff for assistance if you don't find what you are looking for. You can get started by searching the library's catalog! https://www.librarycamden.org/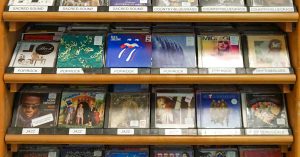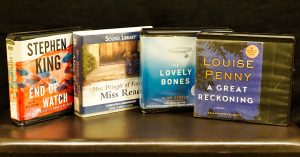 br>


br>

---
br>
Did you know that you can check out a book to read or listen to any time, day or night?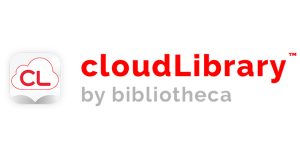 The Cloud Library provides free access to e-books and audio books that can be downloaded to tablets, phones, and computers, as well as to many e-readers. As long as you are in the USA and you have an Internet connection, you'll never want for a book! Before you take that next trip, make sure that you've got lots of spare reading material. Books are checked out for 2 weeks; they can be both returned early if you finish it or renewed if no one is waiting for it, and you can have 3 books checked out at the same time. For more information see https://www.librarycamden.org/ebooks/ or ask a member of the library staff for assistance.
---
Did you know that we have 5 Apple iPADs and 6 Kindle e-readers available for checkout?
The Kindles have over 300 books preloaded onto them, and the iPADs are all set and ready to download books that you choose from the Cloud Library, so if you want to try out the technology to see if electronic books are for you, this is a great way to do it! And if you already know that you love the technology, these tools are ready and waiting for you to borrow for occasional use. If you have questions, or need help to get started, talk to a member of the library staff or look at the lower half of the page found at https://www.librarycamden.org/ebooks/