Edna St. Vincent Millay Residences and Map of Important Locations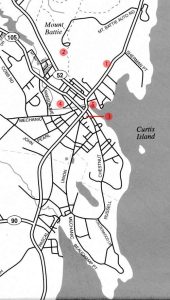 1. Whitehall Inn
Located on High Street, this Inn has been a Camden landmark for years. Inside you will find a room dedicated to Camden's poet Laureate featuring memorabilia related to Vincent's life in Camden.
2. Mt. Battie
The smallest of the five Camden mountains, yet a favorite to Vincent who climbed the mountain frequently. The view from this site was the inspiration for the opening lines of "Renascence." A plaque honoring the poet is located at the top of the mountain.
3. Cushing Mansion
The Cushing Mansion was built in 1799 by Mr. John Hathaway, the first lawyer in Camden. The house is located next to the Chestnut Street Baptist Church. This house is sometimes referred to as the "Hathaway-Cushing-Millay House."
4. Camden High School
Although this structure no longer exists, (on Knowlton Street) the high school was an important part of Vincent's life. A 1909 graduate, Vincent was the editor of the school publication "Megunticook."
5. Edna St. Vincent Millay Statue
Unveiled in 1989 by local sculptor Robert Willis, this statue is located in Harbor Park.
100 Washington Street
This was the first home of the Millay's from 1903-1908. Vincent lived in this house until she was 16.
40 Chestnut St.
82 Washington St
Located near the old Camden High School, this was the last house in Camden where Vincent would live. (This structure has been razed).
12 Limerock St.
Although Vincent never lived in this house, it was at one time home to her sisters Norma and Kathleen.