Thursday, August 31
@
7:00 am
–
10:00 pm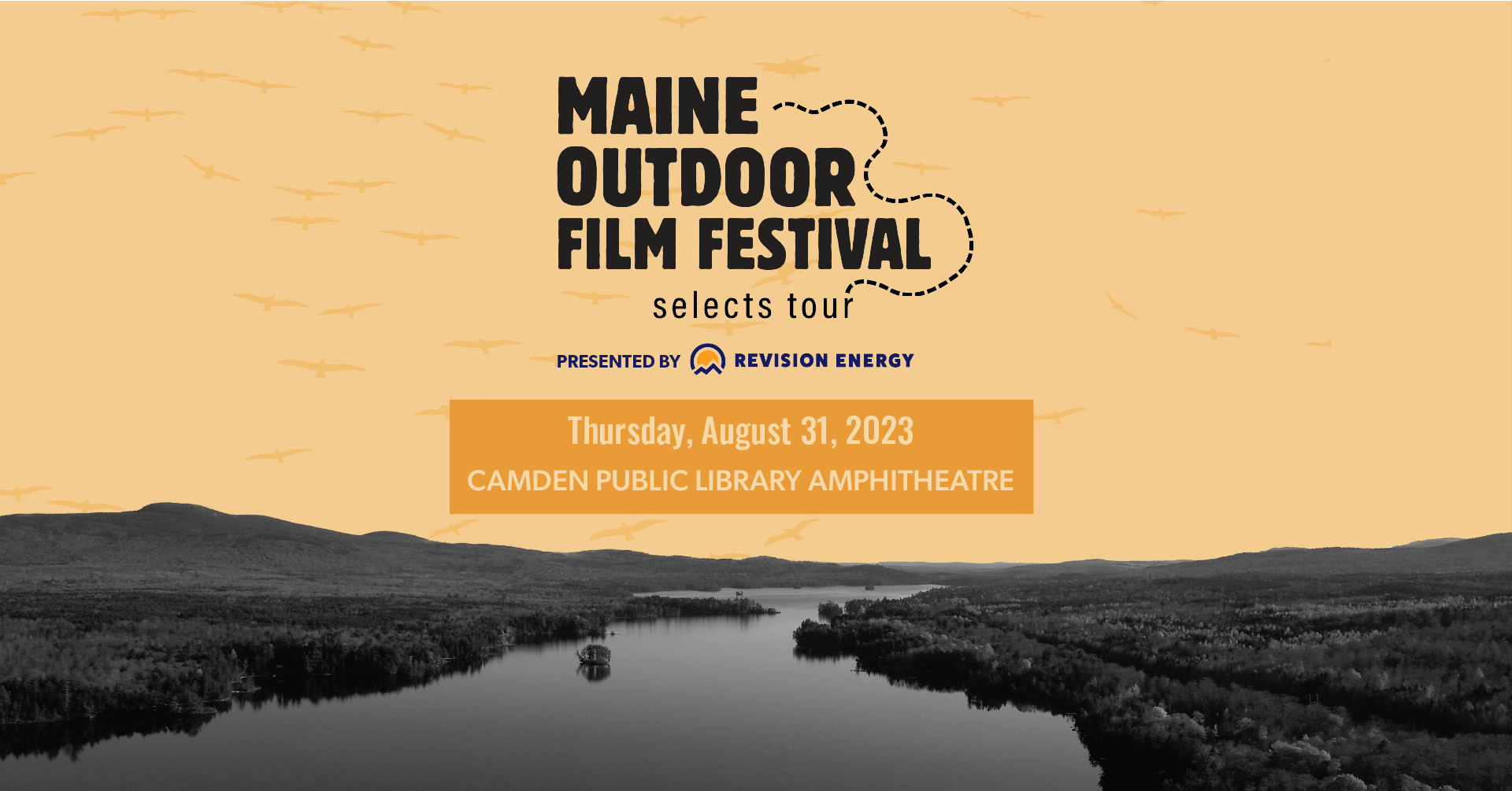 Join the Maine Outdoor Film Festival in Camden for an evening of outdoor adventure and conservation films shown under the stars in the field at the Camden Public Library Amphitheatre! Bring your own lawn chair or blanket for comfortable seating and enjoy a selection of films celebrating and exploring our connection to the outdoors.
Films begin at 7:45 PM. The program will last about 2 hours, including a 10 minute intermission. The Maine Outdoor Film Festival is free to attend, with a suggested donation of $5 to $10. Donations will benefit the Camden Public Library and Teens To Trails. For more information, visit the festival website.

Screening Program
TO BE FRANK – 11.48 minutes – by Anna Wilder Burns – from Maine – Short synopsis: 'To Be Frank' explores authenticity and community in surfing via Frank Paine, a 73-year-old South Bay icon and humble local legend whose life orbits around a two-block stretch of beach. Surfing, which, for some, becomes lost in isolation, is made whole again with Frank — welcoming, inspiring, kind and committed, with an unwavering passion centered on and springing from Hermosa Beach's beloved shores.

WOOD HOOD – 16 minutes – by Alexander Cullen – from New York – Short synopsis: DeVaughn is a 15-year-old kid from New York City who loves skateboarding and craves a "quiet place" to escape the chaos of his home, the city, and kids that steal from him. The film follows DeVaughn on a weekend-long group camping trip with Camping to Connect, a BIPOC-led mentorship program that teaches leadership, brotherhood, and inclusion in the outdoors, a space that is unfamiliar and historically inaccessible to these kids.

STORIES FROM THE WOOD – 3.83 minutes – by Kevin Moehlenkamp – from Maine – Short synopsis: Stories From The Wood profiles Chainsaw Artist, Josh Landry. Like a lot of folk art, chainsaw sculpting has been passed over, marginalized, and relegated to county fairs. Josh's talent elevates the art form and makes you look again with deserving reverence and wonder.

A SEA CHANGE – 22 minutes – by GoodFight Media – from Maine – Short synopsis: Maine leads the nation in farmed seaweed production, but getting here was no easy task. Three women leading Maine's farmed seaweed sector have a candid and honest conversation about their motivations, challenges, and hopes for the future of the Maine coast.

WILD AND STILL – 13.35 minutes – by hugo clouzeau – from France – Short synopsis: Wild And Still, a short film with kayaking.

ELEVATED – 15 minutes – by Palmer Morse – from California – Short synopsis: Effective communication is a challenge every climber faces. It's a sport that requires intense focus, dedication, and overcoming fear. For Deaf climber Sonya Wilson, communication and community is of vital importance. Elevated is a non-verbal film sharing Sonya's experience as a Deaf woman and outdoor advocate working to bridge the gap between the Deaf community and the outdoor industry, one crag at a time.

LOVE – 14.68 minutes – by Tara Reynvaan Kerzhner – from United States – Short synopsis: After a miscarriage and a historic ascent of the famous sport climb Dreamcatcher, Paige Claassen follows her own path as a professional athlete training through pregnancy, finding new meaning in strength and identity through the early days of motherhood.

THE LAST SKIER STANDING (2022) – 18.62 minutes – by Chris Shane – from Maine – Short synopsis: The Last Skier Standing is a last man standing format event in Jackson, New Hampshire. Follow skiers Ben Eck & Brody Leven as they ski every hour on the hour for a really, really long time. Who will be the last skier standing?
MOFF 2023 is Presented in Partnership by