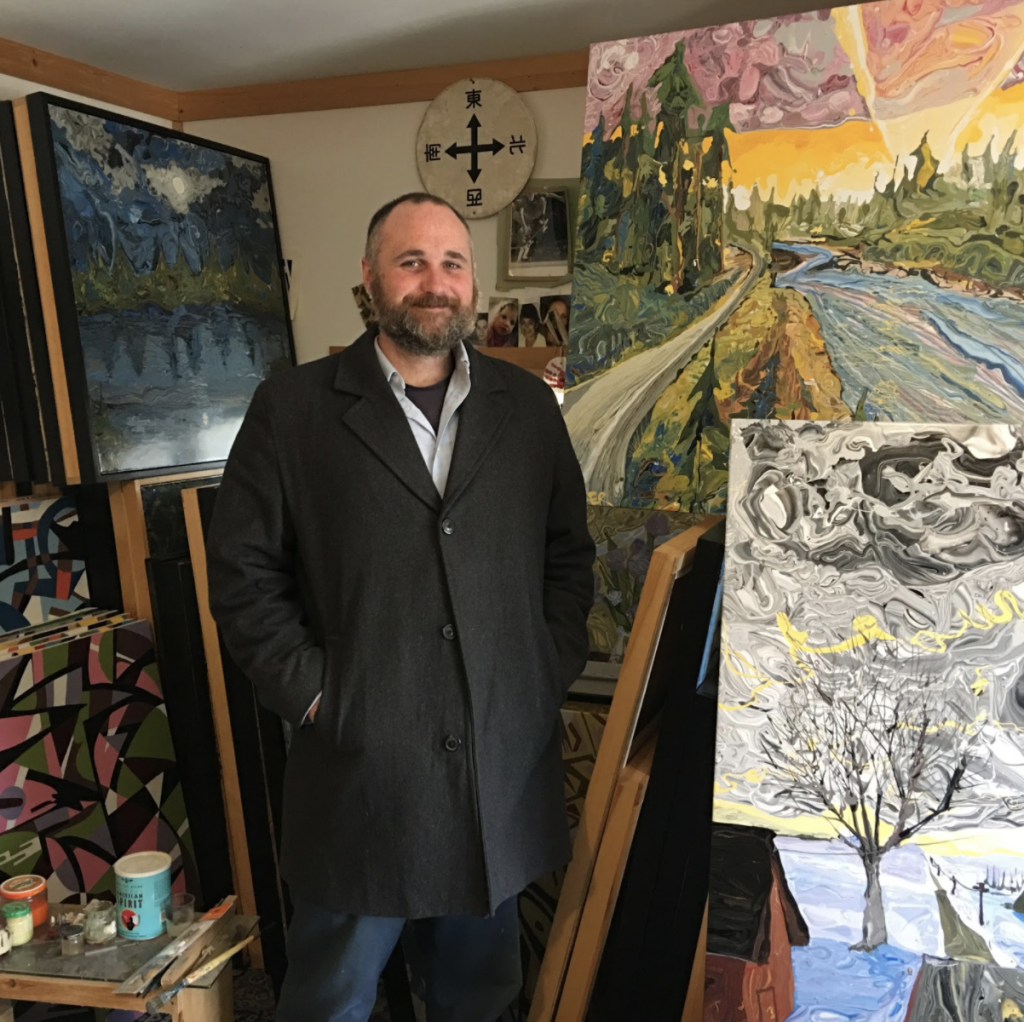 The Camden Public Library is excited to introduce Jon Byrer as our July Artist-of-the-Month. Byrer's art is created without the use of brushes, and he refers to his unique and fascinating method as "poured marbled painting."

These works push the abstract trend of fluid art into impressionistic yet recognizable landscapes, portraits, and still life. The technique of pouring one thick layer of paint onto the canvas creates fluidity. The mixing colors are set in place when dry yet still seem liquid. The dry paint marbles into permanent eddies, whirls, and swirling images on the canvas. When dry, the enamel paint creates a gloss finish that is smooth to the touch.

"Poured marbled paintings are inspired by Maine's raw natural beauty," explains Byrer. "The unexpected turn in the road; that place you've never been; the adventure of finding something new. When painting, there is a draw to find those moments when something unexpected happens — like when a small moment frames a feeling to make a memory. These paintings are created out of liquid moments of thick, swirling paint. I have endowed each of these paintings with their own 'lives' by creating images out of numerous serendipitous puddles of paint."
The Library will host Byrer, for an online presentation on THURSDAY, JULY 9, at 6:00 pm exploring his extraordinary painting style. The program will be held via the Zoom platform. Please email jpierce@librarycamden.org to request a link to attend.
Byrer attended Maine College of Art and graduated with a degree in photography in 1999. He lives in the mid-coast area where he creates poured marbled paintings, drawings, and photographs.
While the library is still not able to host art exhibits inside its building, a virtual exhibit of Byrer's artwork can be viewed on the library's website. Additionally, Byrer has pledged to donate 20% of sales from his website www.jonbyrer.com during the month of July to the Camden Public Library.
Learn more about Jon Byrer's artwork in this 7-minute video from a program at Colby College: https://youtu.be/EdR-fO9PXMg
Below is a gallery showcasing a sample of Jon Byrer's captivating artwork.