Tuesday, November 21
@
3:30 pm
–
5:00 pm
On Tuesday, Nov. 21, the Camden Philosophical Society will continue its exploration of philosophy as a way of living, as understood by the ancient Greeks and Romans, rather than as an elucidation of theory. This month our guide will be Pierre Hadot, a 20th Century French philosopher, classical historian, and author of the renowned collection of essays Philosophy as a Way of Life: Spiritual Exercises from Socrates to Foucault. All are welcome to participate in this hybrid gathering, in-person at the Picker Room of the Camden Public Library or by Zoom.
If you wish to participate via Zoom, please email sarahmiller@usa.net. You will receive a Zoom invitation on the morning of the meeting. Click on the "Join Zoom Meeting" link in that invitation at the time of the event.
In his influential writings, Hadot argues that in the classical world – extending from the time of Socrates and Epicurus in Greece through the era of famed Roman Stoic emperor Marcus Aurelius and beyond — "philosophy was a way of life, both in its exercise and effort to achieve wisdom, and in its goal, wisdom itself. For real wisdom docs not merely cause us to know: it makes us 'be' in a different way." In the contemporary world, too, Hadot argues, "Ancient philosophical traditions can provide guidance in our relationship to ourselves, to the cosmos, and to other human beings."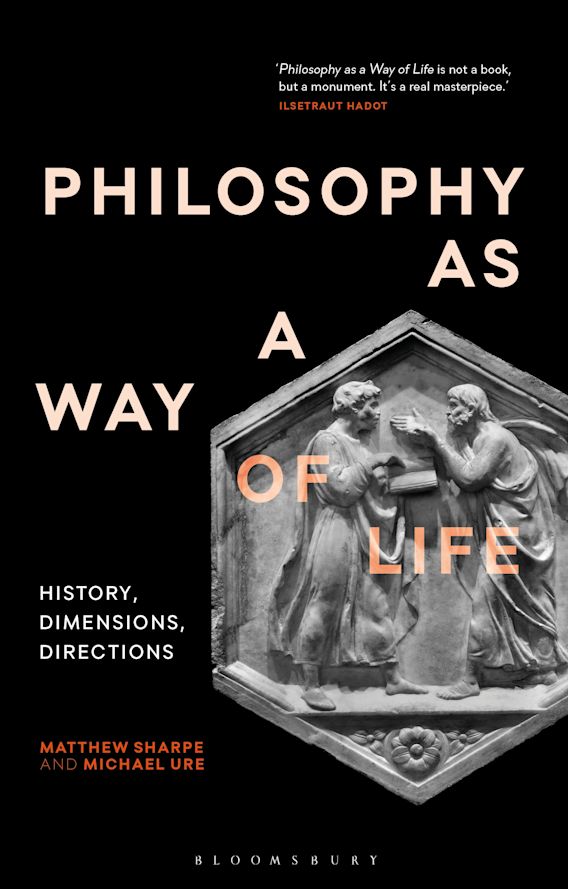 As a renowned historian of classical philosophy, as well as a practitioner of philosophical exercise, Hadot certainly did not deny the importance of theory as applied in philosophical discourse to logic, to ethics and, in antiquity, to physics. These theories defined the various schools of philosophy founded around the thinking of Socrates, the Cynics, Aristotle, Epicurus, and the Stoics, among others. But such theory was just that, philosophical discourse.
Philosophy itself was something else. It was "no longer a theory divided into parts, but a unitary act, which consists in living logic, physics, and ethics." When it comes to ethics, the ancient focus on living and action as the essence of philosophy implies a strong inward-looking focus on oneself – one's own individual life – and is at odds both with the rules-based systems grounded in Western religious belief and with the "consequentialist" approach to ethics in the modern era, according to our readings last month by Julia Annas in her 1993 work The Morality of Happiness.. Consequentialism judges behavior by its social effects, with the most notable example being utilitarianism.
Hadot concurs on the inward focus of ancient "spiritual exercises" that formed the core of philosophy. However, he also stresses that this does not mean ancient Greek and Roman philosophy ignored the importance of remaining aware of "the place of one's individual existence within the great current of the cosmos and the perspective of the whole." Nor of an individual's existence within a community or even what we might now call politics. "Ancient philosophy was always a philosophy practiced in a group," and philosophers "never gave up having an effect on their cities, transforming society, and serving their citizens."
Hadot's Philosophy as a Way of Life can be found online in its entirety for free here: https://archive.org/details/philosophy-as-a-way-of-life-spiritual-exercises-from-socrates-to-foucault-pierre-hadot/page/n7/mode/2up Scroll down if you wish to download the document. A number of options are available on the right-hand side of the screen.
As background for our discussion, we recommend you start by reading the short essay near the end, No. 11, which like the book, is titled "Philosophy as a Way of Life." Chapter 3, "Spiritual Exercises," is recommended as a follow-up.
Those who are particularly interested in the topic might also enjoy this article from the LA Review of Books: https://lareviewofbooks.org/article/philosophy-as-an-art-of-living/