Tuesday, May 23
@
6:30 pm
–
7:30 pm
The Camden Public Library welcomes writer Linda Buckmaster for a reading and discussion of her hybrid memoir, Elemental: A Miscellany of Salt Cod and Islands. Elemental is the first installment in a series of creative and eclectic responses to the beauty and realities of islands in Maine, Newfoundland, and northwest Scotland. In Elemental, Linda Buckmaster follows the call of the elements—rock, sea, sky, wind. Elemental is also one of three finalists for a 2023 Maine Literary Award in the Excellence in Publishing category.
Through essay, poetry, and fiction, Linda traces the imprint of the lowly salt cod over time in communities across the North Atlantic and Caribbean. The books is beautifully designed throughout by Graphic Artist Lori Harley in Portland. Previously an editor for National Fisherman magazine and former Poet Laureate of Belfast, Linda knits fact and lyric into her narrative net.
This is a hybrid program that will take place in-person as well as on Zoom. Use this link to register to attend virtually: https://us02web.zoom.us/webinar/register/WN_QjtlXO4-RkGBE26W9L98gQ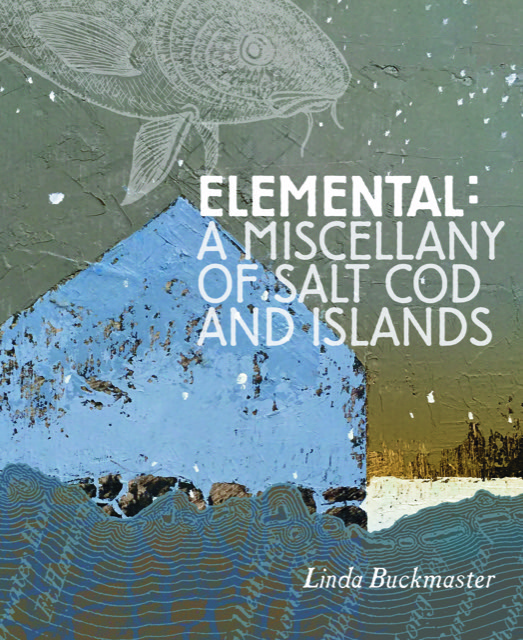 Linda Buckmaster has lived within a block of the Atlantic most of her life, growing up in Florida and living in midcoast Maine for fifty years. She has an MFA from the University of Southern Maine. Her poetry, essay, and fiction have appeared in over forty journals. She has held residencies at Vermont Studios Center, Atlantic Center for the Arts, and Obras Foundation among others. Two of her pieces have been listed as Notable Essays in Best American Essays 2013 and 2020. Her hybrid memoir, Space Heart. A Memoir in Stages, was published by Burrow Press in 2018. Her latest hybrid, Elemental: A Miscellany of Salt Cod and Islands (Huntress Press, 2022), is the first installment of a multimedia North Atlantic Rim Project.
Poet and Gulf of Maine Books owner Gary Lawless says, "Linda Buckmaster follows the sea ways, follows the cod lines, follows the northlands of her heart—a journey worth following. We follow the mixed history of cod, humans, and place as Linda searches for a proper engagement with islands that humans have been influencing since the glaciers receded. Elemental, yet rich with history, rich with poetry, song, and story, rich with the lives of many beings."
Cover artwork by Belfast artists Leslie Moore (codfish) and Sheep Jones (stone house).