The application process for Harbor Arts & Books Summer 2019 opens on January 14th.
Summer Harbor Arts & Books Fair will be July 13 & 14, 2019 – Register here.
Fall Harbor Arts & Books Fair will be October 5 & 6, 2019 – Register here.
A look back at Fall 2018 Harbor Arts & Books exhibitors:
[ngg_images source="galleries" container_ids="12″ display_type="photocrati-nextgen_basic_thumbnails" override_thumbnail_settings="0″ thumbnail_width="80″ thumbnail_height="80″ thumbnail_crop="1″ images_per_page="0″ number_of_columns="0″ ajax_pagination="0″ show_all_in_lightbox="0″ use_imagebrowser_effect="0″ show_slideshow_link="0″ slideshow_link_text="[Show as slideshow]" order_by="sortorder" order_direction="ASC" returns="included" maximum_entity_count="500″]
Hosted by the Camden Public Library, the 2018 Harbor Arts & Books Fairs will be on July 14th & 15th for the Summer Harbor Arts & Books Fair and on September 29th & 30th. The fair features items for every taste and prices for every pocketbook! Art patrons will find works in watercolor, oil, acrylics, as well as photography, sculpture, and mixed media. Fans of handcrafted wares can shop for pottery, glass, woodcrafts, jewelry, fiber art and furniture. The library will also host its annual giant Outdoor Book Sale under the tents, on Thursday, Friday, Saturday, and Sunday of the Fair weekend.
Generous support for the Fair is provided by lead sponsor The Reny Charitable Foundation and co-sponsor First National Bank.
Harbor Arts & Books Fair is an admission-free, family-friendly event, making it a perfect day trip or weekend destination. Area inns, restaurants, and schooner sails welcome our Harbor Arts guests — and the coastal panoramic views from nearby Mount Battie are not to be missed! Exhibitor booths will be in the Amphitheatre, along Atlantic Avenue in Camden, and nestled right along the water in beautiful and scenic Harbor Park.
Originally begun as the Carol Sebold Arts & Crafts show, the juried show has been hosted annually by the Penobscot Bay Regional Chamber of Commerce for several years and by the C-R-L Chamber of Commerce for years before that. The Library will carry on the tradition of excellent juried arts, with added festive flavor and emphasis on quality and publicity.

To register and get information on Harbor Arts and Books Fair FALL 2019, please go to: (this link will be updated as it becomes available in late summer 2019)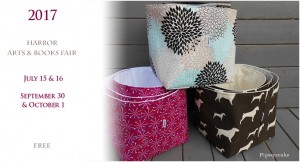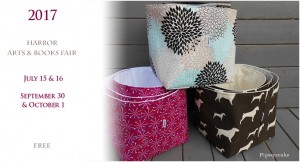 Save
Save