Directions & Parking | Admission | Our Sponsors | Apply to Exhibit | Things to do in the area | Book Sale
Hosted by the Camden Public Library, the 2019 Fall Harbor Arts & Books Fair will take place on October 5th & 6th, 2019 (book sale begins Thursday, October 3). The fair features items for every taste and prices for every pocketbook! Art patrons will find works in watercolor, oil, acrylics, as well as photography, sculpture, and mixed media. Fans of handcrafted wares can shop for pottery, glass, woodcrafts, jewelry, fiber art and furniture.

---
Generous support for the Fair is provided by lead sponsor The Reny Charitable Foundation with support from TREEKEEPERS LLC-Johnson's Arboriculture.
---
To register to exhibit at the FALL 2019 Harbor Arts and Books Fair, held October 5th & 6th, please go to: https://www.zapplication.org/event-info.php?ID=7320
---

Harbor Arts & Books Fair is an admission-free, family-friendly event, making it a perfect day trip or weekend destination. Area inns, restaurants, and schooner sails welcome our Harbor Arts guests — and the coastal panoramic views from nearby Mount Battie are not to be missed! Exhibitor booths will be in the Amphitheatre, along Atlantic Avenue in Camden, and nestled right along the water in beautiful and scenic Harbor Park.
---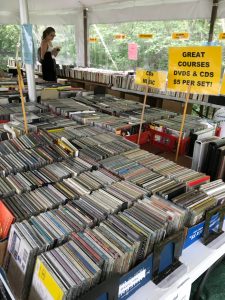 Bibliophiles rejoice! The Big Fall Book Sale Under the Tents is back on the front lawn of the Camden Public Library. Thousands of books, CDs, and DVDs divided into over 25 categories will be on sale beginning Thursday, October 3, and running through Sunday, October 6, from 9:00 am to 5:00 pm each day except Sunday, when the sale will close at 4pm.
The Big Book Sales are held twice a year, run entirely by devoted volunteers, and are one of the most important and successful fundraisers for the Camden Public Library. Shoppers will find amazingly affordable prices on books of every imaginable subject matter — including bestsellers, classics, local interest, history, children's books, cookbooks, rare finds, and so much more. Clear some space on your bookshelves at home, and come discover some new favorite books at this sale! For more information, visit librarycamden.org.
Originally begun as the Carol Sebold Arts & Crafts show, the juried show has been hosted annually by the Penobscot Bay Regional Chamber of Commerce for several years and by the C-R-L Chamber of Commerce for years before that. The Library will carry on the tradition of excellent juried arts, with added festive flavor and emphasis on quality and publicity.
---

We are located at 55 Main St, Camden, ME 04843. Our phone number is (207)236-3440. The library is open 7 days a week. Looking for where to park for the weekend? Here's a map of municipal parking lots in Camden with all day free parking. Two hour parking is available along most streets.