The Camden Public Library is pleased to announce an open call for entries for our Annual Harbor Arts and Books Fairs on July 8 – 9, and September 30 – October 1, 2023. Harbor Arts and Books is a well-attended, long-standing community event, held on the National Historic Landmark grounds of the Camden Public Library (CPL) in both the summer and fall.
If you are a vendor who is interested in applying, please visit the online application portal here:
Harbor Arts and Books has possibly the most beautiful location for an art fair on the East Coast. The fairs take place in Camden's historic Harbor Park and Amphitheatre, and on the street that passes through the park, at the head of Camden Harbor. About 65-80 exhibitors display their work in standard 10×10 tents.
This juried show is a dynamic focal point of creative expression. It is a perfect place for artists to show their wares, connect with other creative folks, and pair art enthusiasts with beautiful creations.
We would love to welcome you to the salty air and intimate surroundings of our Harbor Park and Amphitheatre during the time of year when the town of Camden is bustling with tourists — all here to enjoy the ocean views and many cultural and artistic events in the area.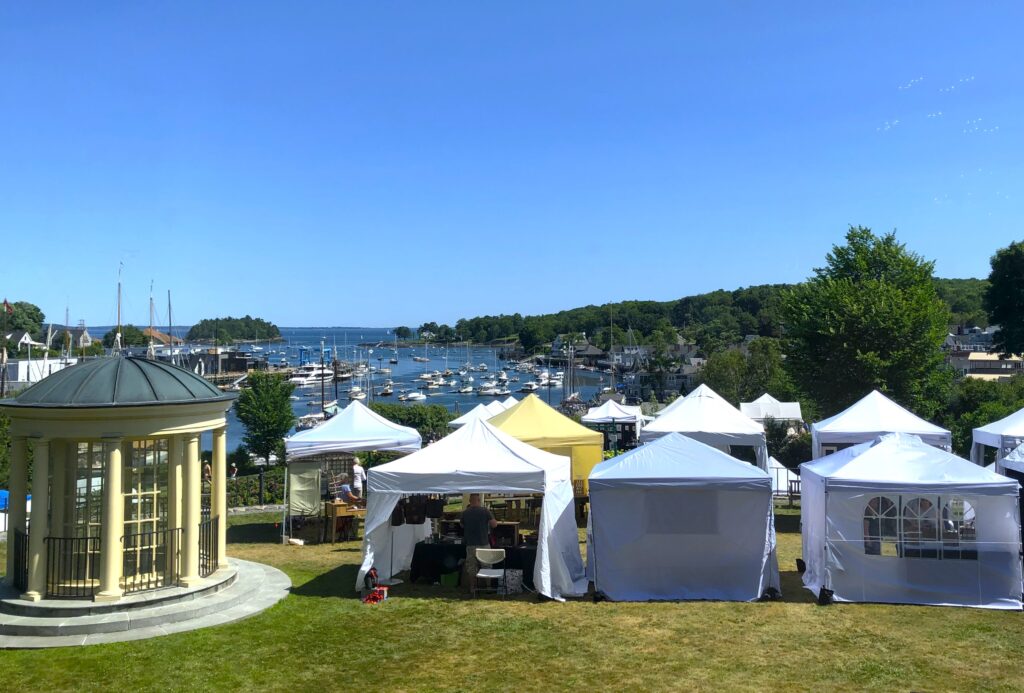 ATTENTION: The Application Deadline is midnight on June 2, 2023 for the Summer HAB Fair, and September 1, 2023 for the Fall HAB Fair. Spaces may be filled earlier than the deadline. In that case, we will begin a wait-list. We will not accept more than 5 vendors on the wait-list.
ACCEPTED MEDIUM CATEGORIES:
Ceramics
Digital Art
Fiber
Food
Functional Art
Glass
Jewelry
Mixed Media
Painting
Photography
Sculpture
Wood
Works on Paper
Rare or Collectible Books
JURY PROCESS
Our Jury process is ongoing and the jury will meet several times during the course of the applicaton period. Vendors who apply will receive invitations for the show on a rolling basis. Booth space preference will be given to those Vendors whose applications are received, paid, and juried early in the process.
FEES
Jury/Entry Fee — $25 (non-refundable)
Booth Fees: $225 Single Booth / $450 Double Booth
The Fee is for booth space only; tents and furniture are not provided.
---
Generous support for the Fair is provided by lead sponsor The Reny Charitable Foundation.

For all general information, please visit the online application portals.