---
What is the Campaign for the Future?
Find Yourself In Good Company – Our Current Donors
The Town's Embrace – Business Leadership Circle
What Happened During National Library Week 2019?
---
We Need Your Help in This Defining Moment
The Camden Public Library is planning for its future: a community that creates young readers, inspires lifelong learning, and is graced by a building and parks that together have earned the distinction of being a National Historic Landmark.
Our library is a reflection of our town. Its reputation is one of civic pride, an engaged citizenry, and a literate community. Americans check out an average of eight books a year – in Camden, the average is more than 20. And unlike many municipalities across the country where all or most of the library's budget comes from the town's coffers, more than half of our library's revenue comes from the generosity of our citizens.
Despite our success, each year we scramble to fill a budget gap of 10% – and to date, we have been successful. But we are thinking and planning for the future, and want to ensure that our lights stay on and our lantern on the hill remains lit for all.
We believe in creating community through lifelong learning. From babies to older adults, we help people connect. We do this by delivering nationally-recognized services, hiring engaging staff who make us feel like we are a part of something special – and, yes, we have lots of books, too. Want to help the Camden Public Library remain this amazing jewel for generations to come? Please join us.
The Campaign for the Future will help us ensure that our library will remain our vibrant center of public life, in times of need and times of abundance.
---
How Can I Help?
Here's how you can invest in the center of public life:

---

Anonymous
Donald and Penny Abbott
Silvio Calabi and Sue Bramhall
Julie Cawley
Sue Stasiowski and Dan Cheever
John and Ellen Claussen
Leslie Curtis and Don Peccerill
Barbara and John Davidson
Davis Family Foundation
Deb and Jeffrey Dodge
Ed and Vicki Doudera
Des Fitzgerald
Abigail and John Fitzgerald
Susan and Peter Fitzgerald
Susan and Shane Flynn
Claudia and Michael Griffiths
Ken Gross
Estate of Vera Hill
Dave and Nancy Jackson
Patricia and Rendle Jones
Kathryn and Andrew Klaber
Elinor Klivans
Mr. and Mrs. Edward W. Lane III
Estate of Leonard Owen Lookner
Nikki Maounis
Rosalee and David McCullough
Dennis and Judith McGuirk
Joseph D. Messler, Jr.
Caroline Morong, in support of the Ann H. Symington Endowment
Donald and Alice Noble Foundation
Arthur Norton and Jennifer P. Marks
Jennifer Parmalee
Margaret and Michael Perlis
Betsy Perry and Neale Sweet
Gale Picker and John Larsen, Brant Foundation
Mike and Kate Pierce
John and Cynthia Reed
Diana Rigg
James and Marilyn Moss Rockefeller
Amy and Peter Rollins
Mary R. Saltonstall and John K. Hanson Jr.
Estate of Robert Shotwell
Ellen C. L. Simmons and Family, in honor of Rosalee and David McCullough and their family
J.P. and Kaki Smith
Tom and Jo Ellen Stammen
Keiko and Matthew Storin
Galen and Susan Todd
Deborah and Peter Warren
Jean and Don White
Martha L. Wolfe
As of April 1, 2019
---
MARY LOUIS CURTIS BOK INVESTOR $50,000-plus
First National Bank
FLETCHER STEELE PARTNER $25,000-plus
Bangor Savings Bank Foundation
MEGUNTICOOK INVESTOR $10,000-plus
Allen Insurance and Financial
Camden National Bank
HARBOR BENEFACTOR $5,000–$9,999
Camden Law
ATLANTIC AVENUE PATRON $1,200–$4,999
Baird Private Wealth Management
Hartstone Inn & Hideaway
Ken Gardiner, Edward Jones Investments – Camden
P.G. Willey & Co.
Peter Ott's On The Water
Reny Charitable Foundation
MAIN STREET PARTNER Up to $1,200
Camden Coast Real Estate
DAAC Designs
Fresh Restaurant
Glendarragh Lavender
High Mountain Hall
Horch Roofing Inc.
Legacy Properties Sotheby's International Realty
Maritime Energy
Once a Tree
Viking, Inc.
Waterfront Restaurant
IN-KIND DONORS
Bay View Collection
Blackberry Inn
Camden Jewelry Company
Leslie Curtis Designs
As of April 1, 2019
---
What Happened During National Library Week 2019?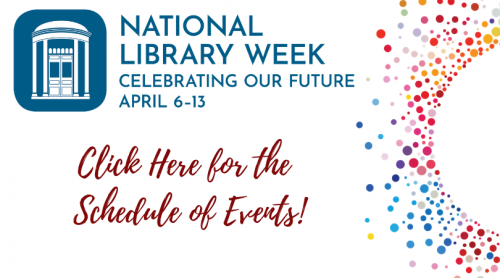 As part of the launch of the Campaign for the Future during National Library Week, the Camden Public Library celebrated libraries everywhere and, in particular, our shared future here in Camden!
Thank you to everyone who made our first Edible Book Festival and the launch of the Campaign for the Future so special. What a spectacular day! We went on to celebrate the future of the Camden Public Library every day during National Library Week. Thank you to everyone who took part! We invite you to support the library's future by buying a brick or making a gift of any amount.