"Taming of the Shrew" – Camden Shakespeare Festival
Saturday, August 3, 2019 @ 6:00 pm

-

8:00 pm

|

Recurring Event

(See all)

One event on Thursday, July 25, 2019 at 6:00 pm

One event on Friday, July 26, 2019 at 6:00 pm

One event on Thursday, August 1, 2019 at 6:00 pm

One event on Friday, August 2, 2019 at 6:00 pm

One event on Saturday, August 3, 2019 at 6:00 pm

One event on Wednesday, August 7, 2019 at 6:00 pm

One event on Saturday, August 10, 2019 at 6:00 pm

One event on Sunday, August 11, 2019 at 6:00 pm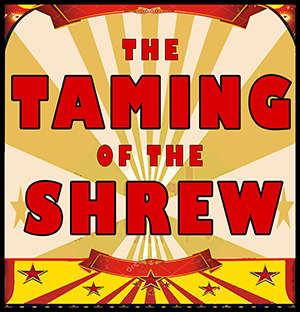 TICKETS ARE NOW ON SALE ONLINE AT: https://camdenshakespeare.org/tickets/
AND INSIDE THE CAMDEN PUBLIC LIBRARY
The Camden Shakespeare Festival is a professional, non-profit theatre committed to producing Shakespeare's plays chiefly in the Camden Amphitheatre. At the core of our mission is a passion to make Shakespeare's plays accessible to contemporary Maine audiences, especially children. We believe that Shakespeare plays speak to everyone, because of their universal themes, their unforgettable characters and their extraordinary poetry. These plays are produced in association with the Camden Public Library.
William Shakespeare Profile
William Shakespeare (playwright) A young man from a small provincial town – a man without independent wealth, without powerful family connections, and without a university education – moves to London in the 1580s and, in a remarkably short time, becomes the greatest playwright not of his age alone but of all time. His works appeal to the learned and the unlettered, to urban sophisticates and provincial first-time theatregoers. He makes his audiences laugh and cry; he turns politics into poetry; he recklessly mingles vulgar clowning and philosophical subtlety. He grasps with equal penetration the intimate lives of kings and of beggars; he seems at one time to have studied law, at another theology; at another ancient history, while at the same time he effortlessly mimes the accents of country bumpkins and takes delight in old wives' tales. -Stephen Greenblatt, Will in the World
Stephen Legawiec (Artistic Director) In his 30 years as an artistic director, Legawiec has personally supervised over 100 professional productions as well as directing over 75. He has researched world theatre in Europe and Asia and is a member of the International School of Theatre Anthropology. In 1996 he founded Ziggurat Theatre Ensemble, (now in residence in Bowdoinham, Maine) to explore the relevance of myth and ritual to a contemporary audience. Legawiec is the author of 30 plays, including Red Thread, which won the 2003 Backstage West Garland Award for Los Angeles Production of the year.
In addition to his directing and playwriting, Legawiec has designed over 50 sets and composed over a dozen theatrical scores. His productions have been praised by the Los Angeles Times, who called him "one of the theatre's most adventurous talents." And the LA Weekly called Legawiec "among the most visionary directors we have."
In 2009, Legawiec traveled to Wroclaw, Poland as a core artistic participant in The World is a Place of Truth – a UNESCO-sponsored event as part of the International Grotowski Festival. His work has most recently been seen in Trois-Rivieres, Canada, at the Micro-festival of Unfinished Puppetry in 2015 and at the Season of Unusual Theatre in 2017.
Dana Wieluns Legawiec (Artistic Associate) is a professional Performer, Theatre Artist and Arts Educator who specializes in Physical Theatre. As co-Artistic Director of Ziggurat Theatre Ensemble, she has participated in the creation and performance of twenty original works spanning twenty years. She is also an Artistic Associate with the Bath and Camden Shakespeare Festivals, appearing regularly as an actor, director or movement director. Dana received her BA in English Literature and a Certificate in Theatre and Dance from Princeton University, graduated from the Dell'Arte School of Physical Theater, and is a candidate for Master of Education, Arts in Education, at Harvard. Since moving to Bowdoinham, Maine in 2010, she has performed with Celebration Barn, Figures of Speech Theater, the Maine Holocaust and Human Rights Center, and Portland Stage's Play Me A Story program. Most recently, Dana directed the inaugural Theatre for Young Audiences production LETTERS FROM THE SKY at Stages Youth Theater. Dana leads workshops in Physical Theatre and Mask for students of all ages and is a Lecturer in the Department of Theatre at the University of Southern Maine.
Full Schedule:
Wednesday, July 24 Taming of the Shrew at 6pm
Thursday, July 25 Taming of the Shrew at 6pm
Friday, July 26 Taming of the Shrew at 6pm
Saturday, July 27 Hamlet at 7pm
Sunday, July 28 Hamlet at 7pm
Wednesday, July 31 Hamlet at 7pm
Thursday, August 1 Taming of the Shrew at 6pm
Friday, August 2 Taming of the Shrew at 6pm
Saturday, August 3 Taming of the Shrew at 6pm
Sunday, August 4 Hamlet at 7pm
Wednesday, August 7 Taming of the Shrew at 6pm
Thursday, August 8 Hamlet at 7pm
Friday, August 9 Hamlet at 7pm
Saturday, August 10 Taming of the Shrew at 6pm
Sunday, August 11 Taming of the Shrew at 6pm