September's Virtual Gallery: "Structure & Narrative"
Tuesday, September 1
–
Wednesday, September 30
For the month of September, the Library is pleased to host the Midcoast Maine Book Arts Group for an invitational virtual exhibition entitled Structure & Narrative. The show features work by book artists with strong connections to the midcoast region of Maine.
Structure & Narrative encompasses two concepts about artists' books for viewers to consider. First, each book is a made object — something that has a material aspect, a structural component, and a nod to what a book does: invite the viewer in. The second idea is the narrative: What is the story being told, how is it being told, and what are the aspects of narrative that a viewer can discern?
On Tuesday, September 8, at 6:00 pm, the Camden Public Library hosted artists from the Midcoast Maine Book Arts Group for a special event, "Zoom Into the Book Arts Studio." This was an opportunity to virtually visit the studios of four artists—Rebecca Goodale, Cynthia McGuirl, Joelle Webber and Dudley Zopp—to learn about their work and some of the tools and processes they use. The event provides the audience with an intimate look at the artists' work spaces from the comfort of home. A Q&A session followed each studio visit. Click below to view the recording of the program.
Midcoast Maine Book Arts is a collective formed to promote, encourage, and educate working and aspiring book artists in the midcoast Maine area. It seeks to exhibit the work of its members and other book artists, host workshops about artists' books, and enlighten the general public about this art form. Midcoast Maine Book Arts meets every other month on the second Thursday at 6:30 p.m. at Maine Media Workshops + College (or on Zoom) to talk about work in progress, artists' book news and exhibition possibilities, materials, structure, and other topics of interest.
For more information, please join the Midcoast Maine Book Arts Facebook page.
Midcoast Maine Book Arts exhibitors have pledged to donate 20% of sales from this exhibition to the Camden Public Library during the month of September 2020. Please contact the artist directly if you are interested in purchasing a book.
Artists:
SISSY BUCK
Summer Madness
2016
One of a kind artist's book, single signature, 10 pages, varying sizes
12″ x 15.5″ closed, 12″ x 31″ open
Not for sale
www.sissybuck.com
sissyemmonsbuck@gmail.com
Interior pages, trace drawing and paper lithographs of enlargements of artist's mother's handwriting from letters, plant lists on Rives BFK.
Summer Madness is one of many books that I made after my mother passed away from Alzheimer's. The title takes its name from her favorite sorbet pink petunia, planted every summer in her cheerful window boxes. The title also refers to the summer before my mother passed away, when she had no recollection of her favorite petunia, of any flower, nor of where she was. A poignant summer madness for all. Click here for more.
________________________________________________
REBECCA GOODALE
Euphorbe arboricle (Tree Spurge)
2020
Clothbound flag book with large scroll background, reduction lino cuts
Book open: 15″ x 55″ x 10″
Scroll open: 48″ x 60″
Unique book(s)
$2600
www.rebeccagoodale.com
goodale@maine.edu
This piece is a realization of my memory of walking onto a neighborhood beach in LaNapoule, France. It was a beautiful day in March and the chartreuse and yellow spurge was glorious. I slipped into the Mediterranean and swam in what felt like a vat of chilled peppermint. Click here for more.
________________________________________________
NAN HAID
HOT
2005
H 1.75″ x L 12.25″ x W 9.25″
Not for sale
nanhaid@hotmail.com
Photo Credit: "Photography by William Thuss"
HOT is one of the ten visual diaries included in the ongoing NANOSECONDS series of artists' books. Inspired by Ryan Walsh's poem WHAT'S IN MY JOURNAL, HOT records a sabbatical semester spent on the the Crow Reservation in Montana, and residencies at 2 artist colonies in 2015. Click here for more.
________________________________________________
ARLENE MORRIS
Pay Attention
2020
Handmade recycled paper, paint, ink, hand- and machine-stitching, linen and cotton thread. Unbound.
H 12″ x W 11″ x D 2″
Not for sale
www.arlenemorris.com
admorris@gwi.net
…when I'm really into making a book, it takes over. I'm frantic to complete it. My hands and head are working like crazy; I'm excited. I'm not excited. It's a roller coaster ride. I love a good idea, and then it goes flat, but then it seems to fly, and I try to catch it. Click here for more.
________________________________________________
CYNTHIA MOTIAN MCGUIRL
Nonsense
2019
Closed – 12″ x 7 x 1″
Open – 16″ circumference x 11″ h
$1200
www.cynthiamotianmcguirl.com
dancingblanket@gmail.com
Hammered copper box, original woodcut, marbled Magnani Pescia 300 gsm paper, hand lettering, waxed linen stitching, dyed kozo hinges, wool felt liner.
Nonsense is a book about words and letters. The imagery is inspired by Anahit, an ancient goddess who swallowed the sun every night, passed it through her body and released it in the morning. The form is also inspired by her: both circular and cyclic, both open and contained. Click here for more.
________________________________________________
JAN OWEN
This Life We Live
2020
Sumi and walnut ink, acrylic on gold painted, handmade paper, with painted, woven Tyvek, signatures wrapped with colored Hollytex polyester. Binders board covers, coptic stitch. Binding with linen thread. Cloth covered box.
12.25″ x 9.25″ x .75″, closed, 28 pages
At Priscilla Juvelis, https://www.juvelisbooks.com
www.janowenart.com
janowenart@gmail.com
During this pandemic spring I felt that the virtual world on my computer screen was not enough; half seen people, paintings, photos and objects all the same flat scale and glowing with computer light, there is no tactile sense or true sound. This book began to honor Barbara Michelena and her gallery, Craft, a jewel box of objects in Rockland. The hand and eye of the maker were evident in each piece she selected for our senses.
This book was to be about the senses and took its time in 'stay home' days, which gave me more time to consider and respond to the texts. Was it the poetry of the words, the ideas, or the evoked memories? Readers used to keep commonplace books, a notebook of copied quotations, poems to be remembered. I have those. Other readers wrote marginalia in books making hand written notes alongside the text. I added mine. Click here for more.
________________________________________________
ABBIE READ
Common, Uncommon
2019
Paper, ink, brushpen
Accordion structure
7.125″ x 4.25″ x 2.25″
Not for sale
www.abbiereadartist.com
artgardn@tidewater.net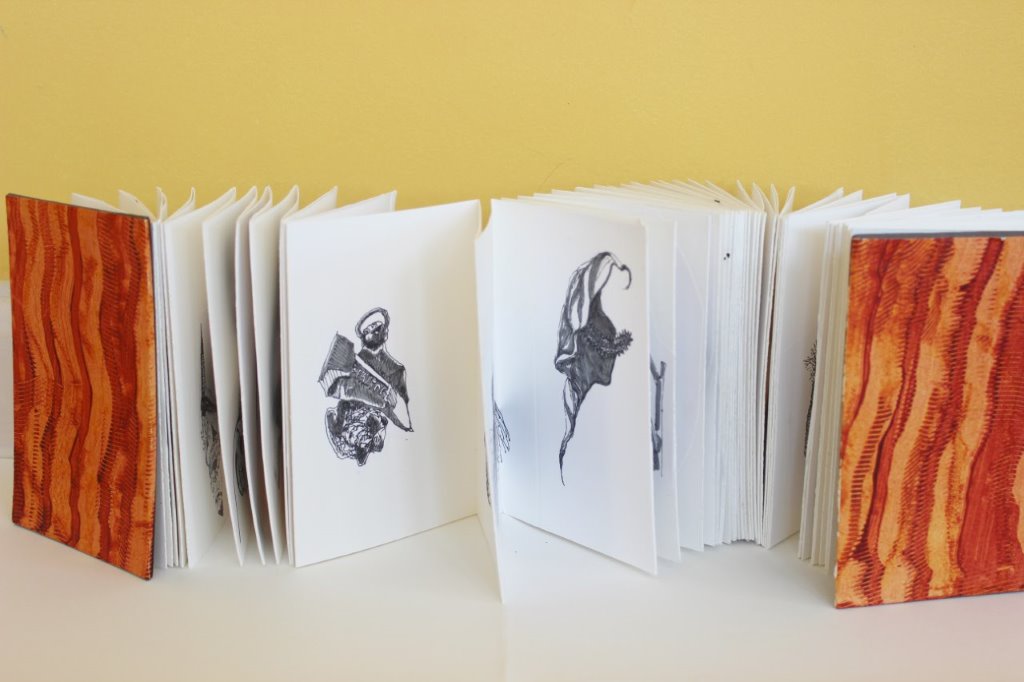 To create this book I made an 80 page accordion folded structure and finished it with paste paper covers. Inside I juxtaposed two ink drawings which oppose each other literally, figuratively and lyrically. On each page is a drawing of a miniature 3D sculpture constructed of found objects and thread (my go-to materials). This is paired with a drawing of a natural object, hence the title "Common, Uncommon." Texture, line, shape, form were important components in the objects I drew. Though they are dissimilar objects, elements of one are echoed in the other, calling attention to similarities in handmade and natural processes. Click here for more.
________________________________________________
RICHARD REITZ SMITH
Diable en Boîte or Election 2020: The Big Top Circus in a Box
2020
Folded Book Formats: Meandering Ox Plow and Lotus Fold variations
ColorPlan and Fabriano papers.
4″ x 4″ x 2″
$250
Edition of 25 ("Vote Democratic"Button not included.)
designandsmith.com
richardreitzsmith@gmail.com
This book project, "Diable en Boîte or Election 2020: The Big Top Circus in a Box" is a composite of several concepts that examine the political environment over the past several years. There are many polarities and dualities. True or false. Blue or Red. Right or Wrong. The political parties. Their symbols: the elephant and the donkey. By playing and manipulating these and others represent the meshing and mixing of truth and values. The country becomes a circus. The voting process a toy. A jack-in-a box originally was called "diablo enboîte" or devil in the box. Warning the recipient: be careful what's in the box. Click here for more.
________________________________________________
SAL TAYLOR KYDD
Keepsakes
2016
Soft cover letterpress in custom case
Limited edition of 15
Signed and numbered
13 folios, 7″ x 9″
$750
Includes a limited edition platinum-palladium print.
www.saltaylorkydd.com
sal@saltaylorkydd.com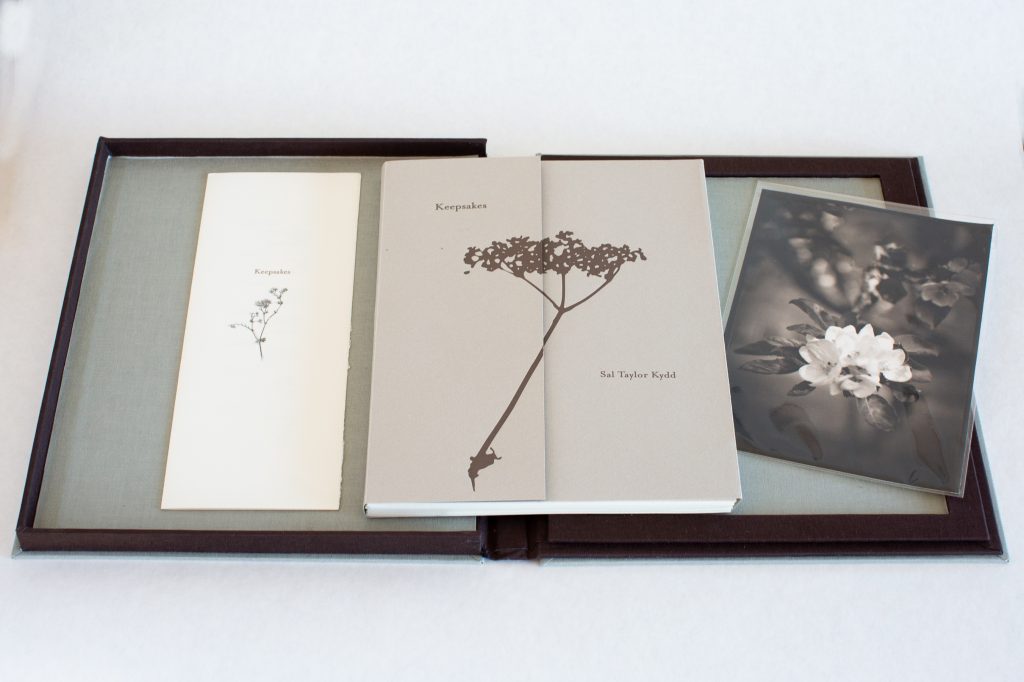 Lately I have found myself exploring more the fragility of that world and our place within it, the push and pull between wonder and hope on the one hand and fear and vulnerability on the other. During this time of quarantining and social distancing as a result of COIVID-19, my examination of isolation and connection has become even more of a focus, as the usual scaffolding of social support that we rely on, has become more tenuous and uncertain. Click here for more.
________________________________________________
JOELLE WEBBER
Milkweed Seed Fairies
2020
Japanese tri-fold box with ribbon closure and pop-up landscape.
Katie MacGregor and Virginia Sarsfield handmade papers, paste papers, Nu Pastels, decorative threads, book board, book cloth, PVA, ribbon and wooden skewers.
Closed: 13.75″ x 6.25″ x 1"
Opened: 13.75″ x 17″ x 6″
Not for sale
www.mermaidbindery.com
mermaidlady@gwi.net
Milkweed Seed Fairies was created with little girls in mind. The mix of colors, almost too busy to keep up with, but joyful to witness. Airy swirls repeating throughout the book; from the letter o, to the stitching on the leaves and weeds, to the marks on the paste paper sky. Round letters, designed with loopy ascenders and descenders, like a young girl would doodle when beginning to write. Click here for more.
________________________________________________
SANDY WEISMAN
Who Is Not a Migrant?
2020
6″ x 24″ x 10″
Boxes and scrolls in cotton organdy, mulberry, bees, feather, dried garlic, skull
$900
www.sandyweisman.art
sandy@26splitrockcove.com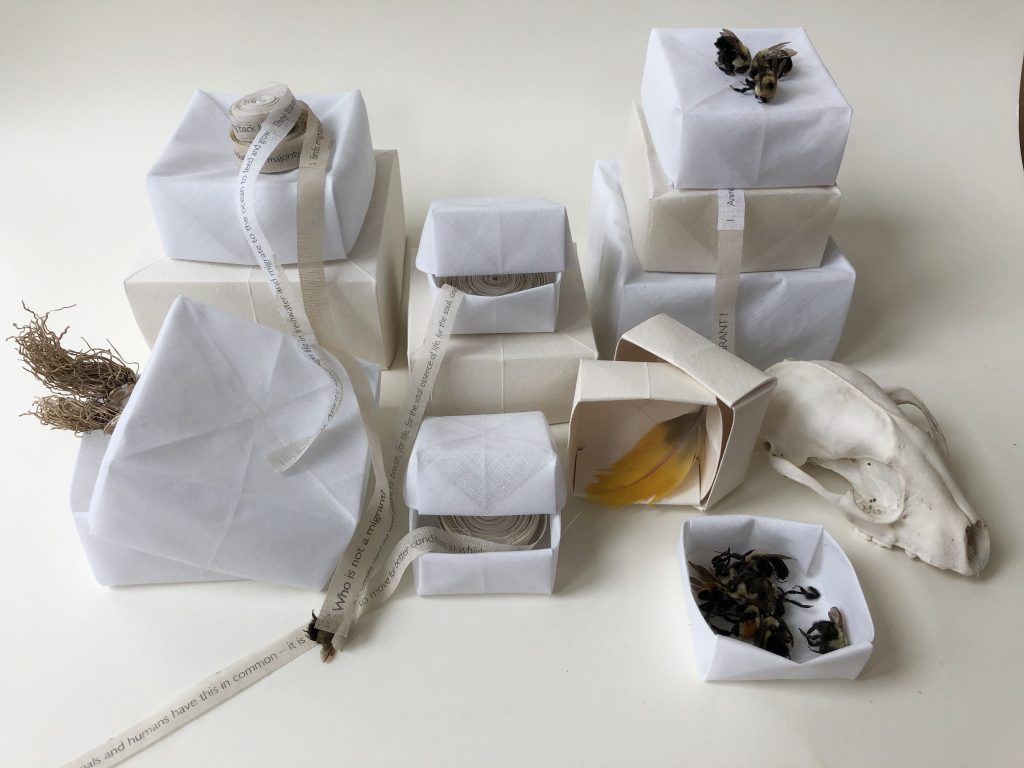 I've been thinking about boxes lately – what they signify – for keeping, saving, sending, storing. A box of photographs, a box of clothes, a box of food. This work contains a series of eleven boxes, most of them made from a sheer but stiff cotton organdy fabric. I want the boxes to feel vulnerable and fragile – as surely the migrant must. Each box is a little wobbly or pushed-in looking, a little uncertain. Click here for more.
________________________________________________
DUDLEY ZOPP
The Mystery of Five
2019
Original drawings in walnut ink and mucilage on Arches watercolor paper. Text typeset in Bembo, printed letterpress on Japanese book cloth. Hawkweed ornaments from original drawings by the author. Housed in a walnut case and accompanied by a Dupioni silk cloth and vintage skeleton keys bound with cotton cord. Typography, design, and construction by Richard Reitz Smith, Camden, Maine. Case design and construction by Christopher Merchant, Camden, Maine.
Solid walnut case, 10″ x 19″ x 2.5″
Book dimensions closed, 13.5″ x 9″ x 0.5″
$2000
www.dudleyzopp.com
dzopp@dudleyzopp.com
The Mystery of Five had its beginnings in the terrifying images that came out of the Iraq War. I was horrified by what happened at Abu Ghraib. I responded with drawings in walnut ink and mucilage, through which I hoped to understand the human body in pain. As the ink and glue flowed, the agony I sought to convey dispersed into forms that were more graceful than tortured. They reminded me of dancers. Other people see skeletons or insects. Click here for more.