Sound Immersion/Gong Bathing in the Amphitheatre
Friday, October 15, 2021
@
4:30 pm
–
5:30 pm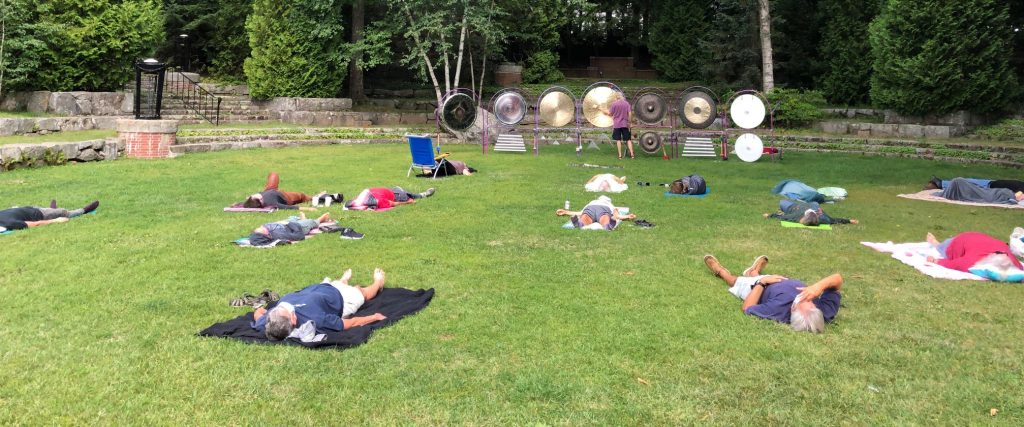 Help yourself embrace the cooler, slower, more quiet months ahead with relaxing and transformative sound of gongs and chimes in the Camden Amphitheatre. Musical instrument creator and Sound Therapist Jim Doble will create waves of sound to help participants sonically cleanse, rejuvenate, rest, and recuperate in a safe environment. Doble will be joined this time by Forest Weston, who will add dimension to the sound immersion by playing an assortment of didgeridoos.
Doble also encourages participants to bring something comfortable to lie on, such as a blanket or yoga mat. Dressing warmly or bringing blanket is also encouraged.
The program will be held by donation (optional) and a portion of the proceeds will benefit the Camden Public Library.
Doble has been spreading good vibrations around the globe for nearly 30 years. In the last several years, Doble has collected and made a variety of large gongs and other instruments for use in both his private Sound Therapy practice, as well as playing for group Sound "Baths."
To attend, please contact Jim Doble: jim@elementaldesign.me, call (207) 785-2212 , or visit his website: https://www.elementaldesign.me/events. (Contacting Jim ahead of attendance is strongly recommended so that you can be notified if the program is canceled.)
Please contact Doble directly to be added to his email list for future events.