Sound Immersion/Gong Bath with Jim Doble in the Amphitheatre
Recurring event
see all
Monday, September 7, 2020
@
9:30 am
–
11:00 am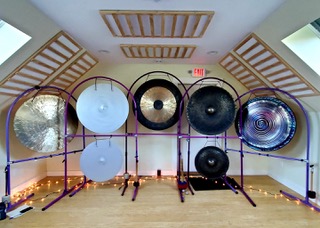 Enjoy the summer season with the relaxing and transformative sound of gongs and chimes in the gorgeous setting of the Camden Amphitheatre. Musical instrument creator and Sound Therapist Jim Doble will create waves of sound to help participants sonically cleanse, rejuvenate, rest, and recuperate in a safe environment.
Sound bathers will be distanced at least 10-feet from one another, and the wearing of a face covering is mandatory (please bring your own). Doble also encourages participants to bring something comfortable to lie on, such as a blanket or yoga mat.
The program will be held by donation (optional) and a portion of the proceeds will benefit the Camden Public Library.
Doble has been spreading good vibrations around the globe for nearly 30 years. In the last several years, Doble has collected and made a variety of large gongs and other instruments for use in both his private Sound Therapy practice, as well as playing for group Sound "Baths." He is very much looking forward to be bringing this work outside in such a lovely space!
To register, please contact Jim Doble: jim@elementaldesign.me, call (207) 785-2212 , or visit his website: www.elementaldesign.me.

Jim will be offering Sound Immersion events in the Amphitheatre bi-weekly on Mondays from 9:30 am – 11:00 am during the summer. Please contact Doble directly to be added to his email list for future events.