Songwriters' Coffeehouse
Thursday, June 6 @ 7:00 pm

-

8:30 pm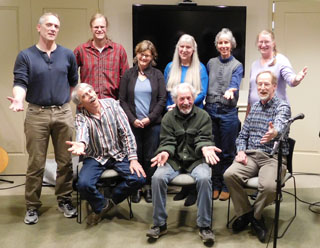 The songwriters of the Camden Public Library's Songwriters Sessions are ready to perform their new work at the annual Songwriters Coffeehouse on June 6. The group has been working together all winter to produce original work that spans styles from blues to singer-songwriter, choral work, instrumentals, topical songs, love songs, and more. The Coffeehouse is on Thursday, June 6, at 7:00 pm; suggested donation at the door will be $5.
The Songwriters Sessions are an opportunity to get some positive feedback and perhaps even some harmony or instrumental backup for budding songwriters. The group includes accomplished musicians and songwriters, and welcomes new members every year. They work on structure, rhyme, and performance, as well as theme, to bring polish and clarity to their work. "This is an exceptionally talented group this year," said Ken Gross, organizer of the sessions, "and it's also a larger group than usual. Each writer has brought specific talents and goals to the group. It's gratifying to see so much interest and dedication to songwriting as well as talent, coming together for this performance."
The Camden Public Library maintains a year-round tradition of live music, usually folk and acoustic, on the first Thursday of the month, at the Library Coffeehouse. The Library Coffeehouse has been hosting live musicians for well over ten years.
Songwriters pictured:
Seated: Steve Chiasson, Jim James, Ken Gross; standing, from left, Gerry Mirabile, Scott Simmons, Carol Graff, Maryann Jacks, Elizabeth Leonard, and Holly Torsey; missing from the photo is Jim Tolles.
Related Events