Temporarily Suspended: Simply Books Book Club
Saturday, March 28, 2020
@
2:00 pm
–
3:00 pm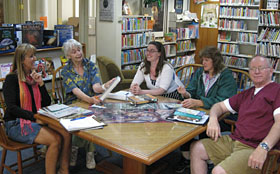 The Camden Public Library will be closed through Tuesday, March 31. We will provide the latest updates on when programs will resume and in what capacity on our website and Facebook page. Thanks.
Simply Books! is the library's book group for adults. The fall season for the book group begins Saturday, September 28, 2019 at 2:00 pm. Simply Books! is a book group designed for book lovers. There's no set reading list, we don't all read the same book, and it's very informal. We simply bring along whatever book we're currently reading (usually the ones we're loving and want to talk about!), and share it with the group. Simply Books! meetings are on the FOURTH Saturday of the month (except for the November meeting, which will be on 11/16 to avoid the holiday weekend).
If you'd like to learn more, please email Loraine at lmurray@librarycamden.org. Or visit the Readers Corner Blog at cplreaderscorner.wordpress.com, and click on the"Simply Books!" page.
We welcome everyone and anyone who loves reading and talking about books to join us at Simply Books!
Here is the updated meeting schedule:
Saturday, September 28th at 2pm
Saturday, October 26th at 2pm
Saturday, November 16th at 2pm
Saturday, December 28th at 2pm
Saturday, January 25th at 2pm
Saturday, February 22nd at 2pm
Saturday, March 28th at 2pm
Saturday, April 25th at 2pm
Saturday, May 23rd at 2pm