Picker Room Gallery: Carol L. Douglas "Fantastic Places & Magical Realms"
Recurring event
see all
Monday, December 6, 2021
@
10:00 am
–
6:00 pm

The response to Rockport artist Carol L. Douglas' November art show in the Picker Room was so wonderful that the Camden Public Library has asked Douglas to curate a second show of paintings for display during the month of December. Beginning December 6, the public will be able to view the new installation entitled "Fantastic Places & Magical Realms."
Many people commented that Welcome Back to Real Life was grounded in midcoast Maine, with scenes they recognized. Douglas overheard one visitor to the show say, "It's the Maine I grew up with."
That gave Douglas the idea to show work that isn't necessarily connected to places, but to ideas. "I wanted to travel as far as possible from a sense of place, to find themes that are common to all of us, no matter where we live. Fantastic Places & Magical Realms is about places and experiences that aren't necessarily real, but that we can all identify with," says Douglas.
Douglas got the idea from Northern European Renaissance genre painting. "Genre painting depicts everyday life and ordinary people," she said. "But they're never real places or real people, just stories played out in paint. They often tell a folk tale or relate a moral precept. I wanted to do something similar with landscape paintings."
Boats are an important metaphor in Douglas' work. "Boats remind me of our human journey through life. They sail through all sorts of weather; they are sleek and beautiful, or stout and utilitarian. They can move effortlessly, or they can founder."
The public is invited to meet Douglas at her artist's reception on Saturday, December 11, from 1:00 to 3:00 pm at the library. The library requests that masks be worn inside the building at all times. A portion of the proceeds from art sold during the show will benefit the Camden Public Library.
---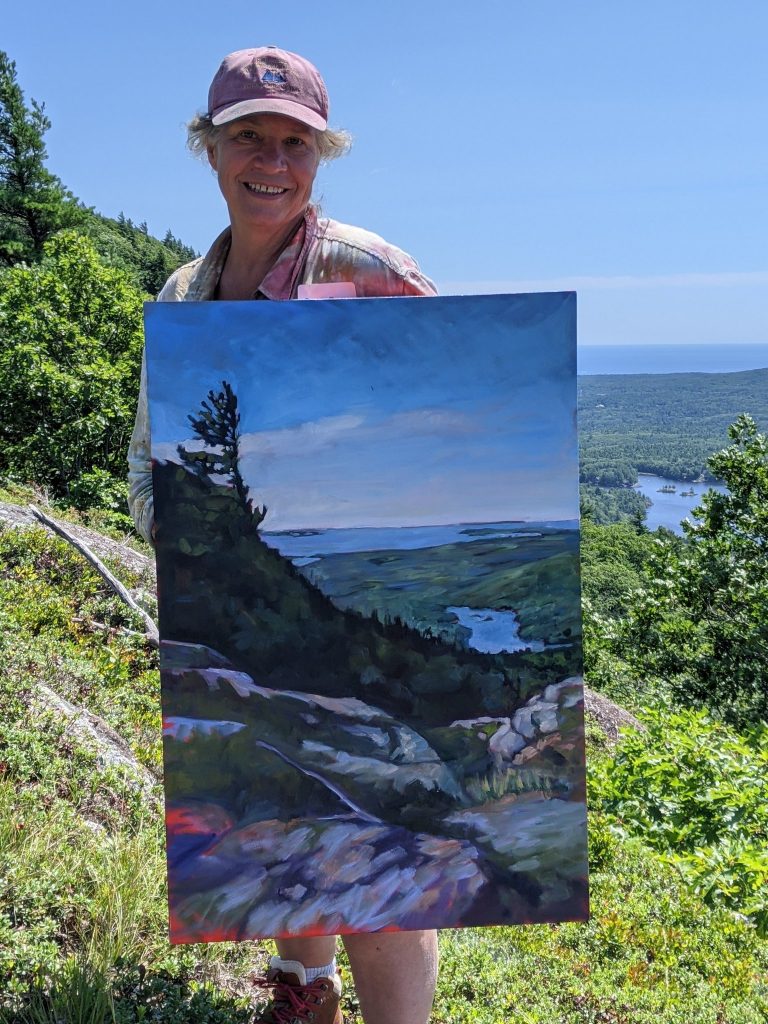 Carol L. Douglas is a painter and teacher with a studio in Rockport, ME. A native of Buffalo, NY, she studied painting with her father and then at the Art Students League in New York.
She teaches a popular week-long workshop in Acadia every August, two watercolor workshops aboard the schooner American Eagle, and workshops elsewhere in the US. She teaches regular plein air classes based in Rockport, as well as Zoom classes directed to an international audience.
In 2016, she traveled 10,000 miles from Alaska to Newfoundland to paint in the wild. In 2020, she traveled to Patagonia to paint and was stranded there by the start of COVID lockdowns.
Douglas generously participated in the summer 2021 plein air painting fundraiser for the Camden Public Library called "Camden on Canvas." (Pictured here with her contribution to the art auction.)
For more information, visit her website: watch-me-paint.com.
---