Virtual Gallery: New Ventures Maine Group Art Show
Monday, February 1, 2021
–
Sunday, February 28, 2021

During the month of February, the Camden Public Library will host an eclectic virtual art show featuring the works of five midcoast artists, Christina Barstow, Sue Garrett, E.L. (Lisa) Morgan, Jody Solow, and Marjorie Strauss, who have attended New Ventures Maine (NVME) classes and workshops. On Tuesday, February 9, at 6 pm several of the artists and New Ventures Maine Workforce Specialist, Melinda Wildes participated in a Zoom program to discuss their art. Click below to watch:
NVME, a statewide organization with free online classes, helps Maine people succeed in their jobs, businesses, and communities. The classes cover topics like career building, finding new employment, starting or growing a small business, money management, returning to school, and more. The Camden Public Library has been a community partner of NVME for many years by offering a warm and welcoming meeting space for the organization's free, in-person classes (prior to COVID).
"This art show was inspired by a winter Building Confidence class in 2020, where almost every class participant was an artist," says Wildes. "The class benefits those who are in challenging life transitions or who are seeking the confidence to move ahead with their goals and aspirations." A number of artists in the class were seeking ways to network and exhibit their art work. A virtual art show provided the library and NVME a great opportunity to collaborate once again and support aspiring midcoast artists.
Participating artists have also kindly pledged to donate 20% of sales from the show to benefit the Camden Public Library.
Jody Solow
WEBSITE: jodysolowart.com
EMAIL: solowstudio@yahoo.com
ARTIST STATEMENT: Educated in marine biology and environmental history, I knew nothing about painting until a brain virus and later, a brain tumor, left me unable to use words. While attempting to write my doctoral dissertation, the neurologist urged me to let my brain rest and to instead 'play with colors.' When I began to paint, I found that lines, shapes and especially colors replaced words and sentences, allowing me to once again express myself. The colors I often 'speak' with are those from memories of years spent underwater studying whales and dolphins, and from work in tropical forests and the Sahara: sea blues, forest greens and warm desert hues. I am captivated by the rainbow of light that fractures the world into constantly changing tones and shapes, and grateful that painting frees me from the constraints of verbal thought, offering a healing space where I can speak in words of color.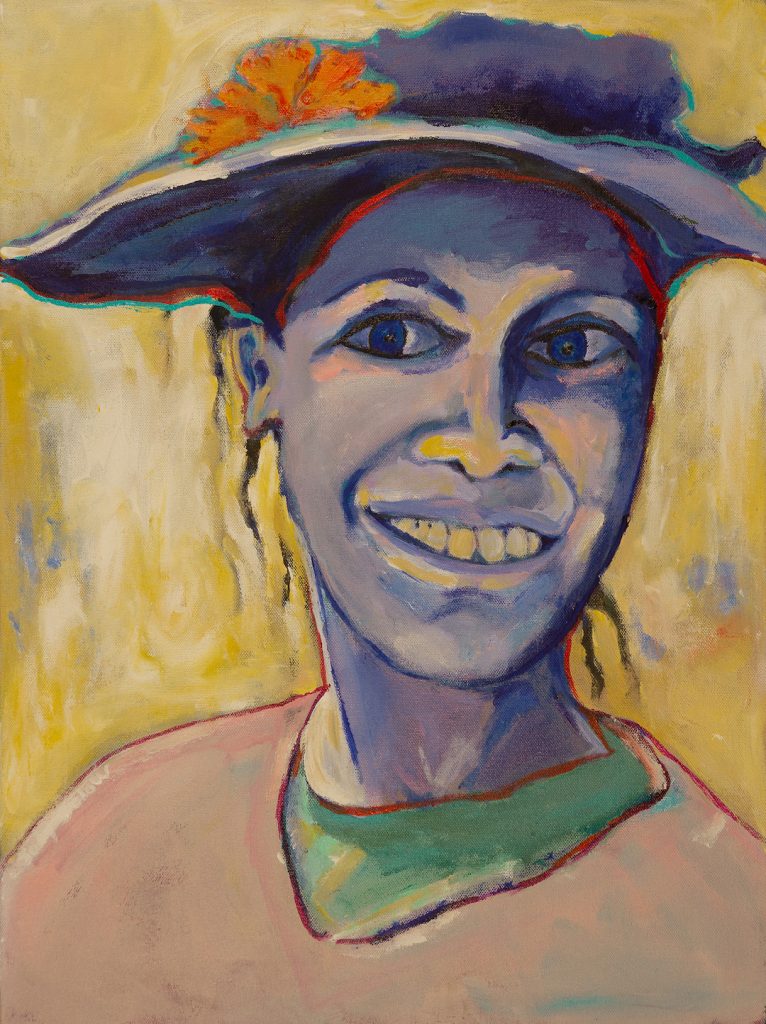 GIRL WHO NEVER GIVES UP
Acrylic on canvas
24″ x 18″ x 1 1/2″
$850
---
KNEADING
Acrylic on canvas
24″ x 18″ x 1 1/2″
$1,900
---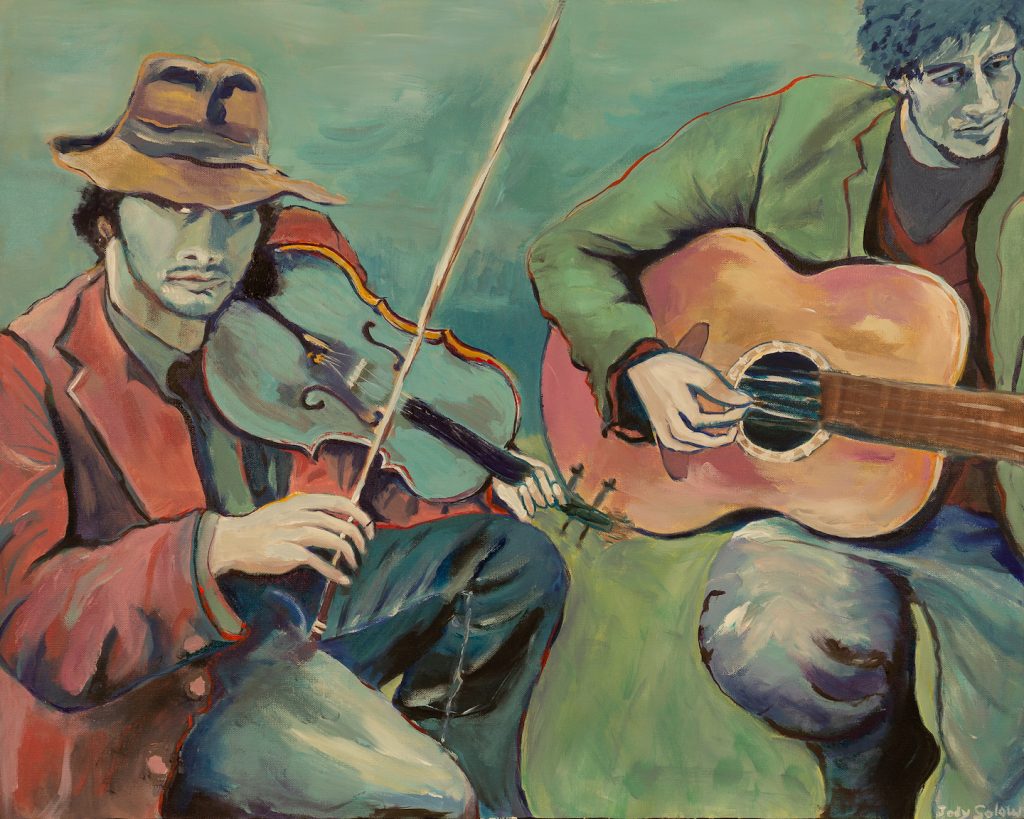 TWO MUSICIANS
Acrylic on canvas
24″ x 30″ x 1 1/2″
$1,600
---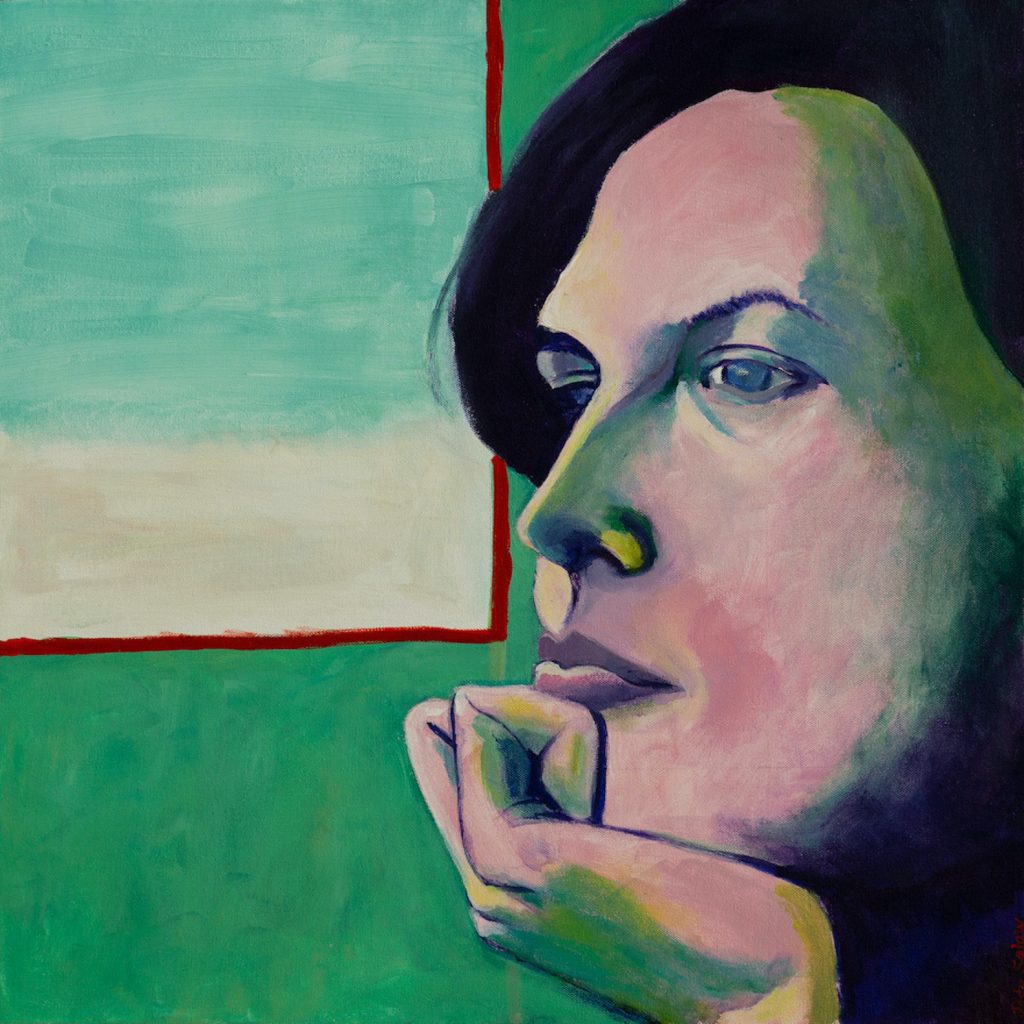 QUARANTINED
Acrylic on canvas
24″ x 24″ x 2 3/8″
$1,200
---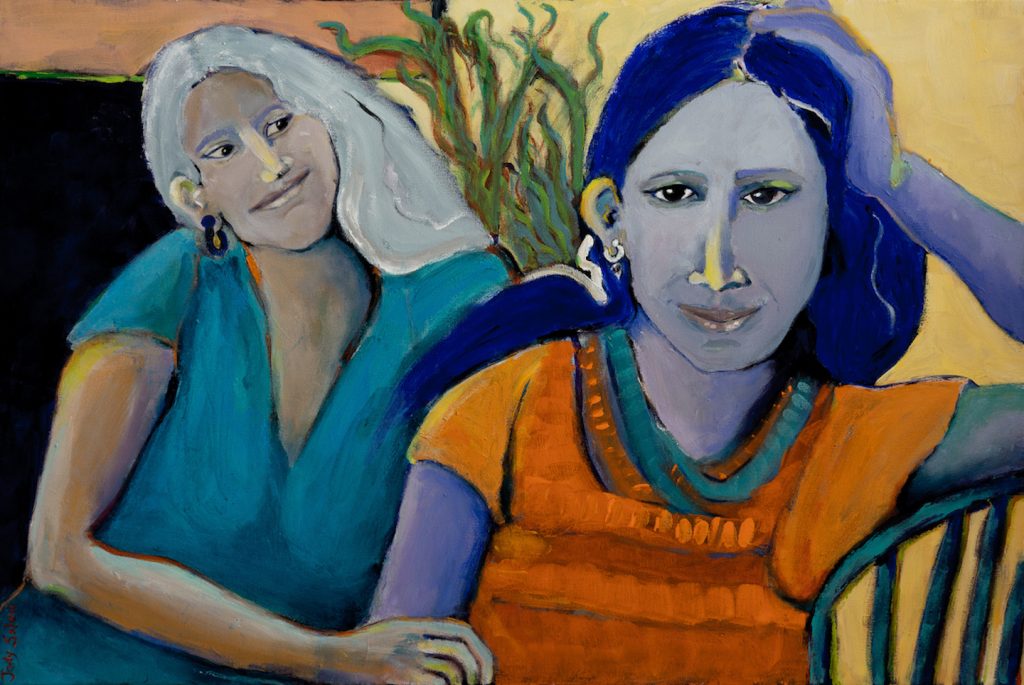 STUCK INSIDE TOGETHER
Acrylic on canvas
24″ x 36″ x 1 1/2″
$1,900
Marjorie Strauss
WEBSITE: marjoriestrauss.com
EMAIL: mavistrauss@icloud.com
ARTIST STATEMENT: I was drawn to Maine and its rugged beauty, having moved here after earning a BFA in painting from Mass College of Art in Boston. Over the years I have worked in pastel and oil, with subjects ranging from the ocean to landscape and trees, to flowers and leaves. I have always done portraits and enjoyed summer stints doing portraits on the sidewalk in Cape Cod. In recent years, I have been drawn to doing 3-dimensional work, with clay being a tactile extension of working with pastel.
I am exploring the mystery of symbolism. In the development of the "Plantformations" series, I have found a doorway to the many masks we wear. A vessel for plants and plant imagery are bound up with faces. A Mayan mask and the "Green Man" icons were an inspiration. The 3-dimensional pieces have a strong presence — some of the faces are close to life size. The clay seems to allow for less literal representation, where I can explore evocative and expressive imagery.
PLANT WISDOM
Painted Ceramic Planter
9″ x 13″ x 5 1/2″
$800
---
FRACTURED KING
Painted Ceramic Planter
12 1/2″ x 7″ x 7″
$500
---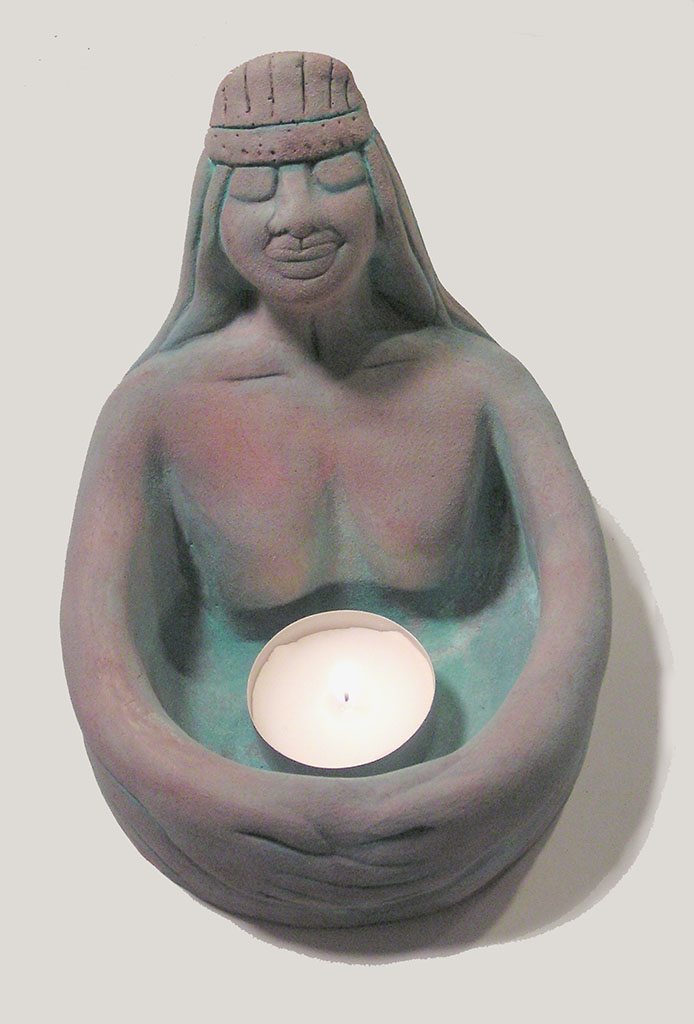 KEEPER OF THE FLAME
Painted cast aggregate candle holder
5″ x 4 1/2″ x 5″
$75
---
MIKE
Pastel
23″ x 18″
Not for sale. Sample of portrait. (Available for commissions.)
---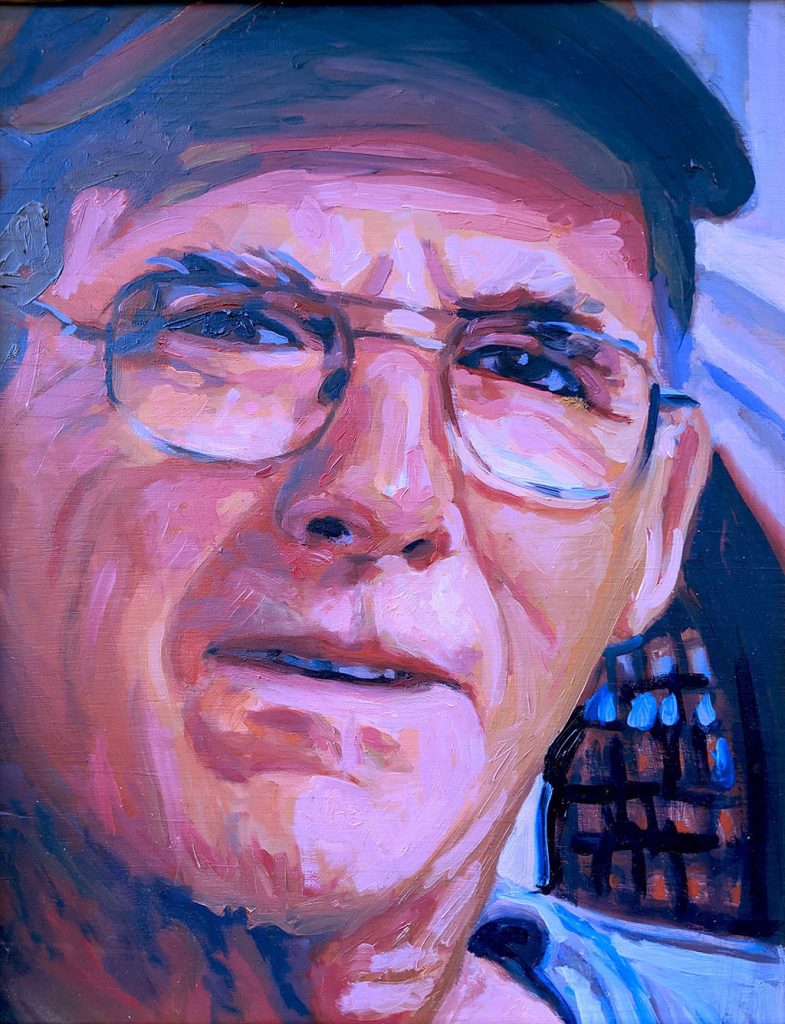 MR. STEVE
Oil on panel
20″ x 16″
Not for sale. Sample of portrait. (Available for commissions.)
Christina Barstow
WEBSITE: barstowartanddesign.com
EMAIL: liveamidstbeauty@yahoo.com
ARTIST STATEMENT: I studied English at Clark University (Worcester, MA), art & architecture at the University of Maine at Augusta, photography at Maine Photo Workshops (Rockport, ME) and decorative painting at a workshop with Cait Whitsun at the Lincoln Street Center (Rockland, ME). My background is predominantly in printmaking, photography & drawing, but my interests are wide-ranging—the materials and/or "style" I choose vary wildly depending on the piece I want to make. I like mixing media, adding 3D or kinetic elements, transparency/translucency or layering, and using effects of light as a way of expressing time or change. At present, my studio space is in transition, so I am experimenting with working small & portable. It is giving me a new perspective.
These watercolor drawings are attempts at recording the ephemeral: a fleeting change of light or weather; the tenacity of fragile substances as they experience time passing. I enjoy the challenge of translating the photographic image ("this is how it really was") through the media of line and color into a depiction of what I saw in my heart ("this is how it really is").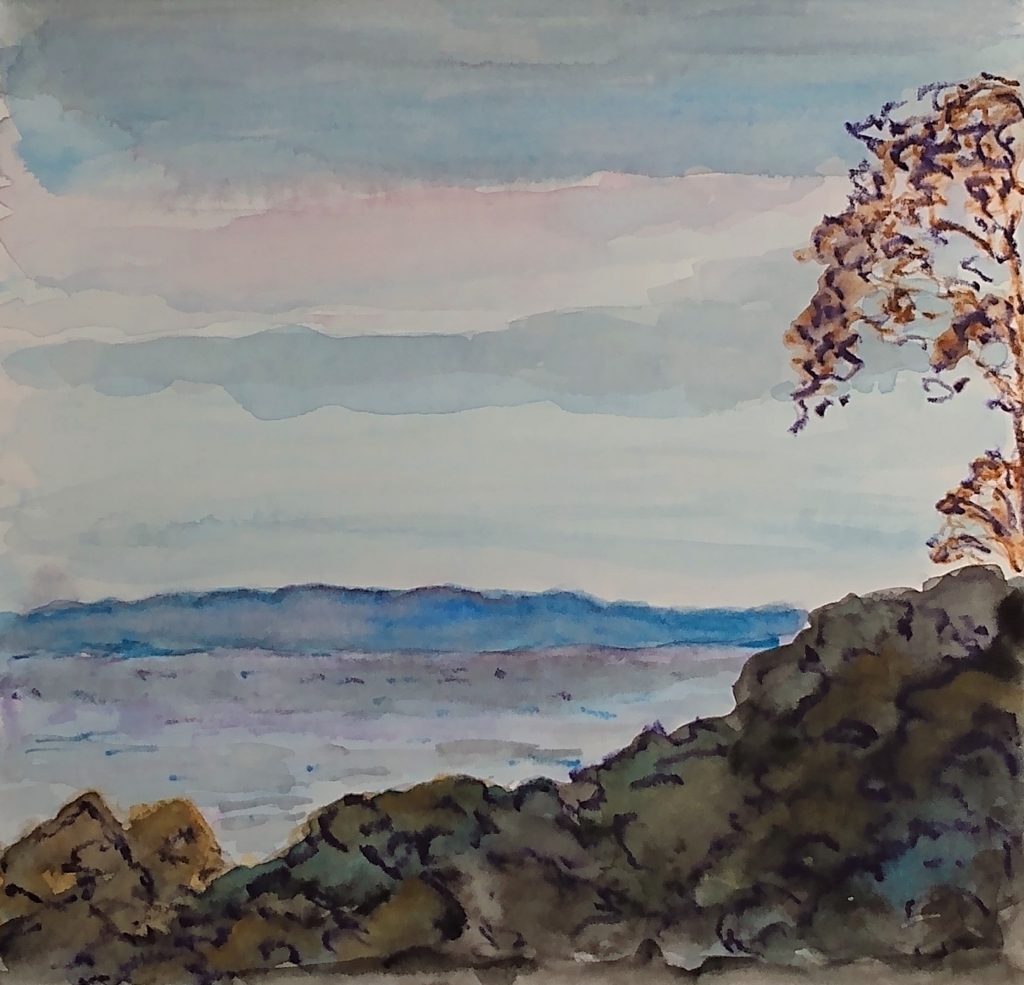 CAPE JELLISON
Watercolor on paper
6″ x 6″
$100
---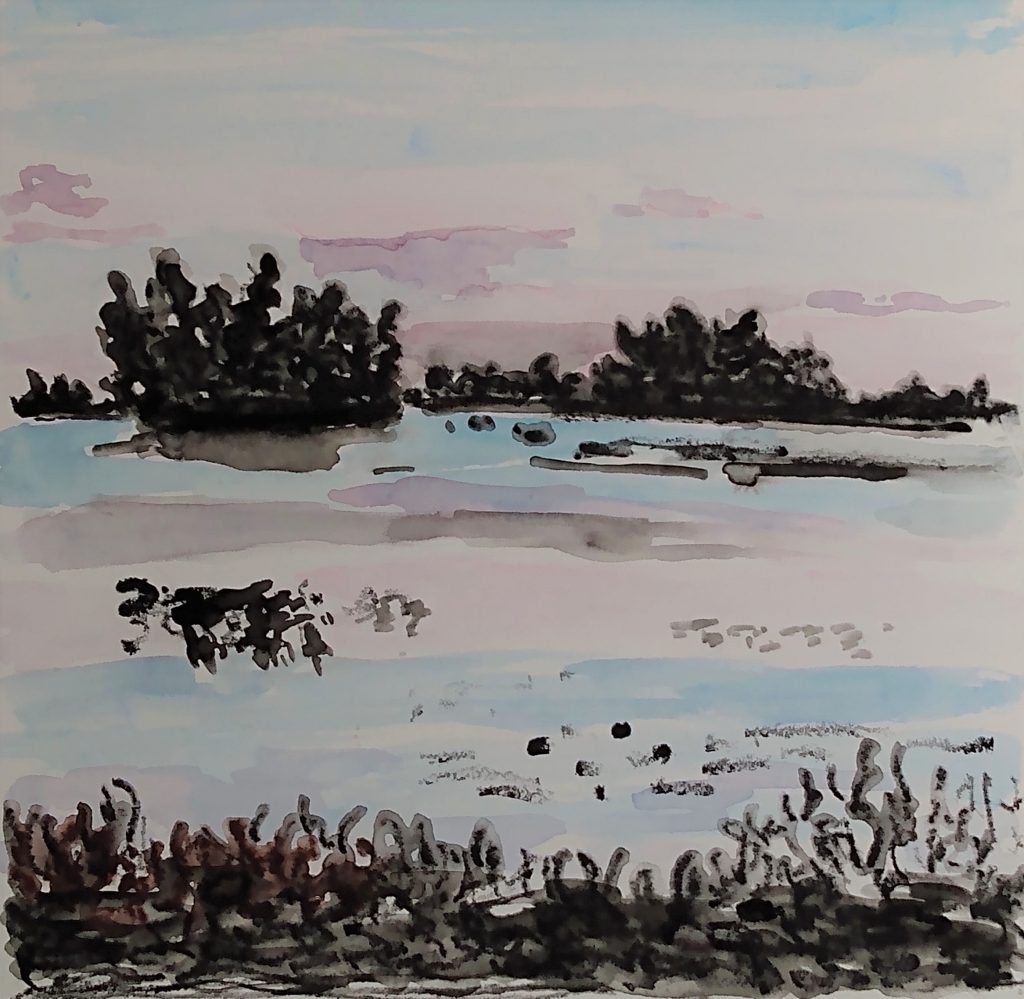 HARPSWELL AT DUSK
Watercolor on paper
6″ x 6″
$100
---
WALLPAPER FRAGMENT
Watercolor on paper
6″ x 6″
$100
---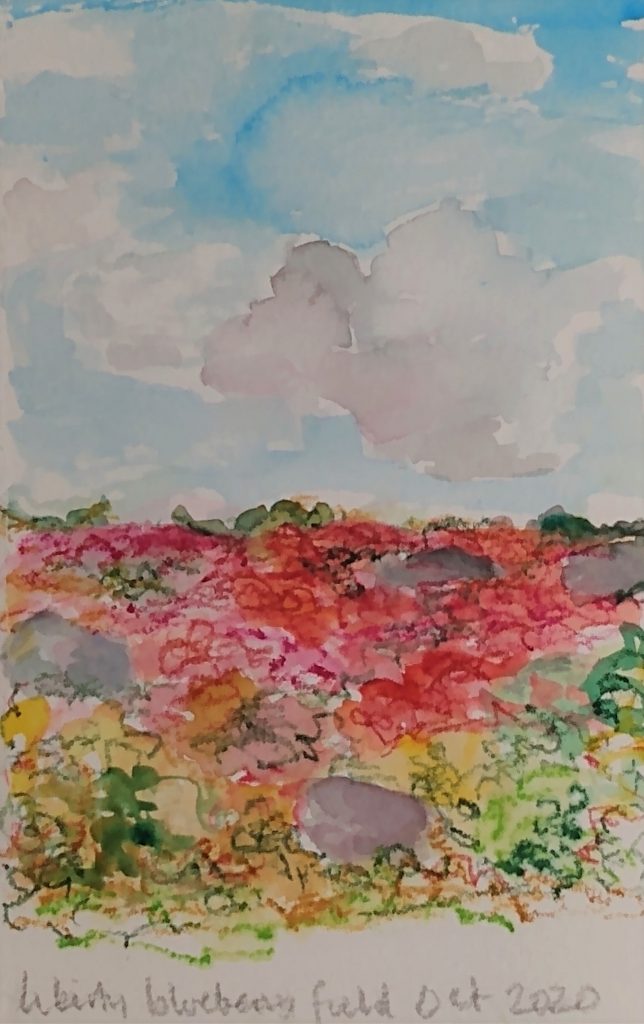 LIBERTY BLUEBERRY FIELD
Watercolor on paper
4″ x 6″
$100
E.L. (Lisa) Morgan
WEBSITE: elmorgangallery.weebly.com
EMAIL: lmorgan207@gmail.com
ARTIST STATEMENT:
I have always loved drawing and design and have worked in different mediums over the years (sculpture, printmaking, and photography). After completing a degree in fine arts at Bowdoin College, with a focus on printmaking, I moved to New York City. I was drawn to the lower east side where I had a studio creating sculptures from sheet metal, attended the New York Studio School, and worked as an artist assistant to several prominent artists. With the rise of the AIDS epidemic in the 1980's, and after completing the renovation of a loft space in a five story walk-up, I decided to move back to Maine. Living in the midcoast area has offered me the opportunity to work as a designer and as an educator in the fields of art and architecture. With kids out of the house and a room dedicated to painting and drawing, I am making my way back into my art.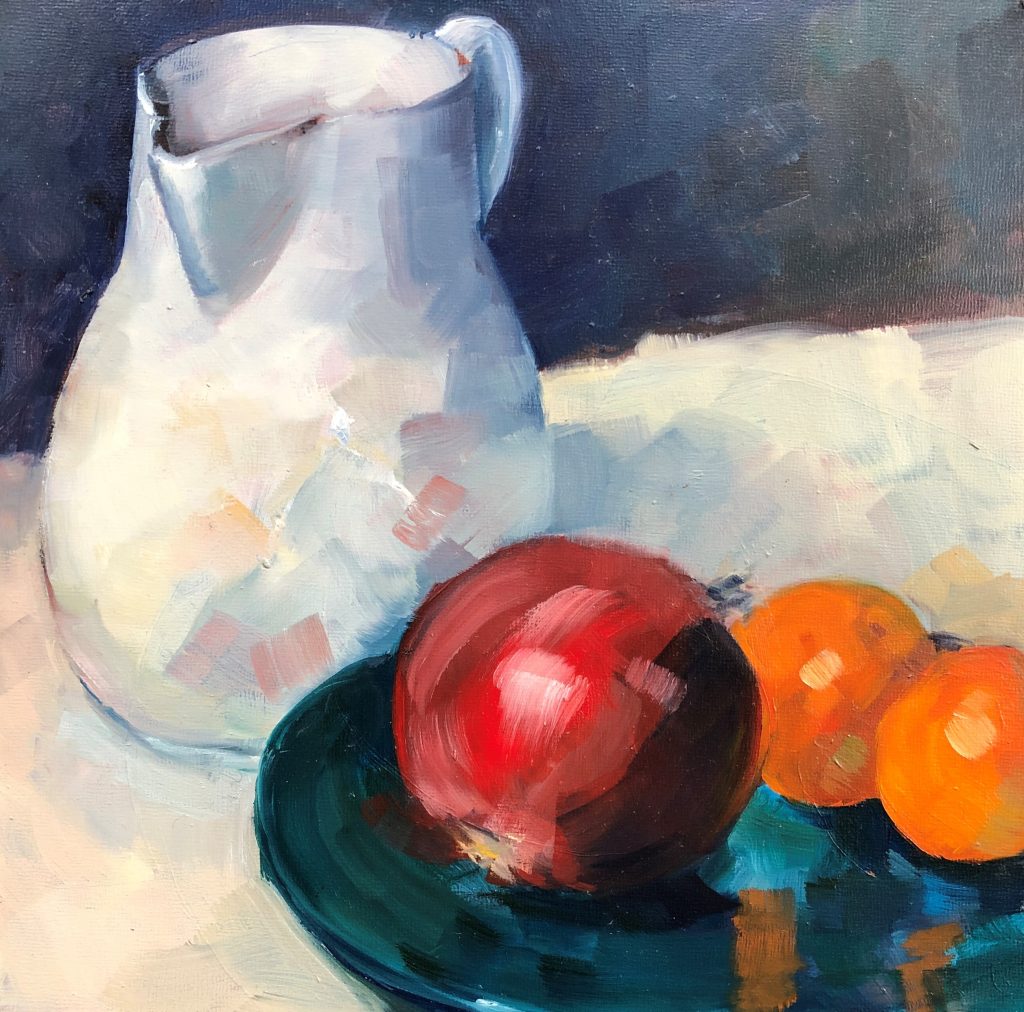 STILL LIFE WITH RED ONION
Oil in canvas
8″ x 8″
$300
---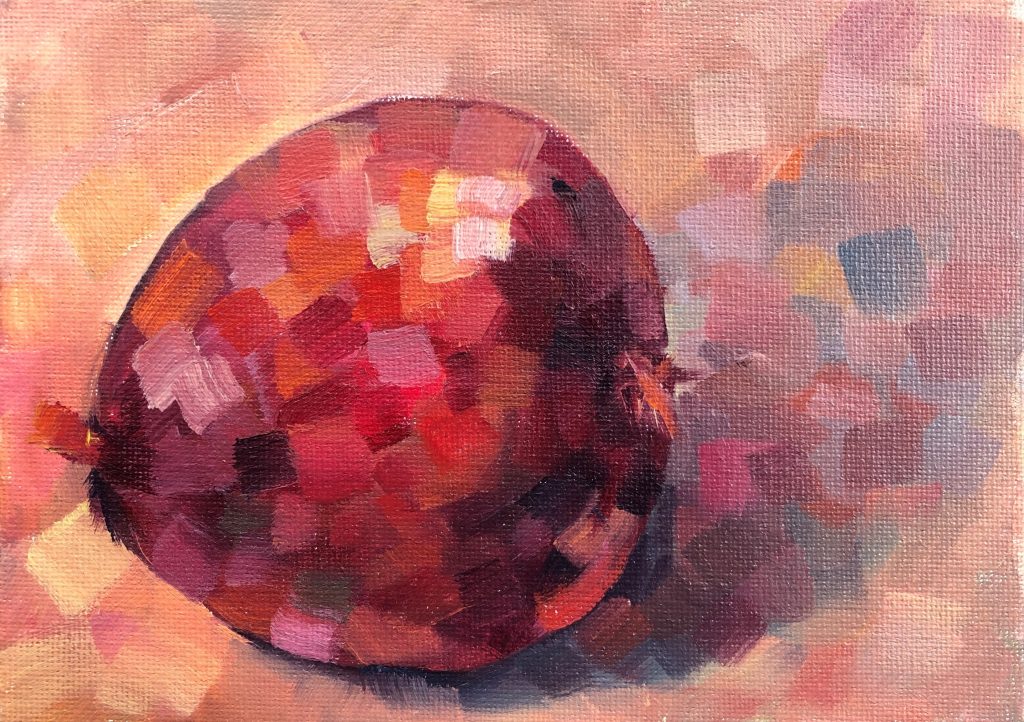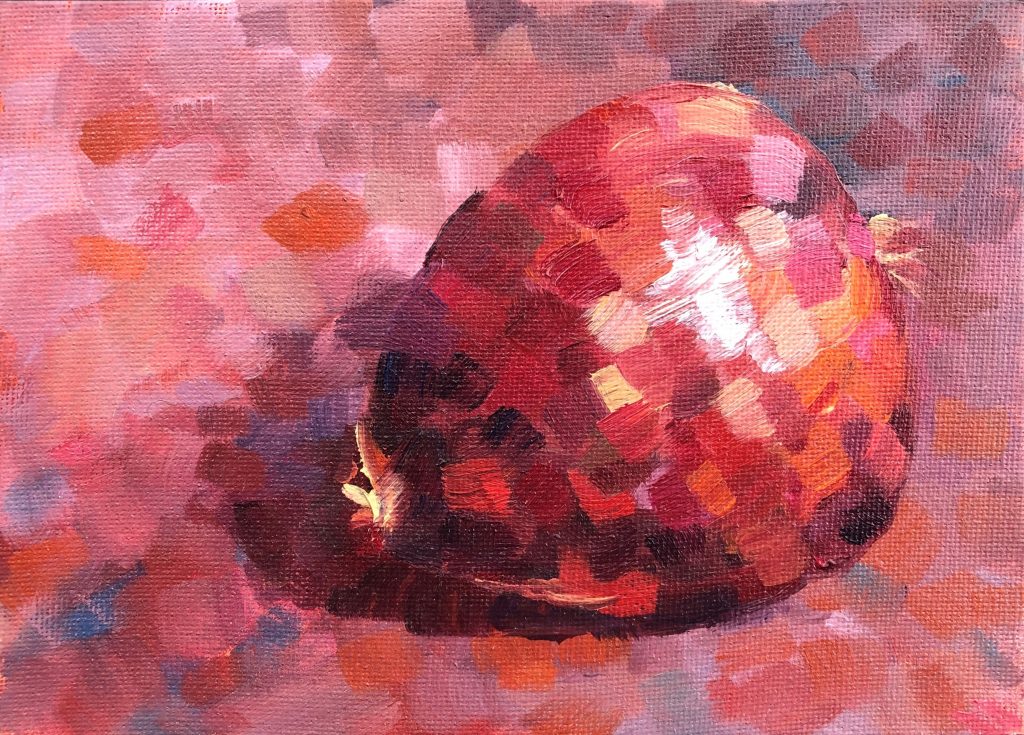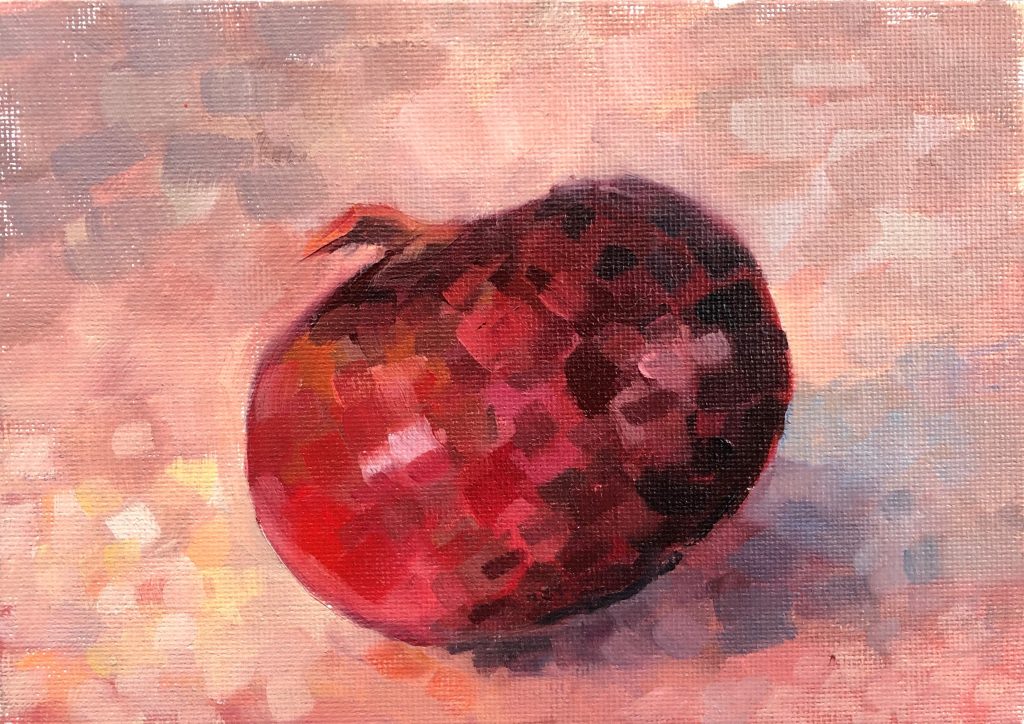 STUDY WITH RED ONION 1,2,3
Oil on canvas
5″ x 7″
$200 each
---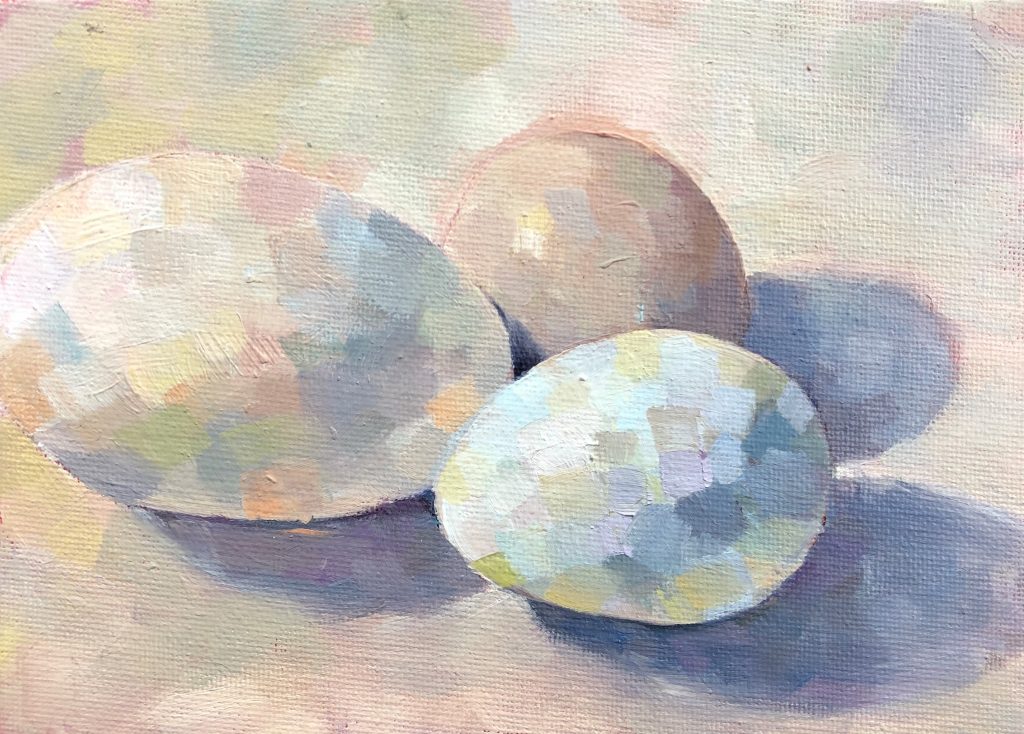 EGG STUDY IN WHITE
Oil on canvas
5″ x 7″
$250
Sue Garrett
EMAIL: sue.clason.garrett@gmail.com
ARTIST STATEMENT: I was formally trained as an architect at Vermont Technical College (Assoc. in Applied Science) and the University of Cincinnati (Bachelor of Architecture). I worked as an intern and then as an architect for over 30 years in Ohio, Kentucky, Connecticut, and Maine. I currently live in Belfast and dabble in a variety of media including photography, charcoal, watercolors, and gouache using an airbrush.
MUSEUM OF NON-REPRESENTATIONAL SCULPTURE (Thesis, 1983-1986)
Reproduction of rendering, airbrush and gouache paint
18″ x 20″
Contact artist for price
---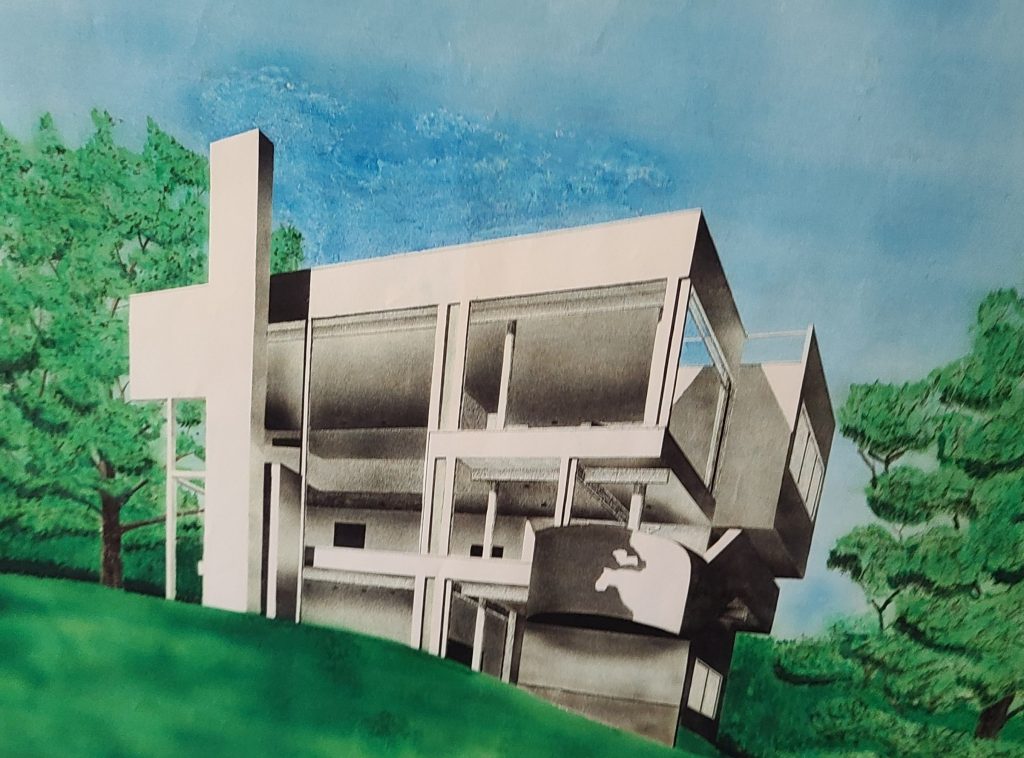 SMITH RESIDENCE (Designed by Richard Meier & Associates, 1965-67)
Drawing with airbrush
16″ x 18″
Not for sale (Airbrush commissions available)
---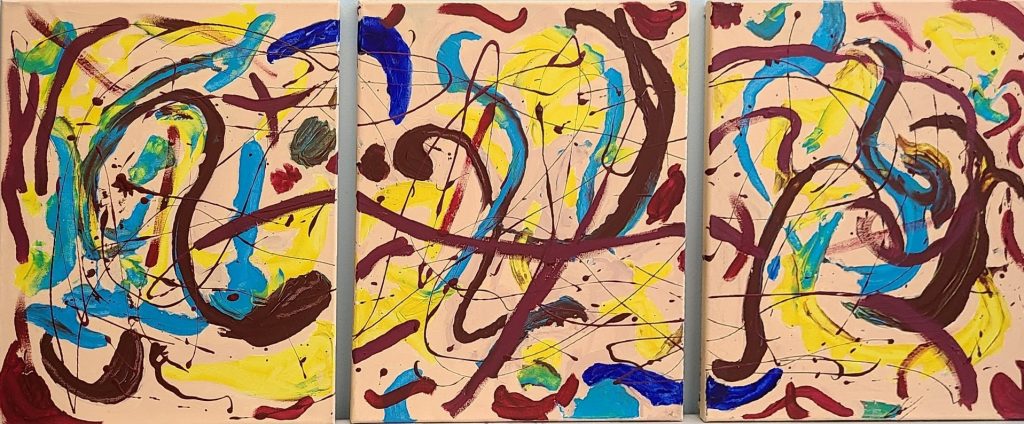 ADHD MIND
Acrylic on canvas
16″ x 24″, set of 3
$120
---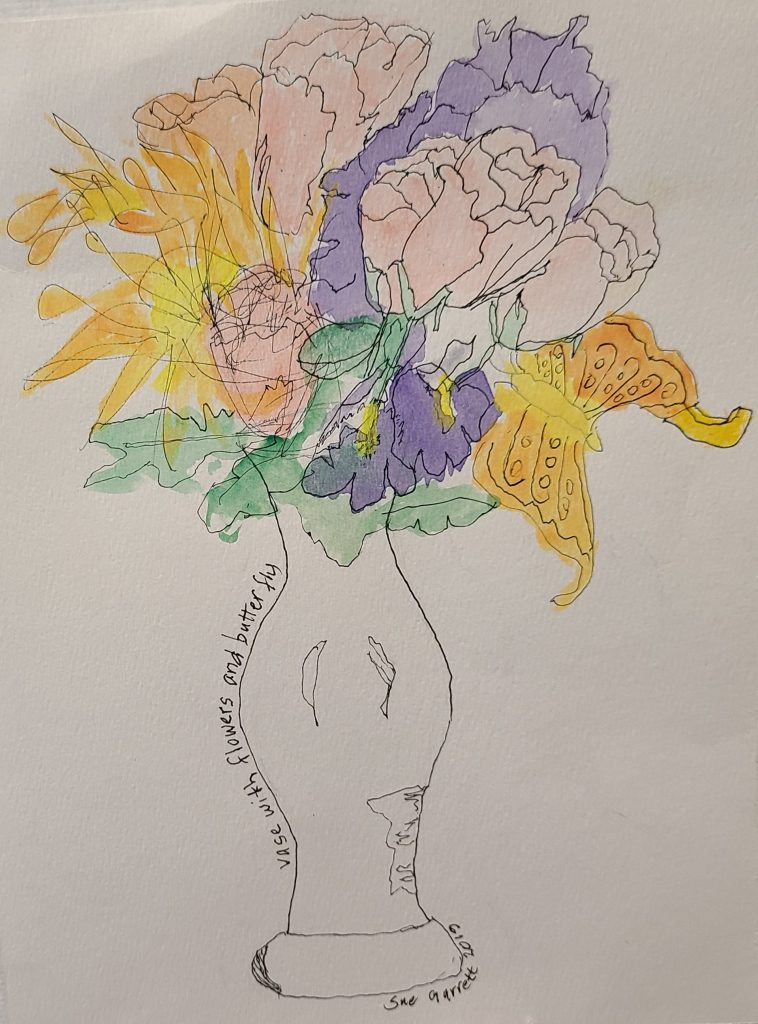 VASE WITH FLOWERS AND BUTTERFLY
Watercolor and pen on paper
12″ x 18″ (Includes mat, not pictured)
$80
---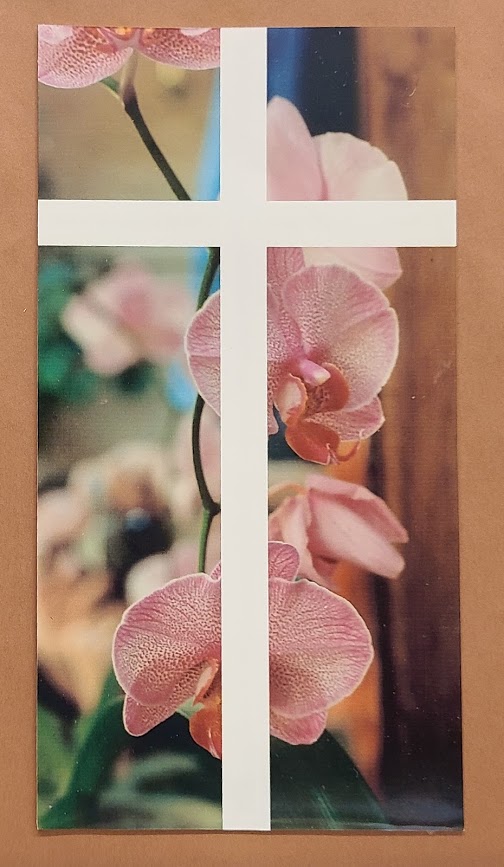 CROSS OVER ORCHID
Photograph
7 1/8″ x 10 3/4″
$15