November Artist of the Month – Obrianna Cornelius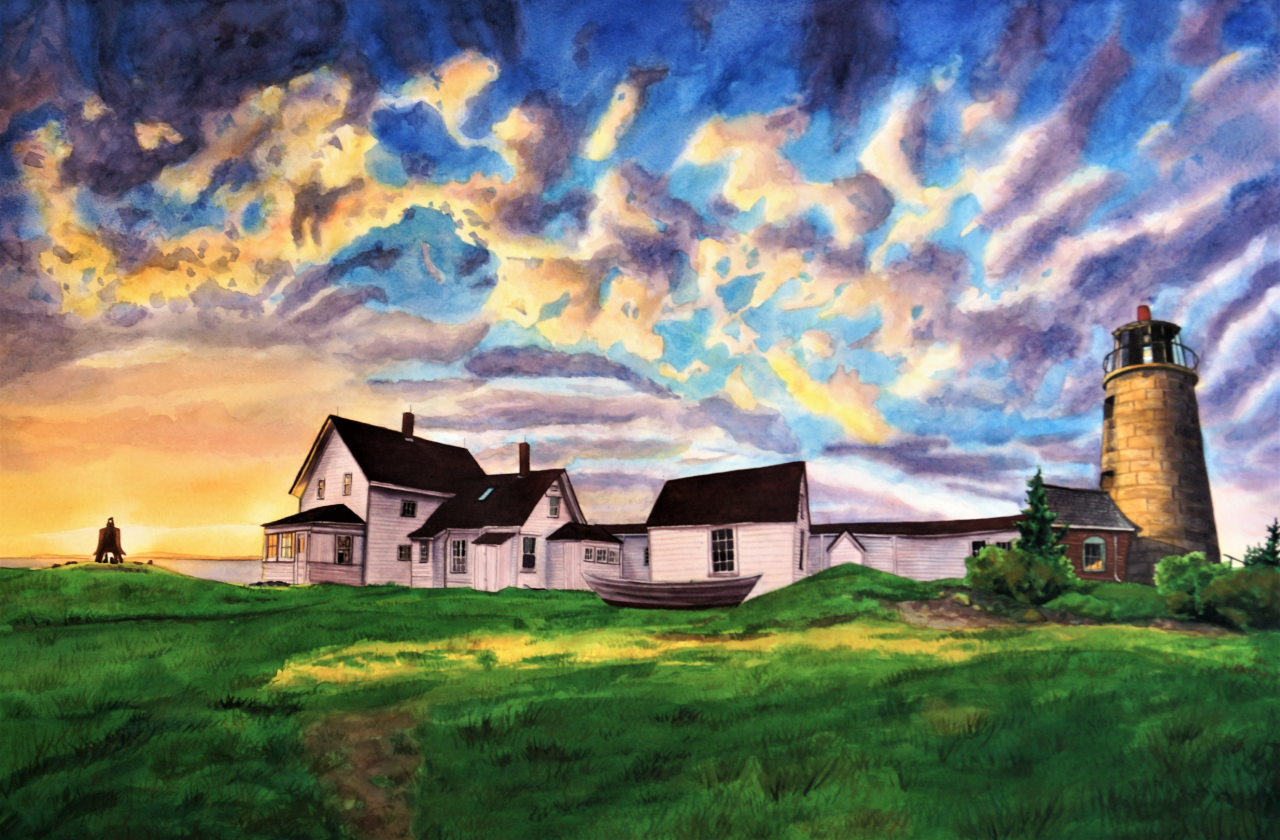 Obrianna Cornelius, fine artist and illustrator, will have her work exhibited in the Picker Room of the Camden Public Library during the month of November.
Artist Statement: I am Obrianna; an artist who specializes in watercolor landscapes. I live and work here in the great state of Maine where I am known for my highly-detailed paintings, filled with natural color and scenic. lighting effects. The beautiful landscape and unique culture inspire and motivate me in my artwork. From the glory of a sunset over the ocean, to the historic architecture, to the details of an ice-covered berry or a brilliantly colored fall leaf, Maine never stops amazing me. I look forward to every day spent painting Maine.
About me:
I attended Pensacola Christian College for one and a half years and I credit my drawing skills and attention to detail to their amazing program. However, in many ways I consider myself a self taught watercolorist. After PCC I wanted to explore watercolor and in this medium, I discovered a passion. The master watercolorists who came before me, such as Homer, Wyeth and Turner are my teachers.
My style is defined by vibrant colors, and bold, confident strokes. Rather than muddying my colors by going back and fussing with details, I try to get things right on the first stroke, producing rich colors and dramatic imagery.
I have found teaching to be a very fulfilling career in addition to art. I teach all ages and enjoy growing the creative spark in my students.
Best Advice I've Received:
Don't be afraid to ruin your painting. I have taken this advice to heart and I now teach it to all my students. If you are so concerned with making mistakes then you will never take any risks, and your artwork will end up feeling safe and dull. I think of that every time I sit down to paint.
Favorite Work by Another Artist:
Anything by Monet. I love his style, color, everything!
I would love to be displayed in more fine art galleries across the United States. Illustrating a children's book has always been a dream of mine, it would be great to collaborate with an author.
I am currently represented by several Maine universities, galleries and shops. I have also been accepted and awarded in several local and national competitive shows. See more on Obrianna's website: https://obrianna.wixsite.com/obriannafineartist