SNOTGRASS is getting out of the mud and coming to the Camden Public Library! Meet Camden-based artist and author J. E. Moores as he reads an excerpt and signs his new book, Snotgrass, on Tuesday, June 16 at 7:00 pm at the Camden Public Library.
Snotgrass is set in the town of Washington, Maine, where J. E. Moores' earliest memories take him. Tales about strange creatures like Swamp Boggers, Philly Lou Birds, and Side Hill Gougers weave around the real life story of five generations of Mainers.
There's Grampy, a rascal who spun a lush collection of old logging tales on long drives through the backwoods of midcoast Maine. Mammy, a redhead beauty, smuggled subversive underground comics to her grandchild from the Adults Only section of the Rockland Greyhound Station newsstand.
There's also forgetful Kenneth and his pet turkey that followed him everywhere, the neighbor Hamburger Head, and Cecil the Seal Boy from the Union Fair Freak Show. And don't forget the farmhouse ghost, Old Grandma.
Snotgrass goes back to the good old days when times were simpler, life was a bit slower, and the bouffant hairdos were as tall as the tales the old folks told. An honest slice of Americana, this hilarious epic gets the reader laughing out loud and then hits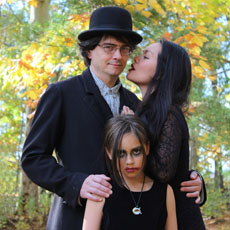 deep with an awareness of humanity's beautiful flaws.
Snotgrass is available in paperback and on Amazon kindle.
ABOUT THE AUTHOR
J.E. Moores is a cartoonist and toy maker who lives in Camden, Maine. He has taught arts and crafts since 1984. His art toys have been shown in galleries in New York City, Los Angeles, Massachusett,s and Portland, ME. For more information, visit JEMoores.com