Midcoast Stroke Support Group
Wednesday, January 4, 2017 @ 10:00 am

-

11:00 am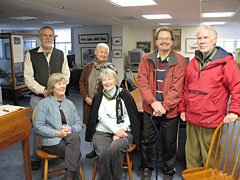 The next Midcoast Stroke Support Group meeting will be on Wednesday, January 4, at 10:00 am. Meetings will continue on first Wednesdays.
"We welcome survivors, family, and friends of stroke survivors, or really anyone faced with a neurological challenge," said Carol Rohl, one of the Support Group organizers. "We share stories and things we have found helpful in this life change. We are finding that encouragement and contact with others in similar situations is very supportive." For more information call 273-2090. "We look forward to more people joining us," she added.
Participants in the first meeting of the Midcoast Stroke Support Group, from left, seated, Carol Rohl and Anne Cronin, standing, Gordon Bok, Judith Simpson, Brian Redonnett, and Robert Davis. Everyone is welcome to join the support group on the first Wednesday of the month at the Camden Public Library at 10:00 am.
Related Events