Maine Outdoor Film Festival: FREE Community Film Event
Thursday, September 2, 2021
@
7:45 pm
–
9:45 pm
THURSDAY, SEPTEMBER 2, at 7:45 pm. The Town of Camden and the Camden Public Library are delighted to welcome the Maine Outdoor Film Festival back to the Camden Amphitheatre for an exciting evening of outdoor adventure and conservation films. The event will be FREE and open to the public (donations accepted, with proceeds benefiting the Camden Public Library and Teens to Trails). Films will begin at 7:45 pm, and the event will last 2 hours long with a 10 minute intermission. Please bring your own lawn chairs or blankets for comfortable seating.
Scroll to the bottom of the page for a list of the short films to be included. (Film program is subject to change.) Rain date is Tuesday, September 7.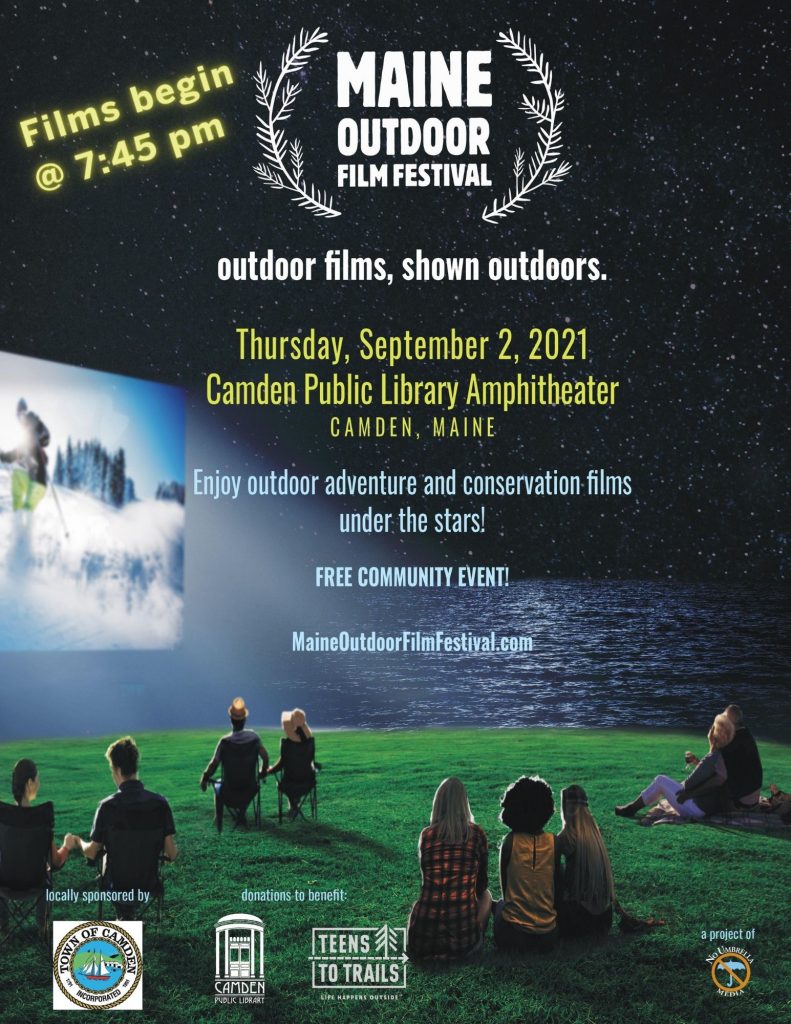 Scheduled Program:
THE LONG GAME – 5.33 minutes – by Herman Mantis, Inc. – from PORTLAND – Short synopsis: Resiliency takes many forms in this story of overcoming obstacles, finding hope in devastation and transforming adversity into positive action. Nature is powerful, healing, humbling and a vital human right. Follow Ryan Dunfee on his journey to recovery through the power of the Maine wilderness and the lessons learned along the way.
SAILING CITA – 5.75 minutes – by Anna Wilder Burns – from Portland, Maine – Short synopsis: SAILING CITA tells the adventurous story of Maine sailors Lauren Topchik and Teagan Tanner as they attempt to sail around the world. This film delves into what it takes (mentally & physically) to prepare for a worldwide sailing voyage.
GOAT LADY – 11.3 minutes – by Doroga Media – from Auburn, Maine – Short synopsis: Goats led her to the trees, where she found her life's work.
PROJECT 20/20 – 9 minutes – by Geoff Nickerson – from Maine – Short synopsis: This film documents an artist's journey along the Island Maine Island Trail.
SUFFERFEST – 11 minutes – by Tyler Graim – from USA, CO, Denver – Short synopsis: Katie and Dominic are both Ultra-Runners who run 100 mile foot races all over the country. In this film, they discuss the intense physical and mental pain that comes with running these psychotic races, but also the amazing euphoria that comes with completing such an immense physical feat.
FREE AS CAN BE – 31 minutes – by Samuel Crossley – from CA – Short synopsis: When a young climber infatuated with climbing history meets an old legend, he commits to helping him accomplish his lifelong goal of free climbing El Capitan.
SNOWY – 12 minutes – by Alex Wolf Lewis and Kaitlyn Schwalje – from Maine – Short synopsis: Snowy, a four-inch-long pet turtle, has lived an isolated life in the family basement. With help from a team of experts and his caretaker, Uncle Larry, we ask: Can Snowy be happy, and what would it take?
BORN FROM JUNK – 14.5 minutes – by Mike Horn, Galin Foley – from CO – Short synopsis: Born From Junk traces the outlaw roots of mountain biking back to its raw beginnings in Crested Butte, where a crew of unlikely pioneers in pursuit of wild times in the mountains blossomed into a global phenomenon.