LIVE on FACEBOOK: Maine Mondays
Monday, May 11, 2020
@
11:00 am
–
12:00 pm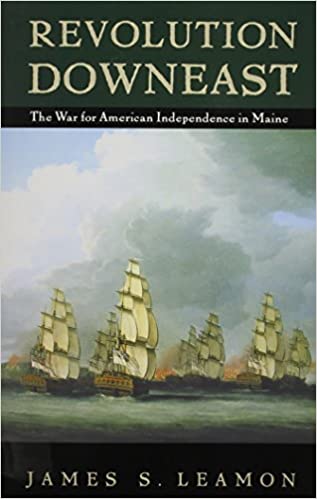 Each Monday on the Camden Public Library's Facebook Page, Julia will read selections from books about Maine's history.
On May 11, Julia will read from James S. Leamon's book Revolution Downeast.
The history of the Revolution in Maine is the story of a people who did not really want a revolution―at least at first.
Since the middle of the seventeenth century, the powerful Massachusetts Bay Colony had exercised an increasing hegemony over the settlements downeast―a hegemony legalized in the Massachusetts royal charter of 1691. From then until 1820, when it became a state, Maine remained an integral part of Massachusetts. Geographically isolated from the Bay Colony by the province of New Hampshire, and dependent on Massachusetts for its very existence, Maine was indeed a colony, in every sense of the word.
The larger Massachusetts context has tended to obscure Maine as a legitimate object of study, nowhere more than in the period of the American Revolution. Even historians in Maine have slighted the period of the American Revolution. Where appropriate, town historians devote a chapter or so to the event, but only in the context of a particular community.
In his book, Leamon aims to meet that deficiency by drawing together town and general histories, specialized studies, and primary sources, both published and unpublished. He examines why and how Maine fought the Revolution and the changes that occurred in Maine during and after the war.
CLICK HERE TO VISIT THE CAMDEN PUBLIC LIBRARY'S FACEBOOK PAGE.