Jumpstart January: Virtual Paint with Me: Step-by-Step Watercolor Painting with Erica Qualey
Thursday, January 5
@
6:00 pm
–
8:00 pm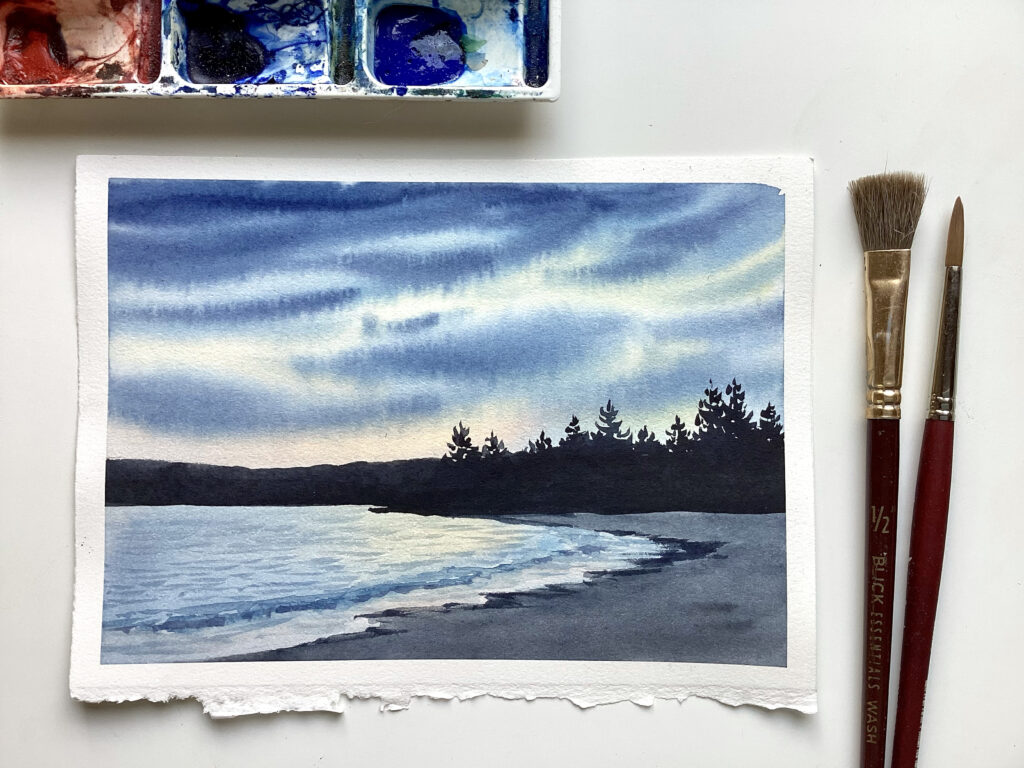 Join watercolor artist Erica Qualey for an evening step by step, paint along workshop. This class is a great way to jump into painting with watercolor and grow your skill and confidence. Grab your paintbrushes and join the fun!
Erica will lead you through live, interactive watercolor paint along projects, via ZOOM, sharing lots of tips and techniques each session to help you grow your watercolor skills. During this workshop Erica provides step-by-step instruction on how to paint each beautiful scene in an easy and approachable way. This class will be focused on gaining understanding of basic watercolor techniques and each session will end with a finished painting. Open to beginner and intermediate skill levels.
Erica Qualey is an award winning watercolor artist and teacher who lives in the midcoast of Maine. She has exhibited internationally and is represented in private collections throughout the United States and Canada. She is a signature member of the New England Watercolor Society and has been published in the 19th edition of the yearly publication, Splash. She has led workshops for adults at Farnsworth Art Museum in Rockland, ArtWaves DMI on Mount Desert Island, for the MAEA at Haystack Mountain School of Crafts in Deer Isle, Coastal Maine Botanical Gardens, and other art associations. She has participated in visiting artist programs in public schools and runs art programming for children through her local library.
Materials List:
One sheet of watercolor paper (about 8″ x 10″)
A round soft bristled watercolor paint brush with a good point (size 10)
Set of watercolor paints that include a deep blue, bright red, yellow, and a neutral gray
A backing board to secure your paper to
Water container filled
Paper towels
Hair dryer
Tape (scotch or painters tape)
Pencil and eraser
Printed drawing or drawing file open on computer (included below)
*Please watch video for more detailed information about materials needed and how to prepare for the workshop.
This is a virtual program on Zoom. Use this link to join: https://us02web.zoom.us/j/87394811887?pwd=L3h5OEVoZVJxaDl6Z3FmWVlqTzkvQT09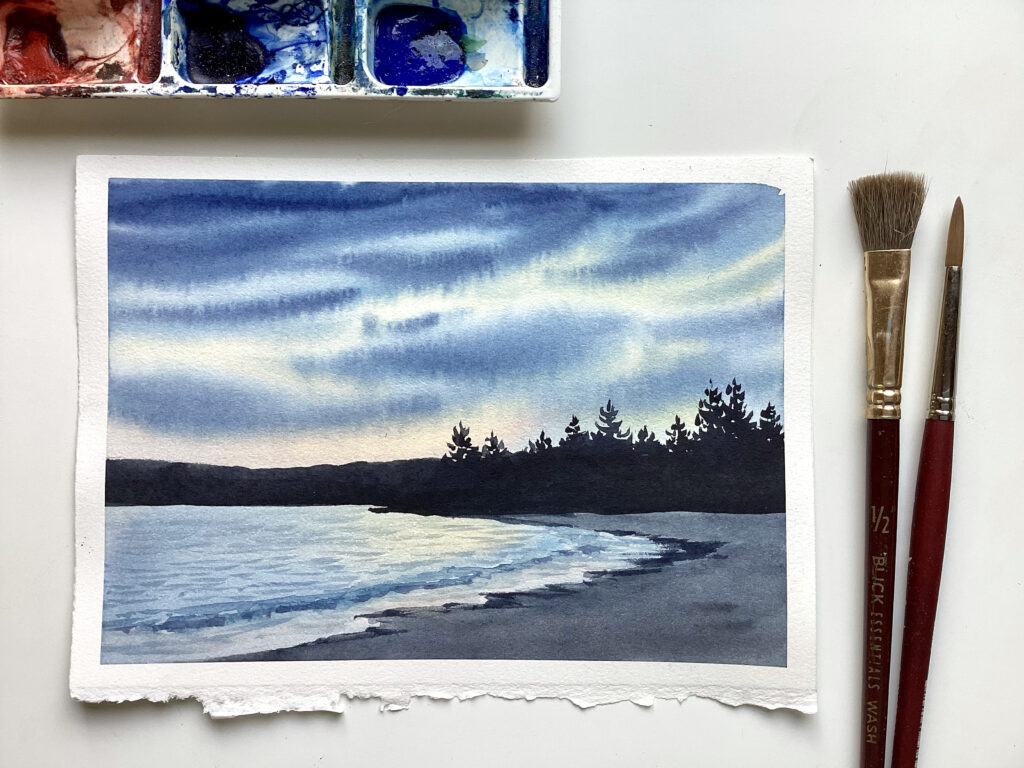 Erica will be showing how to paint this scene using the drawing included below. Print it out or view it on your computer for reference during the workshop.
Please watch video for more detailed information about materials needed and how to prepare for the workshop.
---
Explore more Jumpstart January programs!

Program
Date
Location
Rest Into the New Year Yoga Nidra Series, Phase 1: Rest w/ Hester Kohl Brooks
Tuesday, January 3
6 PM – 7 PM
Virtual on Zoom
Watercolor Paint-Along w/ Erica Qualey
Thursday, January 5
6 PM – 8 PM
Virtual on Zoom
Relationship Intelligence w/ Michael Shell and Rev. Gabriel Burford
Tuesday, January 10
10:30 AM – 12 PM
Picker Room at the library
Slow Stitching Mandalas w/ Robinsunne
Tuesday, January 10
6 PM – 7:30 PM
Hybrid: Picker Room & Zoom
Senior Fitness Dancing w/ Rita Swidrowski
Wednesday, January 11
2 PM – 3:30 PM
Picker Room at the library
Rest Into the New Year Yoga Nidra Series, Phase 2: Release w/ Hester Kohl Brooks
Thursday, January 12
2 PM – 3 PM
Virtual on Zoom
Learn to Make Accordion Books w/ Amy Hand
Thursday, January 12
6 PM – 7:30 PM
Hybrid: Picker Room & Zoom
Painting Morning Sun in Watercolor w/ Jaeohk Cho Keenan
Tuesday, January 17
12 PM – 3 PM
Picker Room in the library
Rest Into the New Year Yoga Nidra Series, Phase 3: Rise w/ Hester Kohl Brooks
Thursday, January 19
2 PM – 3 PM
Virtual on Zoom
Abstraction & the Landscape Painting Workshop w/ Karen Jelenfy
Sunday, January 22
1 PM – 3:30 PM
Picker Room in the library
Valentine Papercraft w/ Joelle Webber
Tuesday, January 31
6 PM – 8 PM
Hybrid: Picker Room & Zoom