Jumpstart January: Slow Stitching Mandalas with Robinsunne
Tuesday, January 10
@
6:00 pm
–
7:30 pm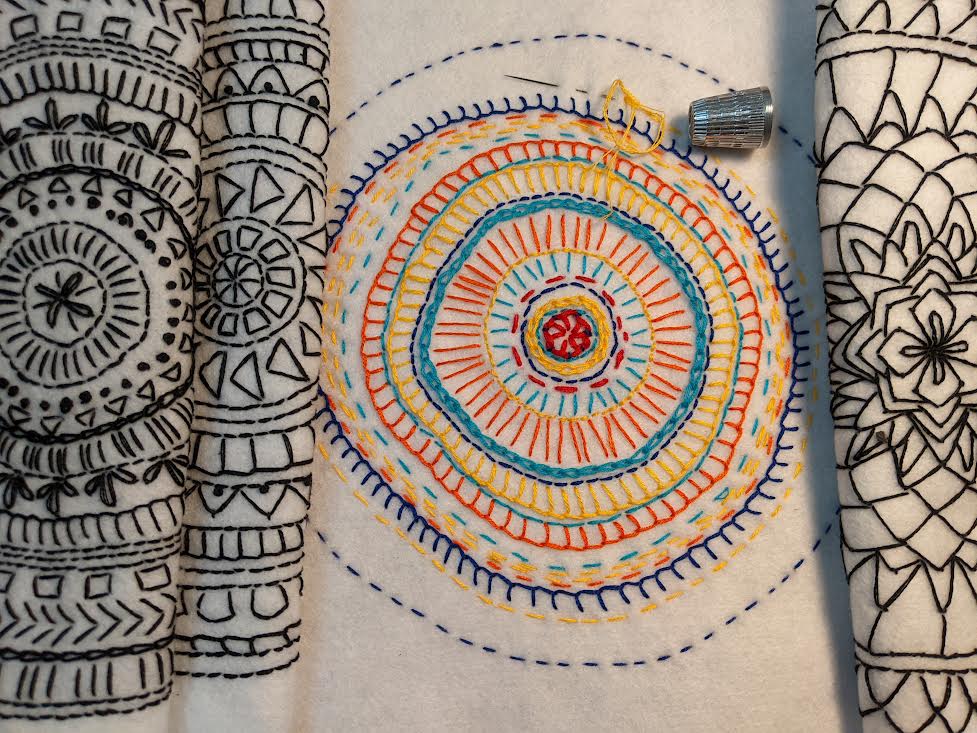 Tonight, we will work on a warm, contemplative sewing project. You can start small, with the intention to finish your mandala within the class time we have, or you can use our gathering here to begin your beautiful project and carry it forward into the New Year.
Spots are limited and pre-registration is required! Sign up in person at the first floor circulation desk over the phone by calling the library at (207) 236-3440.
A $10 material fee is required at the time of sign up and all materials will be provided. Please specify if you will be bringing your own materials and the $10 fee will not be required.
Use this link to join the program virtually on Zoom: https://us02web.zoom.us/meeting/register/tZYrcOqspzsjG9OvoKFzm-JmKA-6ZTVKJg3E
You will need:
A piece of white felt (or honestly, a piece of any kind of woven or felted fabric in any solid color.) I will have a section of 9 x 9" white polyester felt, as it keeps me in a more playful, curious mood – which can be a great place to start with this project.
Embroidery floss in the colors of your choice. Monochromatic or multicolored, your choice. Regular sewing thread can also work – it will just make a much lighter, lacier effect.
Embroidery needles in the correct sizes for your threads.
Sharp scissors
Optional: an embroidery hoop, a thimble, a magnifying glass or any other tools that you are used to when you sew.
Note: If you do not have your own materials, tell us when you RSVP and we will provide some for you.
I will show you the general plan and then demonstrate some stitches if you want or need some ideas. This won't be rocket science. This won't be Mistress Level stitchery. (Unless you want it to be!) I have seen this kind of mandala done completely in running stitches to gaspingly wonderful effect.
What we will have is companionship and a sharing of ideas on a cold winter's night.
Mandala is a Sanskrit word for "circle". In some of its more complex presentations it can symbolize wholeness and a full collection of spiritual depictions of the Universe. You may choose to include any colors, textures, or symbols that nurture your hands and heart.
I look forward to seeing you.
– Robinsunne
---
Join us for more Jumpstart January Programs!

Program
Date
Location
Rest Into the New Year Yoga Nidra Series, Phase 1: Rest w/ Hester Kohl Brooks
Tuesday, January 3
6 PM – 7 PM
Virtual on Zoom
Watercolor Paint-Along w/ Erica Qualey
Thursday, January 5
6 PM – 8 PM
Virtual on Zoom
Relationship Intelligence w/ Michael Shell and Rev. Gabriel Burford
Tuesday, January 10
10:30 AM – 12 PM
Picker Room at the library
Slow Stitching Mandalas w/ Robinsunne
Tuesday, January 10
6 PM – 7:30 PM
Hybrid: Picker Room & Zoom
Senior Fitness Dancing w/ Rita Swidrowski
Wednesday, January 11
2 PM – 3:30 PM
Picker Room at the library
Rest Into the New Year Yoga Nidra Series, Phase 2: Release w/ Hester Kohl Brooks
Thursday, January 12
2 PM – 3 PM
Virtual on Zoom
Learn to Make Accordion Books w/ Amy Hand
Thursday, January 12
6 PM – 7:30 PM
Hybrid: Picker Room & Zoom
Painting Morning Sun in Watercolor w/ Jaeohk Cho Keenan
Tuesday, January 17
12 PM – 3 PM
Picker Room in the library
Rest Into the New Year Yoga Nidra Series, Phase 3: Rise w/ Hester Kohl Brooks
Thursday, January 19
2 PM – 3 PM
Virtual on Zoom
Abstraction & the Landscape Painting Workshop w/ Karen Jelenfy
Sunday, January 22
1 PM – 3:30 PM
Picker Room in the library
Valentine Papercraft w/ Joelle Webber
Tuesday, January 31
6 PM – 8 PM
Hybrid: Picker Room & Zoom