Jumpstart January: Abstraction & Landscape – Painting Workshop with Karen Jelenfy, Experience not necessary!
Sunday, January 22
@
1:00 pm
–
3:30 pm
Using book illustrations and a piece of my original work, students will reflect on artists' use of abstraction as a response to the landscape. Artists to be explored include Andrew Wyeth, Vincent Van Gogh, Joan Mitchell, and John Walker.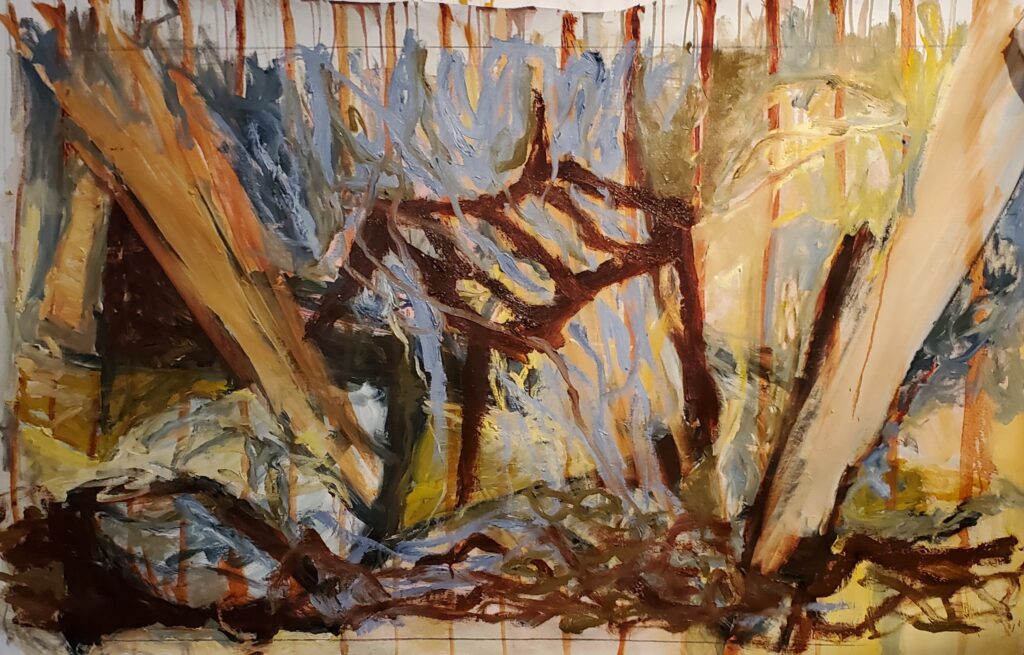 Questions: Is this a landscape? Why or why not? What clues do you see? What choices has the artist made? How does this image make you feel?
An original painting by the instructor will be viewed. The influence on this painting of remembered places and other works of art (such as books, films, music) will be discussed, in addition to the materials and colors used. There will be a brief demonstration by instructor of mark-making and tool selection (pencil, charcoal, ink, paint).
Each student will then create 4 painted works per student in response to a landscape, either chosen from the materials provided or done from memory. Individual instruction throughout. An informal critique will complete the class.
If you have taken this class before, Karen will work with you to make sure you reach a new level in your painting.
Spots are limited and pre-registration is required! Sign up over the phone by calling the library at (207) 236-3440 or in person at the first floor circulation desk.
A $10 material fee is required at the time of sign up and all materials will be provided.
---
Explore more of our Jumpstart January offerings!

Program
Date
Location
Rest Into the New Year Yoga Nidra Series, Phase 1: Rest w/ Hester Kohl Brooks
Tuesday, January 3
6 PM – 7 PM
Virtual on Zoom
Watercolor Paint-Along w/ Erica Qualey
Thursday, January 5
6 PM – 8 PM
Virtual on Zoom
Relationship Intelligence w/ Michael Shell and Rev. Gabriel Burford
Tuesday, January 10
10:30 AM – 12 PM
Picker Room at the library
Slow Stitching Mandalas w/ Robinsunne
Tuesday, January 10
6 PM – 7:30 PM
Hybrid: Picker Room & Zoom
Senior Fitness Dancing w/ Rita Swidrowski
Wednesday, January 11
2 PM – 3:30 PM
Picker Room at the library
Rest Into the New Year Yoga Nidra Series, Phase 2: Release w/ Hester Kohl Brooks
Thursday, January 12
2 PM – 3 PM
Virtual on Zoom
Learn to Make Accordion Books w/ Amy Hand
Thursday, January 12
6 PM – 7:30 PM
Hybrid: Picker Room & Zoom
Painting Morning Sun in Watercolor w/ Jaeohk Cho Keenan
Tuesday, January 17
12 PM – 3 PM
Picker Room in the library
Rest Into the New Year Yoga Nidra Series, Phase 3: Rise w/ Hester Kohl Brooks
Thursday, January 19
2 PM – 3 PM
Virtual on Zoom
Abstraction & the Landscape Painting Workshop w/ Karen Jelenfy
Sunday, January 22
1 PM – 3:30 PM
Picker Room in the library
Valentine Papercraft w/ Joelle Webber
Tuesday, January 31
6 PM – 8 PM
Hybrid: Picker Room & Zoom