John Bragg's Author Talk on Exit 8
Thursday, September 12, 2019 @ 7:00 pm

-

8:00 pm
John Bragg presents his new book Exit 8.
Summary: Construction of the nation's massive Interstate Highway System is underway, heading north, tearing through the bucolic Connecticut River Valley. Unstoppable. In its path, sits the small Vermont hill farm that Roland Tuttle's ancestors settled generations ago, where Roland has spent his entire life—caring for his animals, plowing with his team of horses, harvesting by hand, walking to town. Living in the past.
Exit 8 tells the history of the Tuttle family and Roland's place in that history. It is a story of personal choice, nature's dark beauty, and the often unremarked costs of progress, but most of all it is the story of Roland Tuttle, a man confronted with the loss of the only world he knows and loves.
John Bragg presented at the Camden Public Library earlier this year on his mountain climbing adventures in Patagonia. Bragg is also the author of The Broom of God. To learn more about the author and his books, visit http://backroadpress.com/.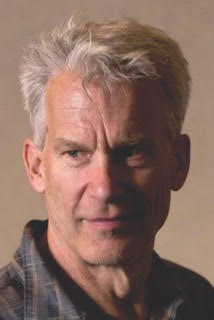 Related Events