INTO THE RAGING SEA
Thirty-Three Mariners, One Megastorm,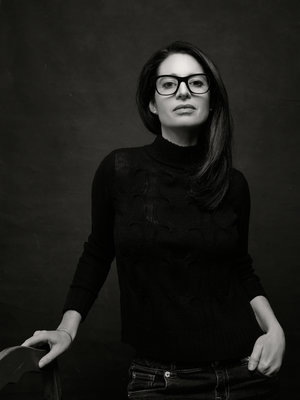 and the Sinking of El Faro
by Rachel Slade
Owl & Turtle Bookstore will be on hand to sell copies of the book.
"A pulse-pounding, Perfect Storm-style tale of a shipping disaster… a nerve-wracking, tension-filled narrative. The author does solid work giving voice to the 33 mariners who lost their lives… The book serves as both a eulogy to them and a shoutout to the thousands of sailors who risk their lives every day to move goods around the world. A taut, chilling, and emotionally charged retelling of a doomed ship's final days."
—Kirkus, ★ STARRED REVIEW ★
On October 1, 2015, Hurricane Joaquin barreled into the Bermuda Triangle and swallowed the container ship El Faro whole, resulting in the worst American shipping disaster in thirty-five years and the death of all the mariners aboard. No one could fathom how a vessel equipped with satellite communications, a sophisticated navigation system, and cutting-edge weather forecasting could suddenly vanish—until now. In INTO THE RAGING SEA: Thirty-Three Mariners, One Megastorm and the Sinking of El Faro (Ecco; On Sale May 1, 2018) journalist Rachel Slade offers a nail-biting account of El Faro's final hours, the coast guard's attempted search and rescue, the ensuing federal investigation and the destructive forces of globalization and climate change that put the ship in harm's way.
Relying on hundreds of exclusive interviews with family members and maritime experts, as well as the words of the crew members themselves—whose conversations were captured by the ship's voice data recorder—Slade unravels the mystery of the sinking of El Faro. As she recounts the final twenty-four hours onboard, Slade vividly depicts the officers' anguish and fear as they struggled to carry out their captain's increasingly bizarre commands, which, they knew, would steer them straight into the eye of the storm. Taking a hard look at America's aging merchant marine fleet, Slade also reveals the truth about modern shipping—a cut-throat industry plagued by razor-thin profits and ever more violent hurricanes fueled by global warming.
Robert Frump, Pulitzer Prize-winning journalist and author of Until the Sea Shall Free Them said INTO THE RAGING SEA is "the one account I've read that solves the riddle of El Faro convincingly and thoroughly. Rachel Slade mashes up The Perfect Storm with a suspenseful, page-turning thriller, cutting through the corporate double-speak to shine a light on how it was that thirty-three men and women sailed into Hurricane Joaquin. Superbly written, this deserves a place on the bookshelf of modern maritime classics. Even those who have followed El Faro closely will find major surprises here."
About the Author
Rachel Slade is a Boston-based journalist, writer, and editor. She was a staff writer at Boston Magazine for nine years, and her writing has earned her a national civic journalism award. She splits her time between Brookline, Massachusetts and Rockport, Maine.
"A Perfect Storm for a new generation, Rachel Slade's Into the Raging Sea
is a masterful page-turning account of El Faro's sinking, one that
leaves you profoundly moved by the crew's dedication and grit, and
infuriated at the disturbing conditions that led to this tragedy."
—Ben Mezrich, bestselling author of
The Accidental Billionaires: The Founding of Facebook
"With gripping prose and edge-of-the-seat momentum, Rachel Slade takes
the reader aboard the final, fatal voyage of El Faro. Into the Raging Sea
imparts a profound message about the power of nature and the fallibility
of human judgement even in our digitized era."
—Peter Stark, author of Astoria: John Jacob Astor and Thomas
Jefferson's Lost Pacific Empire
"Rachel Slade's bracing Into the Raging Sea is a story as old as seafaring itself.
Only Slade isn't guessing here at the fate of El Faro. This minute-by-minute
account illustrates in chilling detail exactly what happens when the near-infinite might of the ocean plows broadside into the hubris of men."
—Brantley Hargrove, author of The Man Who Caught the Storm: The Life of Legendary Tornado Chaser Tim Samaras
"An extraordinary piece of reporting. I tore through it like a novel but with
the inside knowledge of how insulated the shipping industry is, how well it
protects its secrets, and of the countless nets it deploys to entangle journalists.
Slade pushes through the waves, heavy seas, and military court imbroglio in the same way El Faro faced hurricane Joaquin: dead on at Full Speed Ahead."
—John Konrad, editor of GCaptain and author of
Fire on the Horizon: The Untold Story Of the Deepwater Horizon Disaster
"Rachel Slade's Into the Raging Sea made me miss my subway stop and cancel at
least one appointment. It's a gripping, moving account of a nautical tragedy,
told with equal parts verve, gusto, and compassion. Don't miss it."
— Sarah Weinman, author of The Real Lolita: The Kidnapping of Sally Horner
and the Novel that Scandalized the World
"Rachel Slade mashes up The Perfect Storm with a suspenseful, page-turning
thriller, cutting through the corporate double-speak to shine a light on how
it was that thirty-three men and women sailed into Hurricane Joaquin. Superbly
written, this deserves a place on the bookshelf of modern maritime classics. Even those who have followed El Faro closely will find major surprises here."
—Robert Frump, Pulitzer Prize-winning journalist and author of
Until the Sea Shall Free Them: Life, Death, and Survival in the Merchant Marine