In 1782, during the final clashes of the Revolutionary War, one of our young nation's most valiant and beloved soldiers was, secretly, a woman.
When Deborah Samson disguised herself as a man and joined the Continental Army, she wasn't just fighting for America's independence—she was fighting for her own.
Revolutionary, Alex Myers's richly imagined and meticulously researched debut novel, brings the true story of Deborah's struggle against a rigid colonial society back to life—and with it the courage, hope, fear, and heartbreak that shaped her journey through a country's violent birth.
After years as an indentured servant in a sleepy Massachusetts town, chafing under the oppressive norms of colonial America, Deborah can't contain her discontent any longer. When a sudden crisis forces her hand, she decides to finally make her escape. Embracing the peril and promise of the unknown, she cuts her hair, binds her chest, and, stealing clothes from a neighbor, rechristens herself Robert Shurtliff. It's a desperate, dangerous, and complicated deception, and becomes only more so when, as Robert, she enlists in the Continental Army.
What follows is an inspiring, one-of-a-kind journey through an America torn apart by war: brutal winters and lethal battlefields, the trauma of combat and the cruelty of betrayal, the joy of true love and the tragedy of heartbreak. In his brilliant Revolutionary, Myers, who himself is a descendant of the historical Deborah, takes full advantage of this real-life heroine's unique voice to celebrate the struggles for freedom, large and small, like never before.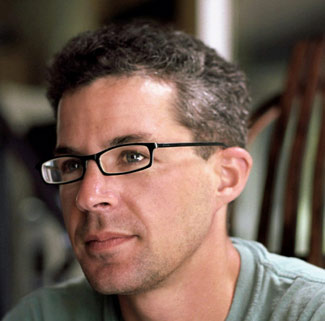 Alex Myers is a writer, teacher, and speaker. Born and raised in Paris, Maine, Alex was raised as a girl (Alice) and left Maine to attend boarding school at Phillips Exeter Academy. At Exeter, Alex came out as transgender, returning his senior year as a man after attending for three years as a woman, and was the first transgender student in that Academy's history. After Exeter, Alex earned his bachelor's at Harvard University, studying Near Eastern Languages and Civilizations. Alex was also the first openly transgender student at Harvard and worked to change the University's nondiscrimination clause to include gender identity. Subsequent to earning a master's degree in religion at Brown, Alex has pursued a career in teaching English at secondary schools. He completed his Master's of Fine Arts in fiction writing at Vermont College of Fine Arts, where he began his work on Revolutionary. He currently lives in New Hampshire with his wife and two cats.
"Alex Myers' debut novel, Revolutionary, is more than an accounting of Deborah Sampson's amazing Revolutionary war feat of enlisting and serving a three-year tour in the army disguised as a man; it is an exploration of the irony of such circumstances. In following her true nature–who she is at heart–Deborah creates for herself a duplicitous life fraught with personal risk. This beautifully written account is a reminder that gender identity and the struggle for equal rights has always been with us. Perhaps now, in our time, we can set aside our biases and not simply ask how Deborah Sampson did what she did, but understand why."
—Heather Sharfeddin author of Windless Summer
"I raced through this vividly imagined tale, unable to put it down. It is a remarkable story of a quest for independence so unusual and startling that it is remarkable to know that it was based on the author's ancestor, a young indentured woman who discovered the freedom and ultimately the cost of becoming a man. Set during the Revolutionary War, it is teeming with insight, as astonishing as it is readable, a story that reveals the limitations women faced and the courage it took to defy them."
—Robin Oliviera, author of My Name Is Mary Sutter
"Alex Myers' debut novel is a marvel. Revolutionary, explores the life of Deborah Samson who, passing as a man, fought in the Revolutionary War. In this exquisitely rendered fictional account, Myers paints a portrait of a complex woman whose tribulations and triumphs echo in our own time. This is a book about what it means to be a hero, a woman, and a person who refuses to accept the limiting roles society imposes. It also, deftly and with grace, explores the intricate and shifting boundaries of passion and love."
—Connie May Fowler author of The Problem with Murmur Lee and Before Women had Wings
"Alex Myers' novel is terrific. The book is a page-turner; it has characters you care about, and it is imaginative in the best sense of the word. Myers' recreation of Deborah Sampson at war is vivid and full of suspense … I look forward to its success."
—Alfred F. Young author of Masquerade: The Life and Times of Deborah Sampson, Continental Soldier