#GivingTuesday: Help the Camden Public Library bring the everyday magic of books to our community!
Tuesday, November 29, 2022
All day
Donate to "Stock the Stacks" on #GivingTuesday, Nov. 29
---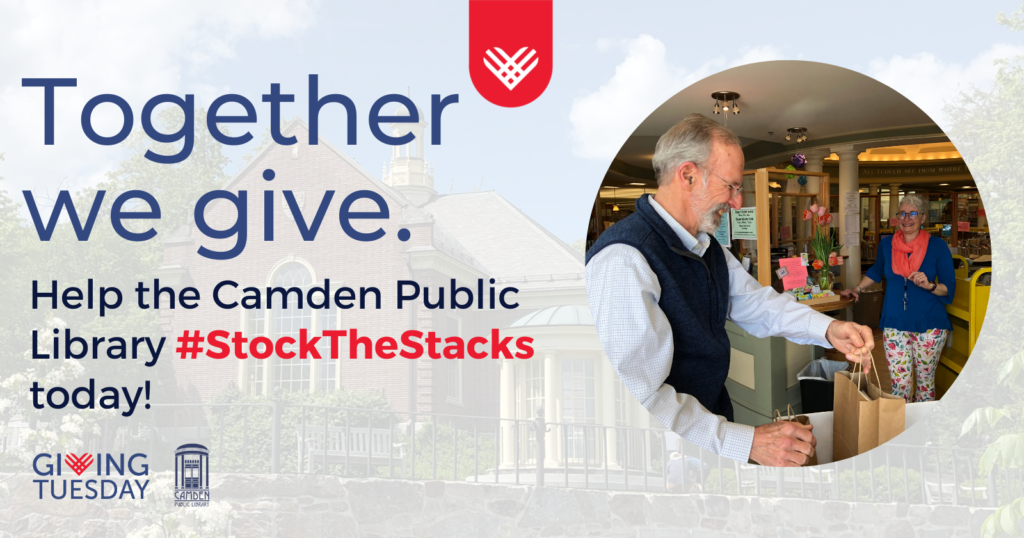 ---
On #GivingTuesday, Nov. 29, the Camden Public Library is asking for donations for new books and materials through its "Stock the Stacks" fund. New titles and relevant materials are a constant need for the members of our community, and donations collected during this one-day fundraiser will go directly toward books for the library to share.
The demand for new books and relevant materials remains high. Through in-person, curbside, homebound, and online library services, the Camden Public Library is delivering an average of about 18,000 items every month. A donation of $25 to "Stock the Stacks" will buy one hardcover book and $75 will buy one e-book. When you give $25 or more, you can personalize a bookplate in honor of someone special to you.
"This year, with inflation straining family budgets and social isolation still a potent challenge, we are working hard to meet our neighbors' needs with the kinds of resources that continue to buoy them," says Camden Public Library Executive Director Nikki Maounis. "The need is constant, and that's why we're asking for help. It takes an extraordinary effort to raise the funds to cover our operating budget, and this year is particularly daunting as expenses continue to climb. Your Giving Tuesday gift will really help support the success of our operations in a way that you can hold in your hands."
It's easy to support "Stock the Stacks," whether at home, in the library, or online here. Donations can be sent by check, made out to the "Camden Public Library Fund," to ATTN: Stock the Stacks, Camden Public Library, 55 Main Street, Camden, ME 04843.
#GivingTuesday is a global day of giving and unity taking place on Nov. 29, 2022. When you participate in #GivingTuesday, you join a global generosity movement that is unleashing the power of people and organizations to transform the world and their communities, including right here.
Below are examples of bookplates that can be personalized with donations of $25 or more to "Stock the Stacks."
---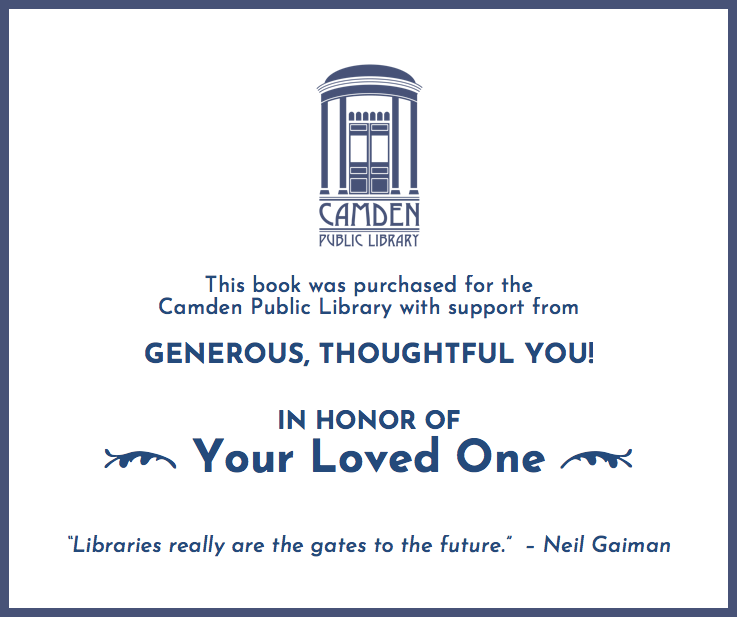 ---