Picker Room Gallery: "Flow" — Sculptural Weavings by Bobbie Tilkens-Fisher
Wednesday, February 2
–
Sunday, February 27

---
During the month of February, the Camden Public Library will feature a show of vibrant weavings by midcoast fiber artist Bobbie Tilkens-Fisher. The public is invited to meet Tilkens-Fisher at her artist reception in the library's Picker Room on Saturday, February 12, from 2:00 – 4:00 pm.
ARTIST STATEMENT:
A month-long trip to Deer Isle in August 2020 provided me with uninterrupted periods of time to experiment with a fiber I had never worked with before: wool roving. Roving is very soft unspun wool that comes in long locks. It appeals to my sensibilities — it is pleasurable to handle, comes in vibrant colors, and its thickness lends itself to quick work. 
I had a breakthrough on that trip, finding my voice and style as a weaver. Working with roving allowed me to begin creating forms that challenge the expectations of weaving as being largely a two-dimensional medium. And, it brought me a peaceful pleasure I hadn't yet experienced in my weaving practice.
This recent body of work explores the concept of "flow," in two different forms.
Looking at the pieces as a body of work, you will see that in all cases, there are bands of color that bend and flow, reminding us of things like lava, water, igneous rock, eggs, and landscapes.
What you don't see in these pieces I felt while creating them. I've come to learn that this is called "Flow." The concept of Flow was first proposed in the 1970's by Hungarian psychologist Mihaly Csikszentmihalyi. It describes that mental state where you are so absorbed by an activity that you lose track of time (and your ego). It is not dissimilar to the feeling you get when meditating.
For many, (including myself) finding flow through making is easier than meditating. I am able to forget my worries and let my body and my intuition take over — a much needed break from these hectic times.
BIO:
As a child, I thought I would grow up to be an artist. Instead, I ran an art gallery, an artist fellowship program, taught art history and museum studies to college students and owned a vintage design company. All art related, but the dream lingered . . .
After the birth of my son in the summer of 2017, I experienced a strong desire to create. I decided to purchase a child's frame loom and taught myself how to weave. Anytime baby Milo would allow me to, I would pick up that loom and experiment.
I promised myself once I made at least ten solid weavings that I would buy myself a "real loom." It didn't take much time until my collection of looms and fibers grew large enough to take over a spare bedroom in our Philadelphia home, becoming my first studio. My former career as an antiques dealer had left me with a sizeable social media following that appreciated my new endeavor, and I began to get commissions for weavings.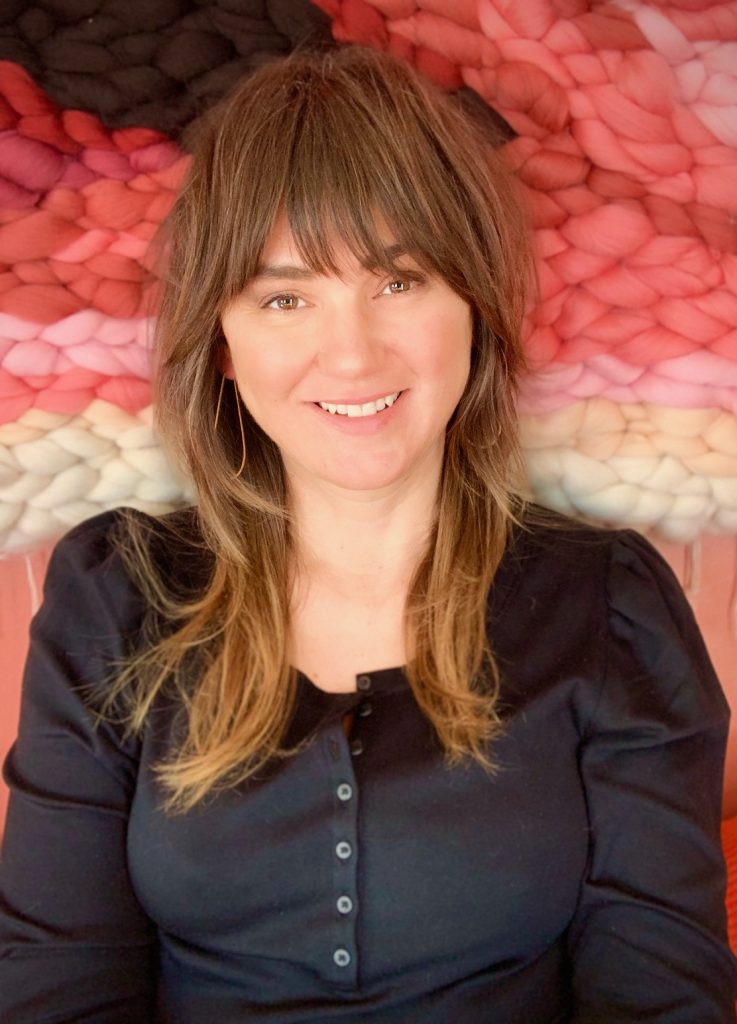 Today, I have dedicated my career to weaving and teaching others my craft. I have studios in Philadelphia and Thomaston, Maine.
I am always delighted to discuss commissions and can re-create or re-interpret any works you see here that may no longer be available for sale. And, if you would like to learn how to weave, I am now offering private lessons and group workshops in my studio in Thomaston, Maine. I can also provide instruction via zoom.
Bobbie Tilkens-Fisher
www.athomemodern.com
Instagram: @bobbin_and_weaving
---
A portion of the proceeds from the sale of art from this show will benefit the Camden Public Library.
---