"Dawnland" Screening with Q&A led by Maria Girouard
Tuesday, March 19 @ 6:30 pm

-

8:45 pm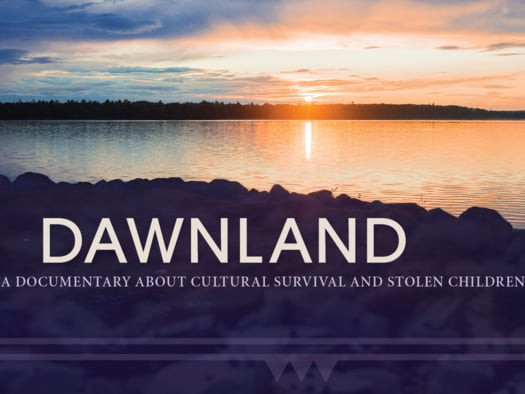 A documentary (86 min. Not rated.) about cultural survival and stolen children: inside the first truth and reconciliation commission for Native Americans. Maria Girouard, who is Penobscot, will lead a Q&A following the film. Maria Girouard of Penobscot Nation is an historian with particular expertise in the Maine Indian Claims Settlement Act. She holds a master's degree in history from the University of Maine. Maria is a longstanding community organizer and activist of environmental and social justice. She is a founder of The Peoples' Garden community garden at Penobscot Nation and dedicates many volunteer hours to community gardening. Maria is a 2015 recipient of the prestigious Maryann Hartman Award for her advocacy work on preserving the rights and cultural heritage of Penobscot Nation. She serves Maine-Wabanaki REACH as coordinator of health, wellness, and self-determination.
Free screening.
ABOUT THE FILM
"My foster mother told me … she would save me from being Penobscot."
For most of the 20th century, government agents systematically forced Native American children from their homes and placed them with white families. As recently as the 1970's, one in four Native children nationwide were living in non-Native foster care, adoptive homes, or boarding schools. Many children experienced devastating emotional and physical harm by adults who mistreated them and tried to erase their cultural identity.
Now, for the first time, they are being asked to share their stories.
In Maine, a historic investigation—the first government-sanctioned truth and reconciliation commission (TRC) in the United States—begins a bold journey. For over two years, Native and non-Native commissioners travel across Maine. They gather testimony and bear witness to the devastating impact of the state's child welfare practices on families in Maliseet, Micmac, Passamaquoddy, and Penobscot tribal communities. Collectively, these tribes make up the Wabanaki people.
The feature-length documentary Dawnland follows the TRC to contemporary Wabanaki communities to witness intimate, sacred moments of truth-telling and healing. With exclusive access to this groundbreaking process and never-before-seen footage, the film reveals the untold narrative of Indigenous child removal in the United States.
The TRC discovers that state power continues to be used to break up Wabanaki families, threatening the very existence of the Wabanaki people. Can they right this wrong and turn around a broken child welfare system? Dawnland foregrounds the immense challenges that this commission faces as they work toward truth, reconciliation, and the survival of all Indigenous peoples.
Living at the easternmost edge of Turtle Island, the Wabanaki people are the first to see the new day's light. If harmony and justice begin in the east, as some prophesize, surely the TRC is a sign of this beginning.
WHY THIS IS IMPORTANT
For most of the 20th century, government agents systematically forced Native American children from their homes and placed them with white families. A 1977 US Senate report (p. 287) found that as recently as the 1975, Native children in Maine were 19 times more likely to be removed by child welfare workers than non-Native children. Many children experienced devastating emotional harm in homes that shamed, demeaned, and erased their culture.
Americans should know that these atrocities are not history. Native children in Minnesota are still 14 times more likely to enter foster care than non-Native children; other states are not much better. Many Native people describe this persistent child welfare crisis as ongoing genocide resulting in cultural, emotional, and financial devastation—a stark contrast to most outsiders who are ignorant, misinformed or unaware of these abuses.
In fact, we've already created the short film First Light (that you can watch online now) to begin engaging with students and teachers about what's happening in Maine.
MAINE-WABANAKI REACH
Maine-Wabanaki REACH is featured in Dawnland. The organization advances Wabanaki self-determination by strengthening the cultural, spiritual and physical well-being of Native people in Maine. REACH initiated the Maine Wabanaki-State Child Welfare Truth and Reconciliation Commission and is carrying out its recommendations currently.
Related Events