Dave Jackson will present tales of his most recent sea adventure, along with a photo slideshow on Sunday, April 29 at 2:00 pm as part of Maritime Month 2018. For six days and five nights, Jackson sailed on the SSV Corwith Cramer from West Palm Beach, Florida, through the Florida Straits into the Bahamas ending in Nassau. Dave will talk about sailing the ship, oceanographic research done along the cruise track and an afternoon on a deserted island. The tales will be entertaining, the photos of sea and sunshine welcome, and the information on SEA enlightening.
SEA Education has a mission to educate ocean scholars, stewards and leaders, and to foster knowledge of our oceans and maritime environments.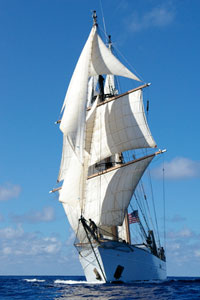 Sea Education Association (SEA) is an internationally recognized leader in undergraduate ocean education. Since 1971, we have equipped students with the tools to become environmentally literate leaders prepared to address the defining issue of the twenty-first century: the human impact on the environment.
Our Boston University accredited study abroad program, SEA Semester®, is the leading off-campus Environmental Studies program focused on the ocean. While the academic focus varies, each program offers an interconnected suite of courses designed to explore a specific ocean-related theme using a cross-disciplinary approach. We look for motivated undergraduates of all majors who are passionate about learning, inspired to tackle and address real-world problems, and eager to become part of an unparalleled living and learning community.
SEA is based on Cape Cod in the oceanographic research community of Woods Hole, Massachusetts.