Jumpstart January Series: Coat Pins . . . with Intentions
Wednesday, January 12
@
6:00 pm
–
7:30 pm

---
Take this class to sit virtually with other like-minded crafters and stitch tiny, tiny . . . well, QUILTS! Dollhouse-sized, miniature, slow-stitched, quilted art pieces to wear on our winter coats and sweaters for fun, and/or to remind us of an intention we have and want to colorfully remember.
CLICK BELOW TO REGISTER TO PARTICIPATE IN THIS FREE ONLINE WORKSHOP.
https://us02web.zoom.us/meeting/register/tZYkfuurpzwrG93bH3TJgil4SumaVMXMCSCF
Robinsunne is a local artist who works primarily in paper and fabric. Sewing and quilting since she was 4 (OK, they were pretty simple back then) she joined the recent world of "Slow Stitching" — a gentle, meditative, and fairly playful way to create small, handsewn pieces of quilted art.
CLICK HERE to read the full list of supplies you will need to participate, and to learn more about this activity. It's a helpful read and will get you thinking about the design for your coat pin.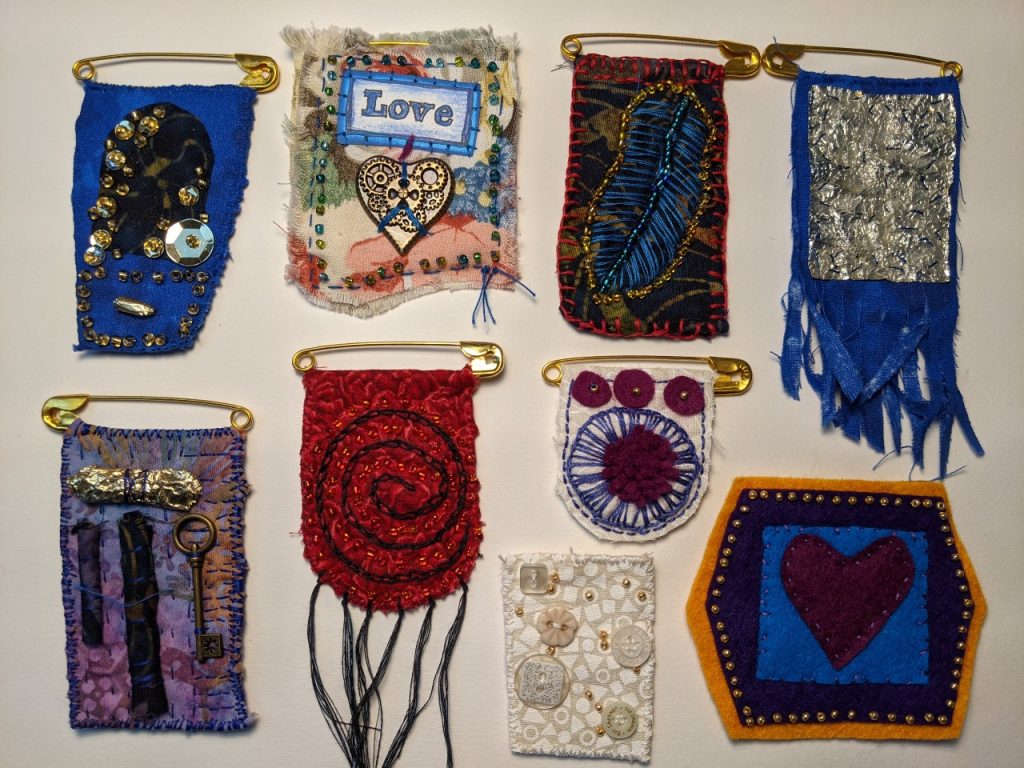 ---
Join us for other Jumpstart January programs!
Thursday, January 6, at 6:00 pm: Virtual Yoga Nidra — Resting into the New Year.
Taught by Hester Kohl Brooks. Learn more and sign up here:
https://www.librarycamden.org/event/jumpstart-january-yoga-nidra/
Friday, January 7, at 10:30 am:
Writing a Legacy Letter — Sharing Your Values with Loved Ones.
Taught by Jay Sherwin. Learn more and sign up here:
https://www.librarycamden.org/event/writing-a-legacy-letter-workshop/
Tuesday, January 11, at 6:30 pm:
Dancing with Your Muse — Inner Magic to Release Fear and Embrace Creativity.
Taught by Gilda Joffe. Learn more and sign up here:
https://www.librarycamden.org/event/dancing-with-your-muse/
Tuesday, January 25, at 6:00 pm:
Cardboard Portraits
Taught by Amy Hand. Learn more and sign up here:
https://www.librarycamden.org/event/cardboard-portraits/