Coastal Maine in Words and Art
Sunday, October 13, 2019 @ 2:00 pm

-

4:30 pm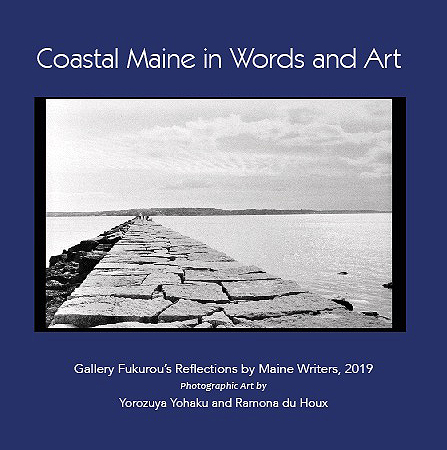 Come hear about the conception and creation of a beautiful new book that celebrates The Solon Center for Research and Publishing's first writing/art project . The challenge for writers was to choose a fine art photograph that will be exhibited and write a story based on the image. The combination marries visual arts with the written word, helping Maine's creative economy flourish. This unique new platform for writers in Maine brings the artistic community together with wordsmiths, which offers exciting unforeseen collaborations.
The result of the contest was pleasantly overwhelming. Eighty-eight entries were received to go with twenty-three images. Because of the quality of the submissions they decided some of the photographs would be paired with more than one story.
The images depict Rockland and the coast in its myriad situations, moods and emotions. The writers told stories with depth, insight, candor, irony, wit and humor. Anyone who has every visited Maine's coast will be able to relate to them. They've put humankind's instinctive emotional connection to the sea into words.
The stories with art are published in Coastal Maine in Words and Art, which will be sold during the exhibit, on amazon, at local Maine bookstores, in the gallery, and worldwide through Ingram. Our winners herald from across Maine. Some have been published before, but for the vast majority this is their first book publication. Our writers are: Mark Aufiery, Eola Ball, S.M. Belair, M. E. Brinton, Donna Chellis, Diana Coleman, Steve Feeney, N.T. Franklin, Lee Heffner, Donna Hinkley, Khristina Marie Landers, Rosemarie Nervelle, Ed Peele, Lynn Smith, Sandra Sylvester, Lee Van Dyke, and John Holt Willey.
Writers will be on hand to read their stories aloud and sign copies of the books available for sale.