Drawing on local lore, food history, and a lot of sugar, Alexis Iammarino and Camden Public Library present the 2018 Camden Donut Festival! Join us in the Amphitheatre for donut and coffee tastings, a humor writing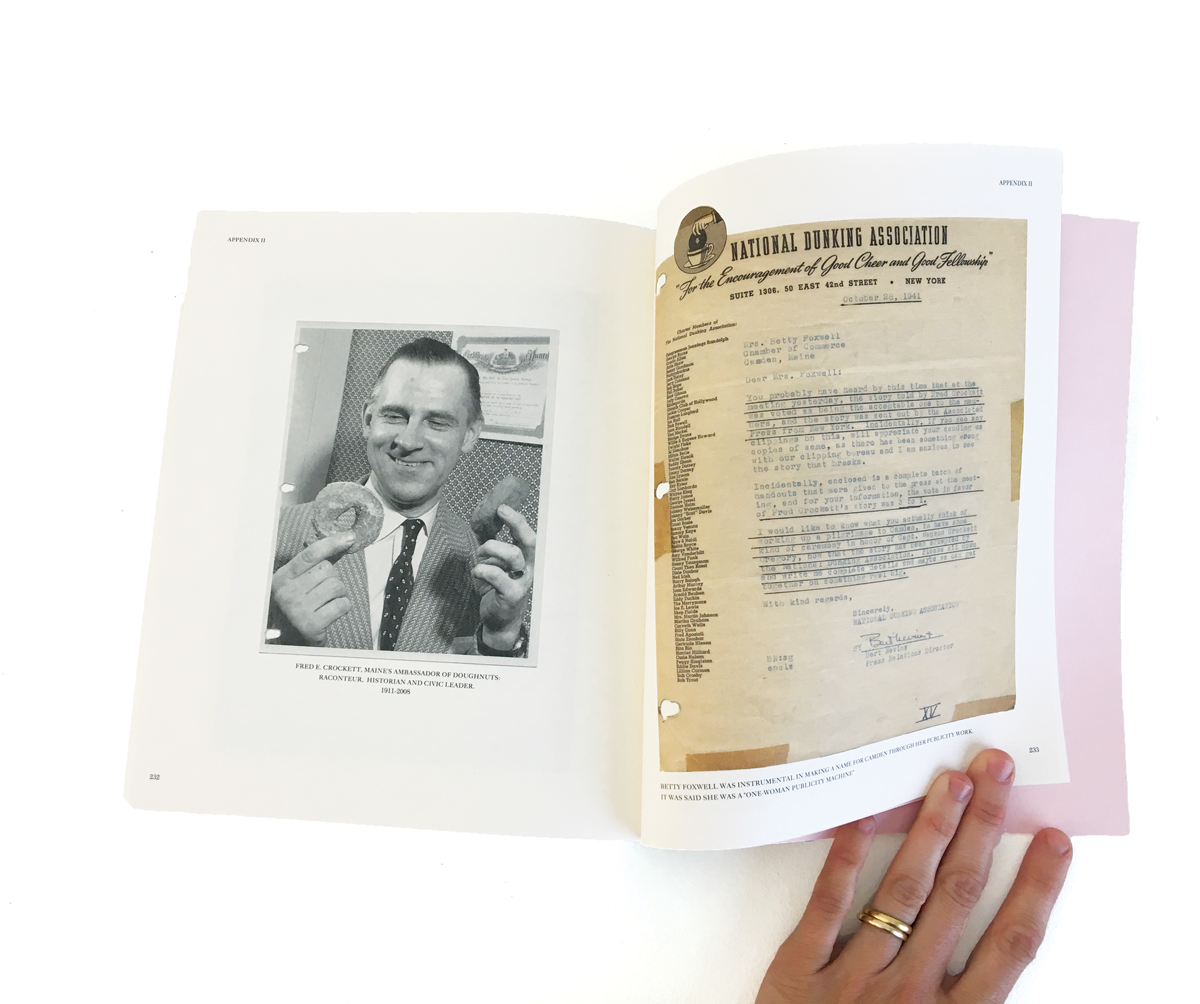 contest,and readings from Hole History: Origins Of The American-Style Donut. Historical documents from our own Walsh History Center Archives will be on display in the Picker Room – don't miss this chance to dig into the history of how Midcoast Maine has claim over the creation of the hole in the donut!
The regular Saturday Story Time for All Ages with Miss Loraine will be donut themed and will take place in the Amphitheatre if the weather is nice. Story time is at 10:00 am.
Participate in public history and join us to celebrate the recently published art catalogue and new acquisition to the Walsh History Center, Hole History: Origins Of The American-Style Donut.
The full schedule is as follows:
10-10:30 Mingling on the lawn with coffee and donuts 10:00 – Story time for all ages with Miss Loraine
10:30 – Alexis Iammarino will read Fred Crockett's account of the creation of the hole in the donut followed by a selection from the book's opening essay by Food Historian, Sandy Oliver.
Open sign up for storytelling contest (open mike style for after lunch)
Storytelling Contest – Tell your version of who put the hole in the donut?
Kids 12:30
Adults 1:15
1:30 costume parade and awards ceremony
This event is part of a 2018 Kindling Fund project, awarded to artist Alexis Iammarino and designer Maeve O'Regan to design and publish a catalogue from a recent exhibition curated by Iammarino called "Hole History: Origins of the American-style Donut," a collection of art, performance and writing that responded to a claim that the hole-in-the-donut was singularly invented by a 19th-century sea captain from Rockport, Maine.
Support For The Exhibition Catalogue, "Hole History: Origins Of The American-Style Donut" Is Provided By The Kindling Fund, A Grant Program Administered By SPACE Gallery As Part Of The Andy Warhol Foundation For The Visual Arts Regional Regranting Network.
Photo Caption: Carey Lin, Donuts 2 Dollars; Maine Historical Society and the artist Patty Allison "Donuts & Treats, Cushman's Bakery, Portland, ca. 1940"; and Jon Merritt, Crystalline Passage.
CAPTIONS
Donut Darlings Double Down, Make Book about a Hole! Maeve O'Regan, at left, Alexis Iammarino at right.
Interior of Catalogues' contents