Camden Conference Community Events: The Baltics and the Bear
Tuesday, November 16, 2021
@
6:30 pm
–
7:30 pm

---
The Camden Conference Community Events series with Camden Public Library continues with a presentation by Anne Hall, retired U.S. Ambassador and career diplomat with 32 years of experience with the Department of State.
The Baltic nations have proud histories as independent nations with distinct cultures and languages. Since their independence from the Soviet Union they have built dynamic, democratic societies, with economies that rank among Europe's most innovative. At the same time, the Baltics continue to face threats from their increasingly hostile neighbor to the east. Russia's 2014 annexation of Crimea, the Suwalki Gap, and on-going Russian disinformation and cyber attacks will be among the topics discussed.
CLICK BELOW TO REGISTER FOR A ZOOM LINK TO ATTEND THIS FREE ONLINE PRESENTATION.
https://us02web.zoom.us/webinar/register/WN_EOgloi2uSKyVmj-y2Ligfg
---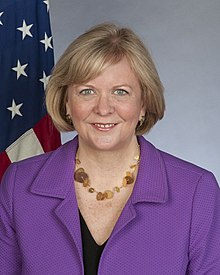 As the Ambassador to Lithuania from 2016-2019, Hall led a multiagency team focused on strengthening Baltic defense and security. From 2014-2016 she served as the Principal Deputy Assistant Secretary of State for Oceans and International Environmental and Scientific Affairs, and prior to that as Director of the Office of Central European Affairs in the Bureau of European and Eurasian Affairs. Other overseas leadership positions included Deputy Chief of Mission, Embassy Vilnius, Lithuania, and Consul General of the US Consulate General in Krakow, Poland. She also served in China, Brazil and Colombia.
Earlier in her career, Hall served as Special Assistant to Secretary of State Warren Christopher, in the Executive Secretariat of the Secretary of State, and worked on Nordic and Baltic Affairs as well as Southeastern European Affairs.
She is the recipient of several Department of State Superior and Meritorious Honor awards. In 2019 the President of Lithuania awarded her the Commander's Cross of the Order of Merit for Service to the Republic of Lithuania. In 2009 she was decorated by the President of Poland with the Knight's Cross of the Order of Merit of the Republic of Poland.
Anne Hall was born in Providence, Rhode Island. She holds Masters degrees from the LBJ School of Public Affairs and the Institute of Latin American Studies at University of Texas. She graduated from the University of Maine with a Bachelor of Arts degree in International Affairs in 1981.
She speaks Polish, Chinese, Spanish, Portuguese, and some Lithuanian.
She makes her home in Blue Hill, Maine. She chairs the Board of Advisors of the School of Public and International Affairs at the University of Maine, and has served as a mentor for Army War College Global Crisis Simulations. She enjoys supporting the next generation of diplomats and leaders.
---
This program is part of a monthly series of free talks leading up to the Camden Conference weekend, February 25-27, 2022. This year's topic is Europe: Challenged at Home and Abroad. Learn more at camdenconference.org.