Bay Chamber Concerts Summer Screen Door Festival: Abiding Journeys, Day 4
Saturday, August 20
@
10:00 am
–
9:30 pm

---
The Camden Public Library is proud to once again partner with Bay Chamber Concerts to present their Screen Door Festival under a tent at the historic Camden Amphitheatre, August 17 – 21. Each day begins with Bach for Breakfast, followed by lunchtime concerts and evening performances of much-loved chamber music repertoire, as well as café concerts with adventurous new musical experiences.
This year's theme is: "Abiding Journeys"
Moving home and away, travels of our imaginations, journeys of empathy, conscience, and resilience – these are adventures that color our lives, sometimes creating pain and sometimes abiding joy. I invite you to explore journeying through great music, through the meandering lives of the composers and the personal journeys of the astonishing featured artists. This year we celebrate the power of live music to transport us to a different and better world. I look forward to seeing you at our concerts and hope your personal Bay Chamber journey this summer will be both beautiful and abiding.

MANUEL BAGORRO, THOMAS WOLF ARTISTIC DIRECTOR CHAIR, BAY CHAMBER CONCERTS
---
SCHEDULE FOR SATURDAY, AUGUST 20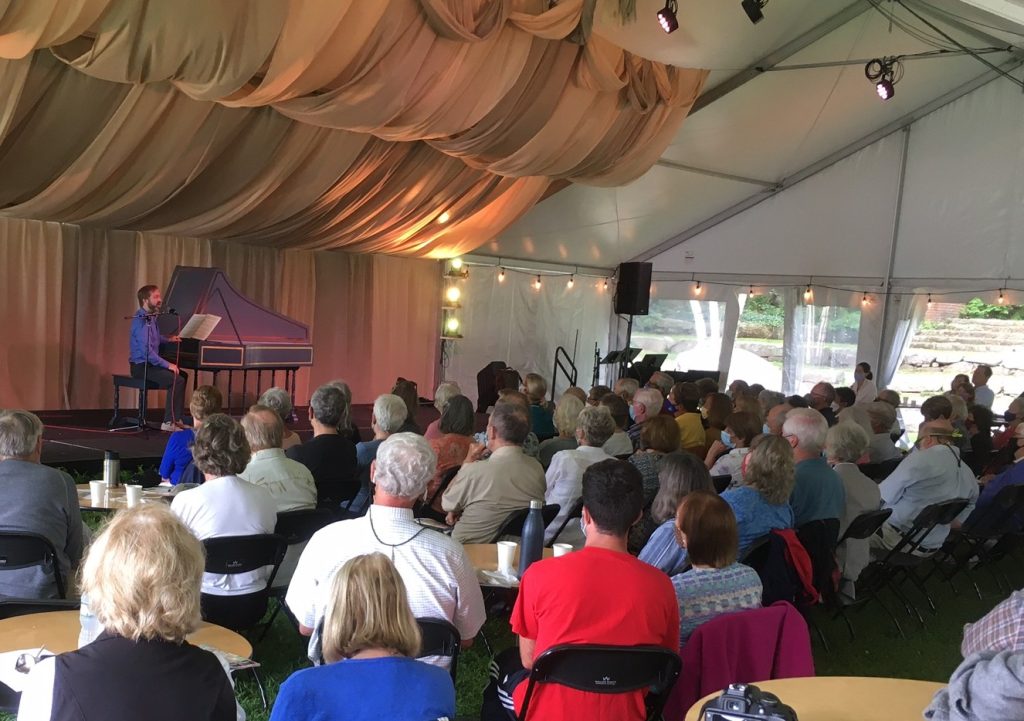 10 AM | Tent at Camden Public Library Amphitheatre
35 +: $35 | 22-34: $20 | 21 & Under: Pay What You Wish
Part 4 of a series of morning lecture recitals that map the personal journeys of musicians with the music of Bach. Many of the musicians featured during our Screen Door Festival will participate in the series this year, telling their own stories of encounters with Bach, as well as adding context and understanding to performances of some of Bach's greatest works. We will have two navigators and hosts for this journey: much-loved pianist and storyteller Pedja Mužijević and the wonderfully informative and erudite harpsichordist, John McKean. They will perform during the 5-part series and will be joined over the week by violinist Geneva Lewis, cellist Gabriel Martins, Maxwell String Quartet, Palaver Strings, pianist Conrad Tao and guest flutist, Nicholas Southwick.
Zoot coffee and muffins are available before the concert.
Click on the link above to purchase all 5 Bach for Breakfast concerts in the series.
Concert Sponsors: Fruzsina Harsanyi and Family in memory of Raymond Garcia
---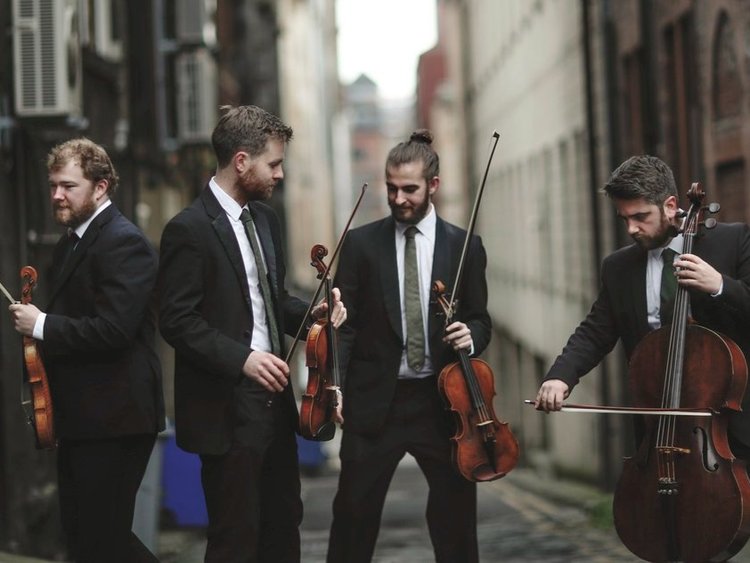 1PM | Tent at Camden Public Library Amphitheatre
35 +: $35 | 22-34: $20 | 21 & Under: Pay What You Wish
MAXWELL QUARTET
COLIN SCOBIE and GEORGE SMITH, violins, ELLIOTT PERKS, viola and DUNCAN STRACHEN, cello
1st Prizewinner and Audience Prizewinner at the 9th Trondheim International Chamber Music Competition, and hailed as "brilliantly fresh, unexpected and exhilarating" by The Scottish Herald, the Maxwell Quartet is now firmly established as one of Britain's finest young string quartets, with a strong connection to their folk music heritage and a commitment to bringing together wide-ranging projects and programmes to expand the string quartet repertoire.
Returning to Screen Door after their previous, highly acclaimed visit, their lunchtime concert will include Haydn's sparkling Quartet Opus 77, No.1 with music from their latest project entitled Gather, which weaves together different strands of historic Scottish music, from pipe tunes, to celtic plainchant, to work songs, to fiddle music old and new.
Concert Sponsor: John and Susan Jackson
---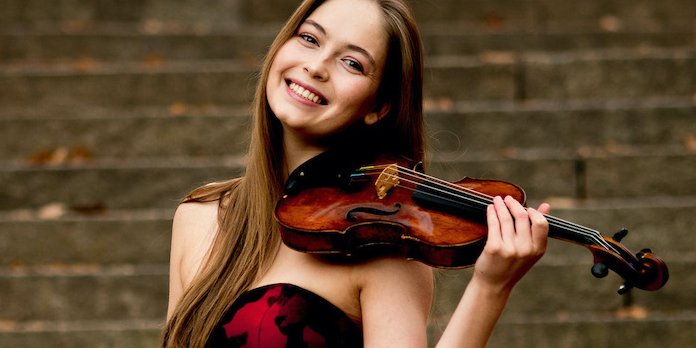 5:30PM | Tent at Camden Public Library Amphitheatre
35 +: $35 | 22-34: $20 | 21 & Under: Pay What You Wish
GENEVA LEWIS, violin, GABRIEL MARTINS, cello, CONRAD TAO, piano
Three compelling young artists present a varied and kaleidoscopic program of music for string duo and piano trio. New Zealand-born violinist Geneva Lewis' performances speak from and to the heart. Lauded for the "remarkable mastery of her instrument" (CVNC), Geneva is the recipient of an Avery Fisher Career Grant, and Musical America's New Artist of the Month.
Praised for his mesmerizing sound, American-Brazilian cellist, Gabriel Martins is the 2020 Sphinx Competition Gold Medalist. His many high-profile concerts include performances at Wigmore, Carnegie, and Merkin Halls, the Moscow Conservatory Great Hall, and Maison Symphonique in Montréal.
Fresh from his triumphant debut solo recital at Wigmore Hall in London, pianist Conrad Tao has been called an artist of "probing intellect and open-hearted vision" (The New York Times). This ferociously talented trio present an eclectic program:
HANDEL/HALVORSEN Sarabande con variazioni
VILLA-LOBOS (arr. Gabriel Martins) Five Preludes for Guitar
SCHUMANN Piano Trio No. 1 in D Minor
Concert Sponsor: Ellen Enochs
---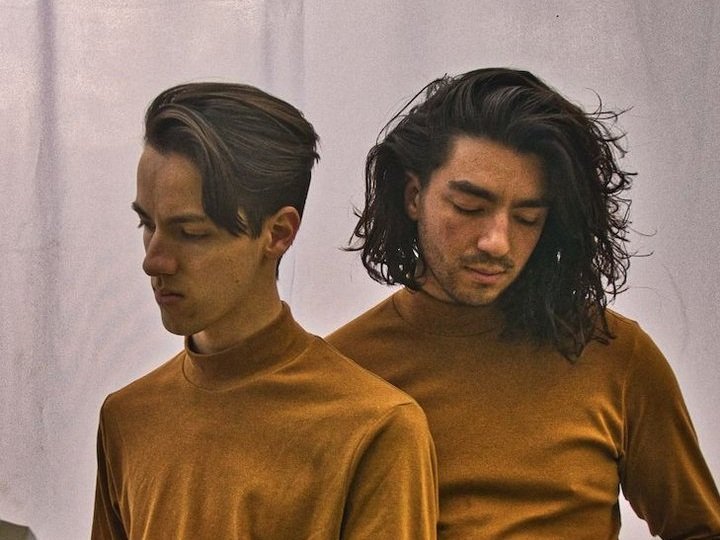 8:30PM | Tent at Camden Public Library Amphitheatre
35 +: $35 | 22-34: $20 | 21 & Under: Pay What You Wish
OSHIMA BROTHERS & FRIENDS
SEAN OSHIMA and JAMIE OSHIMA with surprise guest artists
This Maine-based indie duo have been creating music together since childhood. The brothers blend songs from the heart with blood harmonies to produce a "roots-based pop sound that is infectious." (NPR). On stage, Sean and Jamie offer lush vocals, live looping, foot percussion, electric and acoustic guitars, vintage keyboard and bass – often all at once. They want every show to feel like a deep breath, a dance party and a sonic embrace. For their Screen Door concert, they will collaborate with a range of classical artists and ensembles performing at the festival.
Maine Public Radio's Sara Willis describes their songs as "beautiful, those brother harmonies can't be beat. They are uplifting and, let's face it, we need uplifting these days."
Concert Sponsors: Mazie Cox and Brinkley Thorne
---
Visit baychamber.org to view the entire festival schedule and purchase tickets.