Bay Chamber Concerts Summer Screen Door Festival: Abiding Journeys, Day 1
Wednesday, August 17
@
10:00 am
–
8:00 pm

---
The Camden Public Library is proud to once again partner with Bay Chamber Concerts to present their Screen Door Festival under a tent at the historic Camden Amphitheatre, August 17 – 21. Each day begins with Bach for Breakfast, followed by lunchtime concerts and evening performances of much-loved chamber music repertoire, as well as café concerts with adventurous new musical experiences.
This year's theme is: "Abiding Journeys"
Moving home and away, travels of our imaginations, journeys of empathy, conscience, and resilience – these are adventures that color our lives, sometimes creating pain and sometimes abiding joy. I invite you to explore journeying through great music, through the meandering lives of the composers and the personal journeys of the astonishing featured artists. This year we celebrate the power of live music to transport us to a different and better world. I look forward to seeing you at our concerts and hope your personal Bay Chamber journey this summer will be both beautiful and abiding.

MANUEL BAGORRO, THOMAS WOLF ARTISTIC DIRECTOR CHAIR, BAY CHAMBER CONCERTS
---
SCHEDULE FOR WEDNESDAY, AUGUST 17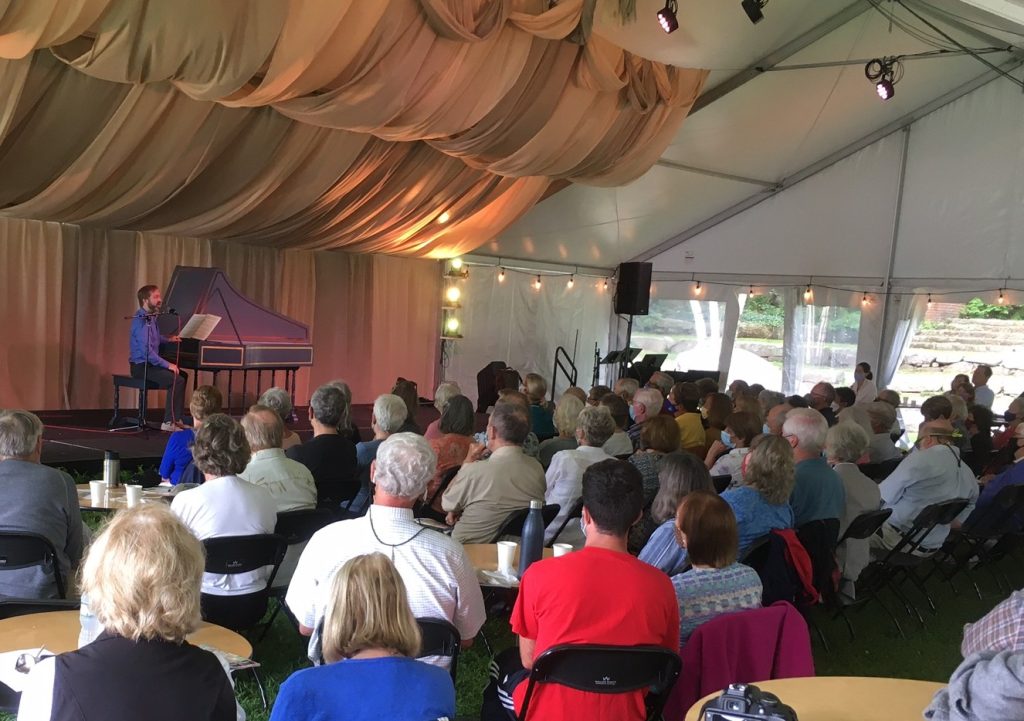 10 AM | Tent at Camden Public Library Amphitheatre
35 +: $35 | 22-34: $20 | 21 & Under: Pay What You Wish
Part 1 of a series of morning lecture recitals that map the personal journeys of musicians with the music of Bach. Many of the musicians featured during our Screen Door Festival will participate in the series this year, telling their own stories of encounters with Bach, as well as adding context and understanding to performances of some of Bach's greatest works. We will have two navigators and hosts for this journey: much-loved pianist and storyteller Pedja Mužijević and the wonderfully informative and erudite harpsichordist, John McKean. They will perform during the 5-part series and will be joined over the week by violinist Geneva Lewis, cellist Gabriel Martins, Maxwell String Quartet, Palaver Strings, pianist Conrad Tao and guest flutist, Nicholas Southwick.
Zoot coffee and muffins are available before the concert.
Click on the link above to purchase all 5 Bach for Breakfast concerts in the series.
Concert Sponsors: Fruzsina Harsanyi and Family in memory of Raymond Garcia
---
1 PM | Camden Village Green
FREE
Faculty and students at Bay Chamber Music School perform on the Camden Village Green.
Concert Sponsors: First National Bank and First National Wealth Management
---
7PM | Tent at Camden Public Library Amphitheatre
35 +: $35 | 22-35: $20 | 21 & Under: Pay What You Wish
FESTIVAL OPENING CONCERT
A grand opening concert featuring many of the performers appearing throughout the week including Calidore and Maxwell String Quartets; Geneva Lewis, violin; Gabriel Martins, cello; bandoneonist JP Jofre, pianists Contrad Tao and Pedja Muzijevic as well as our much-loved resident ensemble, Palaver Strings.
A celebratory and creative embarkation at the start of our Screen Door Festival 2022.
Concert Sponsors: Kathryn Camicia and Steven Briggerman in memory of Raymond Garcia
---
Visit baychamber.org to view the entire festival schedule and purchase tickets.