Philosophical Society
Tuesday, June 18 @ 3:30 pm

-

5:30 pm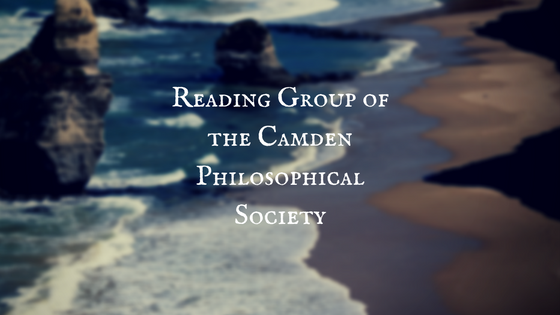 At its regularly scheduled reading and discussion group on the third Tuesday of the month, the Camden Philosophical Society meets to discuss a wide range of topics. Topics and readings will be announced in the weeks leading up to each event. Stay tuned for details, or email Sarah Miller at sarahmiller@usa.net.
Topic update from the Camden Philosophical Society regarding the June 18th Meeting:
The central existential question, literally, of our time is: "Can life on earth continue in the face of the twin dangers of nuclear war initiated by unstable political 'deciders,' and the possibility, or even probability, of runaway global climate change of devastating proportions?" The Camden Philosophical Society will be exploring this question at its next regularly scheduled meeting, on Tuesday, June 18, in a follow-up to last month's readings from Belgian philosopher of science and follower of Alfred North Whitehead, Isabelle Stengers.
The gathering, in the Picker Room of the Camden Public Library, will be at the new time of 3:30-5:30 pm. All are welcome. Jon Olsen will be the moderator for the discussion.
"It ought to be obvious to all that neither corporate capitalism nor state capitalism masquerading as 'socialism' is remotely prepared to cope with this central question," Jon suggests. "Urgent action is needed to divert us from catastrophe, but how? Many of us have concluded that the only solution lies in what we can invent under the banner of eco-socialism. This is a work in progress and process, and we are only seeing the outlines at this stage. As Indian writer Arundhati Roy has put it poetically, 'Another world is possible. On a quiet day I can hear her breathing.' Do we breathe with her or choke her with industrial pollution? The answer is urgently up to us."
The writings Jon proposes we read as background to a discussion of this existential issue are: https://popularresistance.org/ecosocialism-enters-the-political-dialogue/ and http://londongreenleft.blogspot.com/2019/05/ecosocialism-towards-new-civilization.html?utm_source=feedburner&utm_medium=email&utm_campaign=Feed%3A+LondonGreenLeft+%28London+Green+Left%29
Stengers explores the issues in a somewhat similar way in her work, In Catastrophic Times: Resisting the Coming Barbarism. This is not a core reading from Jon, but for those who wish to follow up on Stengers' writings, it can be found here: http://openhumanitiespress.org/books/download/Stengers_2015_In-Catastrophic-Times.pdf . Chapter 1 is the scene-setter and the obvious place to start.
Related Events