Temporarily Suspended: Philosophical Society
Tuesday, March 17, 2020
@
3:30 pm
–
5:30 pm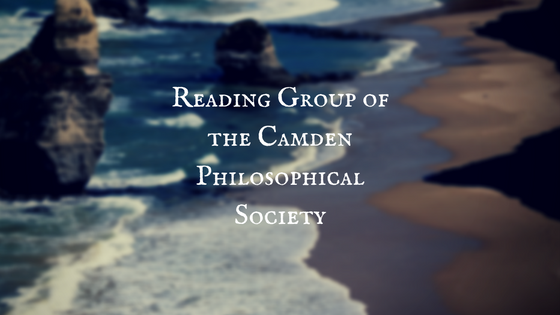 The Camden Public Library will remain open but will be canceling programs effective Monday, March 16 through Tuesday, March 31. We will provide the latest updates on when programs will resume and in what capacity on our website and Facebook page. Thanks.
At its regularly scheduled reading and discussion group on the third Tuesday of the month, the Camden Philosophical Society meets to discuss a wide range of topics. Topics and readings will be announced in the weeks leading up to each event. Stay tuned for details, or email Sarah Miller at sarahmiller@usa.net.
Update: At its next regular monthly gathering on Tuesday, March 17, the Camden Philosophical Society will be continuing the discussion we began in February of the fundamental ontological questions: Is there an objective reality beyond our perceptions and, assuming there is, how can we best ensure that our representations of the world respond and correspond to the reality we engage. Both sessions have used as their key texts readings from member Howard Engelskirchen's book Capital as a Social Kind, and small segments from other readings selected by Howard, who is leading these discussions.
The March session will delve more deeply into questions of how the material read and discussed might apply to the foundations of ethics, and how it might apply to understanding capital, particularly as defined and analyzed by Karl Marx. The society meets in the Picker Room of the Camden Public Library from 3:30-5:30 pm on the third Tuesday of each month. All are welcome.