Philosophical Society
Tuesday, December 17, 2019 @ 3:30 pm

-

5:30 pm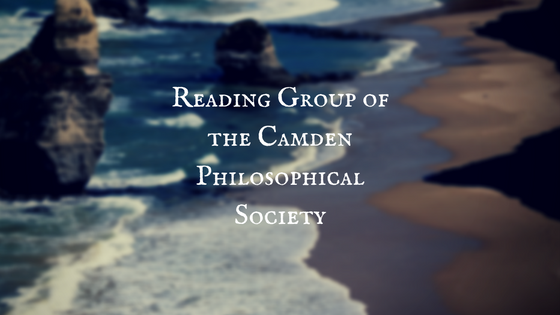 At its regularly scheduled reading and discussion group on the third Tuesday of the month, the Camden Philosophical Society meets to discuss a wide range of topics. Topics and readings will be announced in the weeks leading up to each event. Stay tuned for details, or email Sarah Miller at sarahmiller@usa.net.
UPDATE:
At its final gathering for the year, on Tuesday, Dec. 17, the Camden Philosophical Society will hold an open discussion of the interconnected themes we read, thought and talked about at our sessions on the third Tuesday of each month over the course of 2019. Our aim is not only to weave together the various philosophical threads we have pulled out over the year into more coherent stands of thought, although that is certainly an important goal. It is also to find strands that members of our group – past and potential members — would like to pursue further in 2020.
The society meets in the Picker Room of the Camden Public Library from 3:30-5:30 pm on the third Tuesday of each month. All are welcome. Please come with thoughts on themes you'd like to pursue and perhaps a willingness to help identify readings and/or lead discussions on those themes.
We began 2019 with an introduction to the complex and multifaceted "process philosophy" of early 20th Century philosopher Alfred North Whitehead. Process philosophy makes questioning the central aspect of philosophic pursuit, rather than a striving for dogmatic answers that are definitive for all time. Through the winter and early spring, we examined this notion of process as a core philosophic element in the areas creativity, relationality, and possibility, through the thinking of three 20th Century French philosophers.
Dualism is another critical and related concept – one that also stretches back to Whitehead – which we dealt with at length. This notion of fundamental ontological separation appears in many forms in Western philosophy, but our emphasis was in large part on how a sense of separation from nature has forged both the belief structure of our society and the mode of functioning of our political-economic system.
Many of our readings over the year examined how this dualism keeps us from seeing ourselves as part of nature, rather than above and outside the rest of what exists, with an implied or explicit right to use and abuse the rest as we will. This has become the bedrock for our relations to the earth, and therefore our perspective on ecology and global warming, a phenomenon that provided the backdrop for much of our discussion. Separation also underlies human relations to each other in the capitalist system, as described most famously by Marx, but also by Murray Bookchin and others we read. How can this conviction of human "otherness" be changed? Can indigenous and Marxist thinkers help clarify a path? These were questions we grappled with over the middle of the year.
EMAIL Sarah Miller at sarahmiller@usa.net for a Word document containing descriptions of the various discussions we held over the course of the year, with web links to most of the readings that provided a basis for those discussions (cps 2019 themes and links). In addition, Howard Engelskirchen, who led the discussions on the intersection of indigenous and Marxist thought, particularly as it applies to climate change, provides a new, thought-provoking summary of those discussions (Attached Word document: Howard's year-end summary july august).
We hope members of our group – past and potential — will look these documents over and perhaps go back and re-read (or read!) some of the writings that they found particularly cogent, as preparation for an "enlivening" discussion on Dec. 17.