Philosophical Society
Tuesday, November 19, 2019 @ 3:30 pm

-

5:30 pm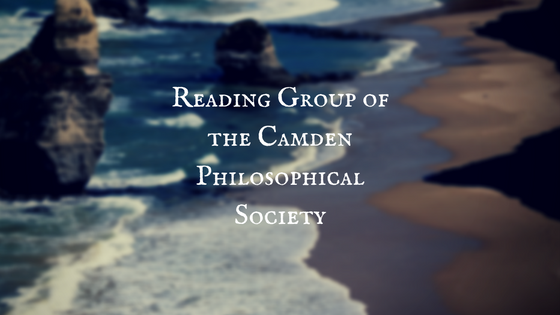 At its regularly scheduled reading and discussion group on the third Tuesday of the month, the Camden Philosophical Society meets to discuss a wide range of topics. Topics and readings will be announced in the weeks leading up to each event. Stay tuned for details, or email Sarah Miller at sarahmiller@usa.net.
UPDATE:
The reading is by contemporary German philosopher, biologist and journalist Andreas Weber. The society meets in the Picker Room of the Camden Public Library from 3:30-5:30 pm on the third Tuesday of each month. All are welcome.
Skye Hirst will initiate the discussion of what she calls "alivement," a way of being in the world that she contrasts to the prevailing paradigm culture of mechanism. Likewise, Weber uses the word "enlivenment," which he sees as a needed supplement to — and rethinking of – 18th Century enlightenment thinking. Both use contemporary scientific findings about how our consciousness and the broader ecological system work as a starting point for a call for what Weber terms "a fundamental shift in the concepts of nature, culture and politics."
The aim is to link the work presented to the group last month by George Siscoe and Nancy Crooker on the nature of consciousness into thinking that was explored earlier by the group. This includes work by Alfred North Whitehead, Belgian philosopher of science Isabelle Stengers, American philosopher and social theorist Murray Bookchin and a number of indigenous thinkers to which we have been introduced. Yet Weber provides a quite new perspective by placing these ideas in the context of advances in biology over the last decade or two. This provides a strong new grounding for not only Weber's own thought, but that of the others, as well.
The work that will provide the primary basis for our November discussion is Weber's essay on Enlivenment, available at https://www.boell.de/sites/default/files/enlivenment_v01.pdf