Philosophical Society
Tuesday, October 15, 2019 @ 3:30 pm

-

5:30 pm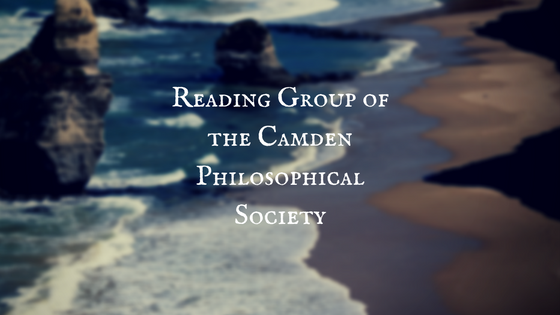 At its regularly scheduled reading and discussion group on the third Tuesday of the month, the Camden Philosophical Society meets to discuss a wide range of topics. Topics and readings will be announced in the weeks leading up to each event. Stay tuned for details, or email Sarah Miller at sarahmiller@usa.net.
Update for October 15:
The Camden Philosophical Society reading and discussion group will take our discussions in a new direction at its next gathering on Tuesday, Oct. 15: The ontological problem of consciousness. The society meets in the Picker Room of the Camden Public Library from 3:30-5:30 pm the third Tuesday of each month. All are welcome.
The open discussion will be preceded by a short talk by George Siscoe, professor emeritus at Boston University — and proprietor of the Old Professor's Bookshop in Belfast — on Pansynaisthimism: A REAL Physical Dual-Aspect Monism. Pansynaisthimism, together with integrated information theory (IIT), give a paired "feeling-function" answer to the question what is consciousness, George explains. Consciousness is the feeling of integrating information.
The topic overlaps to some degree with the earlier readings the society did from Thomas Metzinger's book The Ego Tunnel.
As an introduction to his thinking and work, George has written a "skit" in the form of a dialogue between two people of very different views on the nature of consciousness, named Dan and Julia, but not to be mistaken for consciousness-skeptic Dan Dennett and neuroscientist and information-theory-inventor Giulio Tononi, George assures us. A script can be found here: https://conversationsonconsciousness.blog/2019/04/27/panaesthemism-real-physical-dual-aspect-monism-an-audacious-idea/
For those interested in more background on the topic, here is a link to a short explanation of the Hard Problem of Consciousness by the inventor of the concept, David Chalmers: https://www.youtube.com/watch?v=C5DfnIjZPGw