Philosophical Society
Tuesday, July 16, 2019 @ 3:30 pm

-

5:30 pm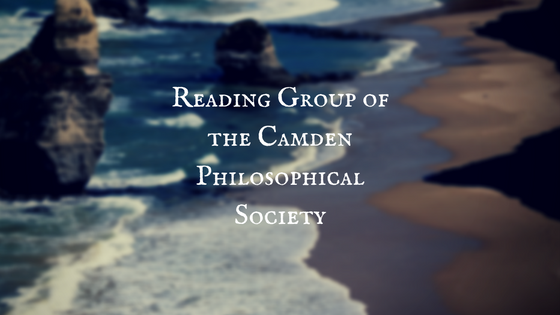 At its regularly scheduled reading and discussion group on the third Tuesday of the month, the Camden Philosophical Society meets to discuss a wide range of topics. Topics and readings will be announced in the weeks leading up to each event. Stay tuned for details, or email Sarah Miller at sarahmiller@usa.net.
TOPIC UPDATE from Sarah Miller:
At its next gathering on Tuesday, July 16, the Camden Philosophical Society will begin an inquiry into how the intersection of indigenous American and socialist thought may be responsive to the ecological crisis we now face. The concepts build on the writings of Belgian philosopher Isabelle Stengers and of society member Jon Olsen that the group explored in May and June. The primary focus for the upcoming discussion in July will be "An American Indian Theological Response to Ecojustice," by Georg E. Tinker (Osage/Cherokee).
The gathering, in the Picker Room of the Camden Public Library, will be at the new time of 3:30-5:30 pm. All are welcome. Howard Engelskirchen will be the moderator for the discussion.
Howard explains that the aim of the discussion of Tinker's work and the other readings is to understand: First, why capitalism can't address the climate crisis. Second, Tinker's view of the contributions native peoples can make to the philosophical foundations needed for a response. And third, perspectives on Karl Marx that also engage and shed light on those philosophical foundations. Besides Tinker's work, the readings encompass a few pages from Howard's own book Capital as a Social Kind – both as a counterpoint to Tinker and as an elaboration of themes he has introduced; and an excerpt from Sherri Mitchell's (Penobscot) 2018 book Sacred Instructions, entitled, "The Myth of Separation."
In addition, for those of you who have time, we recommend reading the chapter "Gaia," from Isabelle Stengers' book Catastrophic Times: Resisting the Coming Barbarism. This chapter offers an interesting gloss on Tinker's opening pages and suggests Stengers might indeed be open more broadly to Tinker's conclusion that "American Indian cultures and values have much to contribute in the comprehensive reimagining of the Western value system that has resulted in our contemporary ecojustice crisis" (171). Catastrophic Times can be downloaded at this link: http://www.openhumanitiespress.org/books/titles/in-catastrophic-times/