Philosophical Society
Tuesday, May 21, 2019 @ 4:00 pm

-

6:00 pm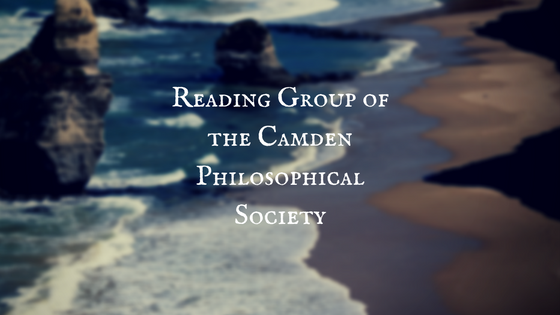 In its next session on Tuesday, May 21, the Camden Philosophical Society will build on its recent exploration of the writings of three French philosophers, who used the process philosophy of Alfred North Whitehead as a base to explore social and political issues, by reading Belgian philosopher of science Isabelle Stengers. As author of the book Thinking with Whitehead and an ardent campaigner for action on climate change, Stengers provides a path for the group to explore even more closely how Whitehead's thought "could well be more relevant today than it was in his day."
The gathering, in the Picker Room of the Camden Public Library, will be at the new time of 3:30-5:30 pm. All are welcome. Sarah Miller will be the moderator for the discussion.
The readings for May will start with the transcript of a talk that Stengers gave at McGill University in Montreal on the topic "Whitehead and science : from philosophy of nature to speculative cosmology." This talk dealt much more heavily with Whitehead's own ideas – starting with his claim that "bifurcating" nature into an "objective, causal" thing explored by scientists and a subjective, value-laden place explored by the rest of us "leads to absurdity" – than with Stengers' own ideas. A transcript can be found here: https://www.mcgill.ca/hpsc/files/hpsc/Whitmontreal.pdf (Warning: There are a number of typos).
A selection from the Introduction to Thinking Whitehead will allow the group to consider how Stengers herself came to use Whitehead's method of "questioning" to explore issues in contemporary science – most notably how to confront the insistence that science is value-free in an age in which technology built on science threatens the future of the planet and in which a growing number of those ostensibly pursuing the scientific method without favoritism are, in fact, in the pay of big business or of big government in its guise as facilitator of big business. The core reading is from pp 9-15 of the Pdf version of Thinking Whitehead as it appears here: https://archive.org/stream/IsabelleStengersThinkingWithWhiteheadForewordIntroduction/Isabelle+Stengers+-+Thinking+With+Whitehead+%28Foreword+%26+Introduction%29_djvu.txt (To get to the Pdf version click on "See other formats" at the upper-right of the initial screen).
You can then look at how Stengers actually applies these Whiteheadian concepts, both to the issue of GMOs and, more recently, what she sees as the existential risks posed by climate change. The first suggested reading on this is what equates to a translator's introduction to Stengers' book Another Science Is Possible: A Manifesto for Slow Science. Available here: http://theconversation.com/how-slow-science-can-improve-the-way-we-do-and-interpret-research-90168
That's already a lot of reading, but for those who want more and have a particular interest in climate change, Stengers' "manifesto" In Catastrophic Times: Resisting the Coming Barbarism can be found here: http://openhumanitiespress.org/books/download/Stengers_2015_In-Catastrophic-Times.pdf . This is not a core reading for the discussion, but could be of considerable interest to some. Chapter 1 is, not surprisingly, the scene setter. The concept of "guardians" introduced in chapter 2 is reminiscent of Ranciere, while chapters 6 and 7 add substance to Stengers' argument about scientific method and could appeal to those with an interest in contemporary Marxism.