Philosophical Society
Tuesday, January 15 @ 4:00 pm

-

6:00 pm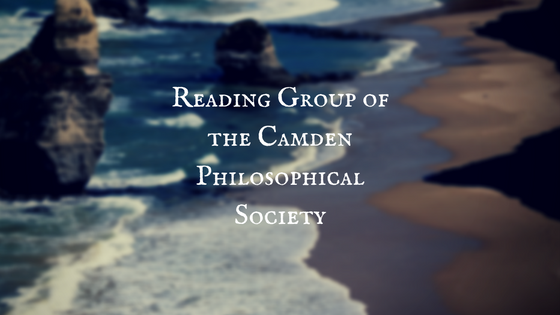 The writings of British philosopher and mathematician Alfred North Whitehead (1861-1947) will be the topic for the first gathering in 2019 of the Camden Philosophical Society's reading and discussion group, on Tuesday, Jan. 15. The discussions are from 4–6 pm in the Picker Room of the Camden Public Library. All are welcome.
The central aim in Whitehead's chief work, Process and Reality: An Essay in Cosmology, is to replace the traditional philosophy of substance with a philosophy of organism (process), a speculative philosophy. His thesis is that only a philosophy of organism can provide clarification of a universe in which process, dynamic actualization, interdependence, and creativity are disclosed as the primary data of immediate experience (Philosophy History at Stanford).
This Speculative Philosophy is a full, metaphysical scheme of basic assumptions about reality, and Whitehead provides this full work in order to help us apply it. Chapter 1 of Process and Reality gives us his introduction to what a speculative philosophy is and his intentions for it and will provide a core for our discussions. A copy of the complete work can be obtained at https://archive.org/stream/AlfredNorthWhiteheadProcessAndReality/Alfred+North+Whitehead+-+Process+and+Reality_djvu.txt (Note that various formats are available by clicking on "See other formats" at the top-right of the screen).
Whitehead speaks of knowing what we know through lived experience, through an ordering and subsequent evaluation of that experience. He speaks of a value-laden universe. There are many exciting ideas to unpack with our discussions. These two passages from Process and Reality, should get our imaginations engaged in this process:
Rationalism is an adventure in the clarification of thought, progressive and never final. The play of imagination is like the flight of an aeroplane. It starts from ground of particular observation; it makes a flight in the thin air of imaginative generalization; and it again lands for renewed observation rendered acute by rational interpretation (page 9).
The reason for the success of this method of imaginative rationalization is that, when the method of difference fails, factors which are constantly present may yet be observed under the influence of imaginative thought. Such thought supplies the differences which the direct observation lacks (page 5).
Also, here are three video lectures by Dr. Arthur Homes of Wheaton College to help us further explore Whitehead's overall scheme.
1) Video #61 provides excellent overview https://www.youtube.com/watch?v=ysTx1c5-A7s&t=18s #61 (Overall Whitehead and influences on his work)
2) Video #62 is Whitehead's Conception of God and is rich in contexts for values, ethics, morality. https://www.youtube.com/watch?v=Hwgoi0cvwmU&t=28s
According to Whitehead, the basics of all reality are not substances of enduring reality, but "events," momentary, tiny events, actual occasions. All events can be described by three factors: First, objective data (efficient causes) — affective direct experience; second, eternal (abstract logical) possibilities — conceptual prehension (cognitive) of eternal objects; and third, decision — unconscious or conscious choice. What initiates a "new event" is intersection of the current objective data with other relational events.
3) If you wish to really get in deeper, Video #63 brings us Whitehead's insights about Science and the Modern World, so relevant in thinking about Artificial Intelligence, consciousness, and his Presumption of Science definition. https://www.youtube.com/watch?v=x1IwCOx1dlw&t=12s .
Related Events