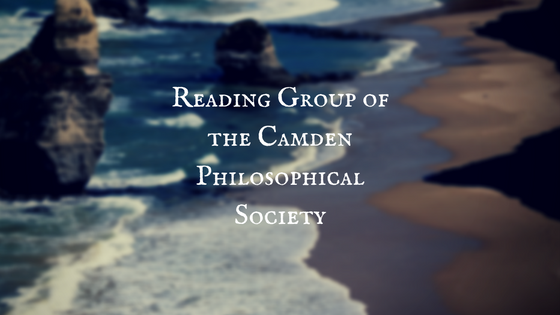 The next session of the Camden Philosophical Society reading and discussion group will be on Tuesday, March 20, and will focus on works of early 20th Century philosopher and founder of Phenomenology, Edmund Husserl. The discussions are from 4:00 – 6:00 pm in the Picker Room of the Camden Public Library. All are welcome. Chuck Marecic will lead the March discussion.
Phenomenology is perhaps the most significant methodological contribution to the Western philosophical canon in the 20th Century, but it is also one of the most misinterpreted and divergent. Not only did Phenomenology seem to drift away from the Anglo-Analytic tradition early on, it also spawned several "unruly" adjectival offspring in the process (such as eidetic, transcendental, existential, hermeneutic, and realistic phenomenology to name a few).
That its founder and primary theoretician, Edmund Husserl, appeared to shift his own understanding toward the phenomenological project did not help the situation. Many of his early students and followers had effectively superceded his influence on contemporary Western philosophy. They had reinterpreted or readjusted Husserl's phenomenological method to establish Existentialism, Hermeneutics, Structuralism, post-Structuralism, and Deconstruction. However, since the end of the last century, Husserl and Phenomenology have had a resurgence thanks to a new generation of scholars who have returned to the source to re-examine Husserl's legacy.
Our introduction to Phenomenology will focus on Husserl's Transcendental Phenomenology, starting with his article for the Encyclopedia Britannica written in 1927. This article laid out the basis for his last major "introduction" to Phenomenology titled "The Crisis of the European Sciences and Transcendental Phenomenology." We will supplement the article with two additional articles by Husserlian scholars Sebastian Luft and Robert D. Walsh, a short video, and a brief biography of Husserl by Dermot Moran.
For copies of the readings, please email Sarah Miller at sarahmiller@usa.net.